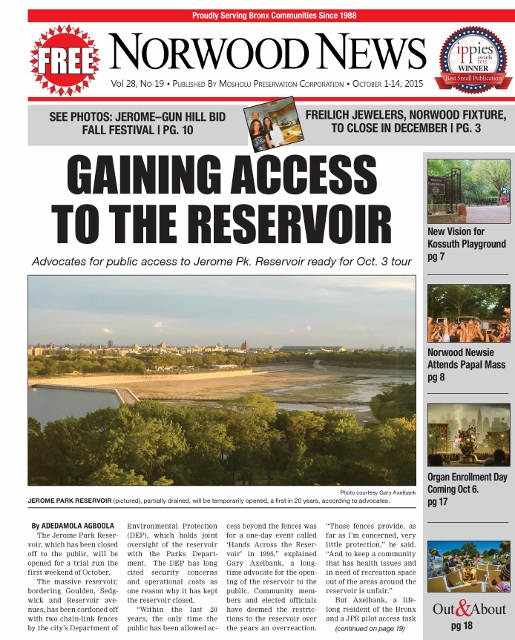 Greetings, loyal readers!
As expected, the digital edition of the Norwood News is out with, as you guessed it: Plenty of Community News You Can Use!
We begin with a story that's 25 years in the making: pilot access to the Jerome Park Reservoir, long a source of majesty for the Bronx, yet only experienced by a handful. Advocates are pushing, step by step, to grant access to parkgoers who have yearned to take a stroll around the man-made reservoir. Worth a read from our own Adedamola Agboola.
Inside, you'll find a story 76 years in the making: the closing of Freilich Jewelers, a treasured establishment in the Norwood neighborhood. Read the reasons why Mr. Allan Freilich decided to close and his message to Norwood neighbors.
Without going blow by blow, we'll tell you there's plenty of news for everyone, including a nice piece from Jasmine Gomez chronicling her experience seeing Pope Francis in person. She will take you in with her account.
We also have your newspaper's staples–Out & About, Neighborhood Notes, and Inquiring Photographer.
If you want to take a stroll to grab a paper, you can stop by 300 locations across the northwest Bronx for your very own copy.
So enjoy this digital edition of the Norwood News!
Advertiser's Note: To place an advertisement, call Vivian Carter, the Norwood News salesperson, at (718) 324-4998 or vcarter@norwoodnews.org.