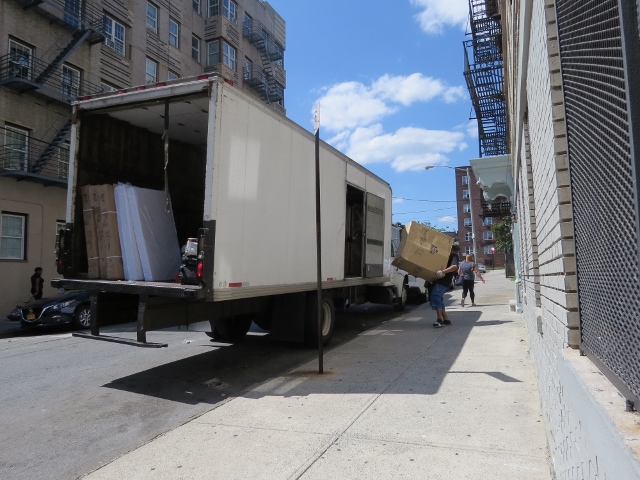 In a rare reversal, a Bedford Park landlord has halted a process to convert a significant portion of their seven-story building into a shelter, a win for tenants who are celebrating with cautious optimism. 
The signs of a new shelter at 319 E. 197th St. were there, though circumstantial. The residents' biggest hint came from the delivery of a large supply of new furniture for 20 apartments recently vacated by several tenants who were evicted. Residents prevailed after the landlord, A1 Equities, inexplicably failed to provide funds to furniture suppliers. Meantime, many of the vacant units were upgraded, with new tiling and appliances installed.
Another indicator came after tenants were bombarded by phone calls from a receiver of rents who attempted to persuade them to move out, promising them a new apartment miles from their home.
"We're taking this as a good sign. A very, very good sign," said Grisett "Gigi" Diaz, the building's super.
The new landlords have since explained to tenants their plans to rent the vacant apartments and make necessary repairs, according to Maria Canela, a tenant advocate with Northwest Bronx Community and Clergy Coalition (NWBCCC).
The type of housing, and some events leading up to it, bore the hallmarks of an impending cluster-site program, a deal through the New York City Department of Homeless Services (DHS) that houses shelter residents in a building with rent-paying tenants. A key tangible change often comes in the installation of a building security guard, where shelter residents must sign in and out. The method was implemented during the Giuliani administration, then morphed considerably under the Bloomberg administration, and continues in the de Blasio administration despite assurances to undo the practice.
The arrangement hasn't always worked as lifestyles clash, skepticism over new shelter residents mounts and the feeling of living in a homeless shelter is too much to bear for residents, many of whom are single mothers.
"They're not going to be here for long, so they think they can get away with things," said Rosanna Pena, a mother who was once homeless. Her fears stem from living in a shelter where theft was rampant, loud music remained endless and there was a reported rape.
Rosa Martinez, a mother of three and formerly homeless, feared the shelter's arrival after living in a Brooklyn shelter before. She recounted the experience as mayhem.
The policy, powered by a legal order that mandates the city provide housing to all homeless, does have its unintended consequences. Among them is the siphoning of the city's already squeezed affordable housing stock, as landlords take units out of the supply chain and reserve them for shelter residents. Usually, not-for-profit shelter providers are contracted by DHS to secure residences. Landlords then charge the not-for-profits upwards of $3,000 a month per unit, above regulated rents.
"It's just mind boggling how the city would be a participant in this," said John Garcia, executive director of Fordham Bedford Community Services, of the shelter system. "Displacing tenants out of apartment buildings is not the solution."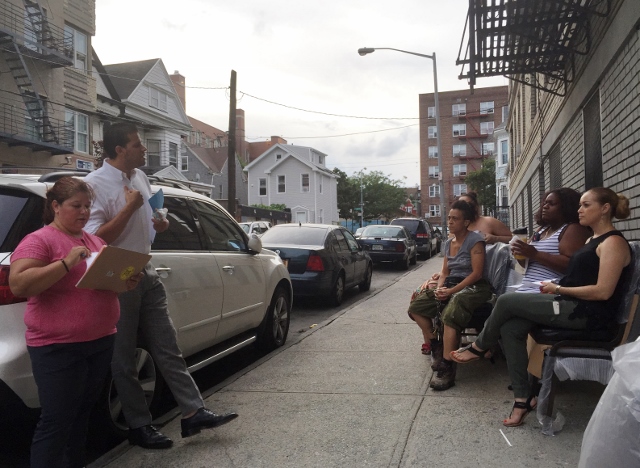 News of shelter worries prompted tenants to hold an emergency, town hall-style meeting with Garcia and Canela of NWBCCC. The group, sitting on chairs reserved for shelter apartments, still partially wrapped in plastic, addressed concerns over alleged tenant harassment by Commercial Realty Resolution LLC. Within the last few weeks, the company's receiver of rents called tenants, talking them into leaving their apartments with the promise of relocating them. Tenants also alleged their requests for repairs in their apartments have been largely ignored, interpreted as a sign of tenant harassment.
But confirming the landlord's true intentions has remained a mystery, as the current building owner has operated in secret. Financial records show the building had changed hands. In April of this year, A1 Equities LLC, with a registered address in Brooklyn and no phone number listed, took over the deed. Documents show Joel Wertberger to be the sole signatory of the property, though no number was listed. His name and occupation bears similarity to a Joel Wertzberger of Brooklyn. The Norwood News obtained a phone number belonging to the seller, Josh Neustein, who refused to comment for this article.
For now, residents have claimed victory, and are now looking to receive the same upgrades as the would-be shelter units.
"They went all out fixing these apartments," said Diaz.
"And what they do for us?" asked Alyna Smith.
"Stick-on tiles," said Diaz, cheekily.