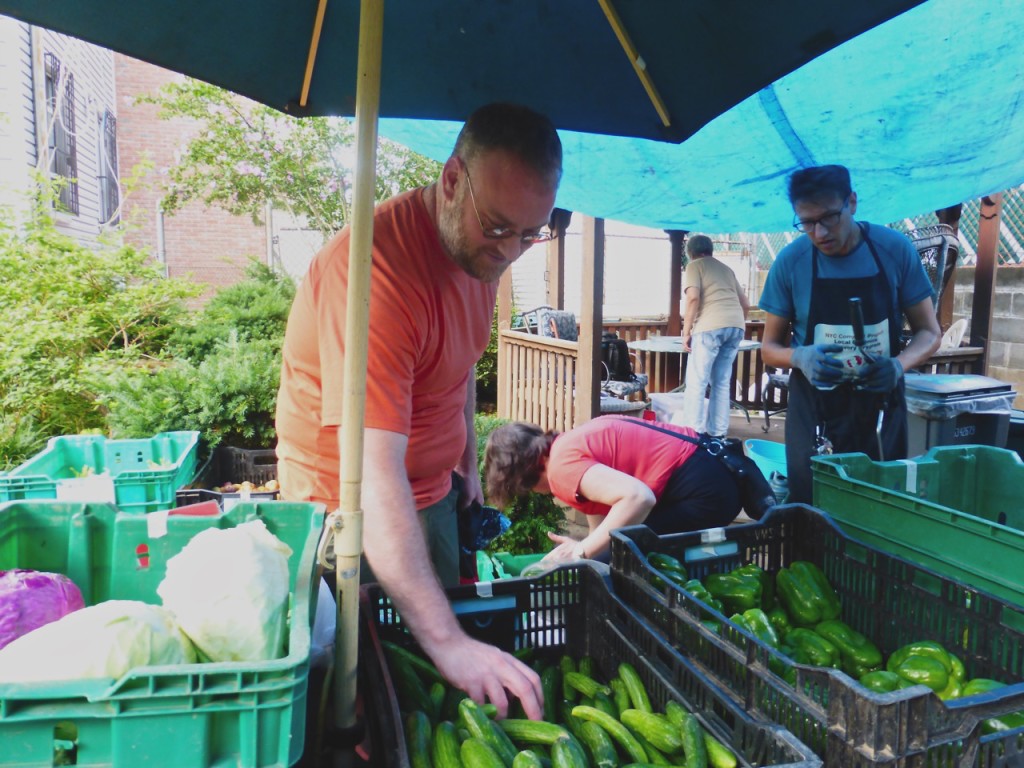 By HAYDEE CAMACHO
Every Thursday during the summer and fall, a truck journeys from Norwich Meadows Farm north of Binghamton to the Bainbridge Community Garden at 2980 Bainbridge Ave. There, members of the Norwood/Bedford Food Cooperative Community Supported Agriculture (CSA) begin unloading the cargo of produce picked just that morning. Bins fill to the brim with zucchini, red and green lettuces, cauliflower, peas, fennel, onions, garlic and black radishes.
For the past 13 years, Zaid and Haifa Kurdieh, owners of Norwich Meadows Farm, have partnered with the Norwood/Bedford Food Cooperative CSA to bring locally grown, organic food to Norwood. They were connected to Norwich Meadows Farm through Just Food, a New York City based non-profit that works to connect communities with local, fresh food, part the city's ongoing efforts to offer more fresh fruit to Norwood and Bedford Park.
As the summer progresses, the truck will deliver crops that include cabbage, peppers, tomatoes, eggplant, cucumbers, string beans, melons, sweet potatoes and more.
"The idea of a CSA is to connect people in a community that doesn't have a lot of farms nearby to farmers growing near the area," explained Nick Napolitano, a member since 2005 and unofficial CSA spokesperson. "It eliminates the middle person of grocery stores or supermarkets."
Unlike a farmers market, where a consumer buys the farmer's produce, a CSA member shares the risk with the farmers by paying $340, working as an advance to buy seeds and all the materials needed to bring the crop to market. In exchange, farmers agree to offer members 22 weeks worth of food.
The Kurdiehs hail from Pakistan. Zaid taught agriculture at Cornell University, later becoming a full-time organic farmer. He utilizes cutting edge techniques such as growing his crops in food tunnels instead of greenhouses to keep pests off the plants.
There are 39 households in the Norwood/Bedford Food Cooperative CSA this year. The Kurdiehs work with other CSAs and numerous restaurants throughout the city, as well as the Union Square and Thompson Square farmers markets. They also partner with other organic farmers to offer a fruit share and orders of dairy products, eggs and beef.
"We get an incredible amount of food and the taste is amazing," said Napolitano. "We probably had about 15 pounds of vegetables last week."
Damon Little joined the CSA in 2006. "I like the variety. There are some things that I wouldn't buy on my own," he said. "It gets me to try new things, which is nice."
Cheryll Jarrett lives in nearby Wakefield and feels the weekly bus trip for the past three years is well worth it. "He has a great selection," she said. "I've participated in other CSAs. You don't get the variety."
The Bainbridge Community Garden is one of two sites that participates in The New York Botanical Garden NYC Compost Project. People can bring their food scraps Thursday evening which are processed on the spot for use as nutrients in the community garden.
The CSA is one of several efforts to bring fresh produce into the area. The non-profit GrowNYC sponsors the farmers market at Poe Park in Fordham on Tuesdays; The New York Botanical Garden on Wednesday. Thursdays, the Norwood Youth Market, partnered with Montefiore Medical Center, can be found on East Gun Hill Road and DeKalb avenues There are also green markets and green produce carts throughout the Norwood area where you can find fresh produce on a daily basis. "I haven't seen a lot of produce growth in the bodegas," said Napolitano. "I think the green carts are more visible and have had a noticeable impact."
Napolitano also noted the area restaurants that add variety in eating options. "As new immigrant groups come in and get established they start opening up restaurants and serving food that is desirable and culturally connected to them," he said. He cited the various ethnic eateries–Dominican, Pakistani, Indian, Bangladeshi restaurants, taco shops and bodegas along on 204th Street and Bainbridge Avenue, a Salvadoran restaurant on 205th Street. "That's a great thing for all of us. That's part of our vibrancy."