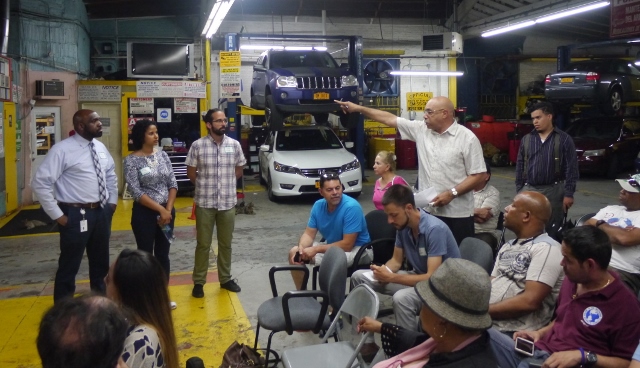 By WILLIAM MATHIS
As the city undergoes the outreach phase of a large-scale plan to rezone the southern end of Jerome Avenue, its large swath of mechanic shops are beginning to stage an exodus.
"Once news of the rezoning came out, that's it," said Pedro Estevez, president and founder of the United Auto Merchants Association, a union representing mechanics around the city. "Hell broke loose." Already this year, eleven repair shop operators have come to him looking for help to relocate their businesses he said, after landlords refused to renew the lease or drastically increased the rent.
He noted nearly all of the more than 900 members and affiliates of the UAMA lease space for their businesses while many have no signed leases. He fears that with rezoning, more auto businesses will have no choice but to close as property owners opt for more lucrative residential rental and development opportunities. "Rezoning is removing," he said.
The news came during a meeting between city officials with the Department of City Planning and members of UAMA. The meeting addressed worries over the proposed rezoning. It's been one of several meetings that discussed the plan, with the city leaning towards changing zoning laws for 73 blocks of Jerome Avenue, which cuts through several low-income neighborhoods of the Bronx.
City officials arrived with a presentation about the planning process, but audience members kept their concerns about the uncertain future of their businesses front and center throughout.
Estevez set a confrontational tone for the evening in his opening remarks given in both English and Spanish. "They will have to change the zoning to be residential," he said. "This means that people will have to abandon their places."
"The city promises and promises and then removes people," cautioned Marco Neira, 56. He recently moved his auto repair business to the Bronx after he was forced out of the Willis Point section of Queens by a similar rezoning effort by the city. He said that over 300 auto workers lost work at repair shops in Willis Point. Forty-five managed to reopen in the Bronx.
Audience members also expressed distrust of the city's push to create affordable housing in the area. "Affordable housing's not for us," said Liz Thompson, a retired health worker. "It's not affordable."
City officials explained that the rezoning plan is only in the study phase, with no specific dates or certainty of how the rezoning will take shape. According to city officials, the area being studied stretches two miles, from 167th and 184th streets, covering the neighborhoods of High Bridge, Mount Eden, Mount Hope, University Heights and Morris Heights. The communities are home to 345,000 residents and 3,700 workers.
Jessica Ortiz, a city planner with DCP, assured guests that even under rezoning, the city has no authority to remove people from already existing businesses. Ortiz highlighted a similar rezoning of 80 blocks of Webster Avenue in the Bedford Park and Norwood areas as an example of success. "New residential uses have come into the area," she said. "But auto uses have remained."
"We want to understand from you, what kind of services you need," Manny Dominguez, Executive Director of NYC Business Solutions for the Department of Small Business Services, said to the crowd.
But listening was not enough. The crowd repeatedly raised the issue that an impending rezoning will force out auto businesses or otherwise have negative effects on their businesses.
Estevez proposed that the city develop what he called an Industrial Business Zone, specifically zoned for auto repair and similar businesses. This would, he said, create a secure area for auto businesses where they would not have to worry about the threat of future rezoning plans.
But the city was in no place to make promises on outcomes. "The purpose of today is dialogue, to understand your needs," said Robinson Hernandez, Deputy Commissioner with the Department of Small Business Services. "The solution will come later."