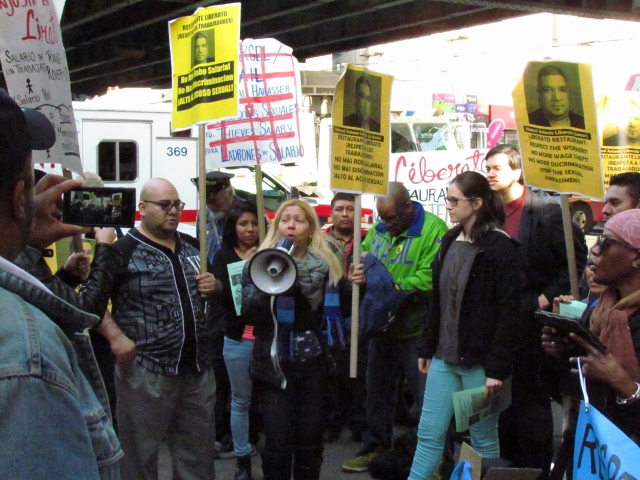 By MOSES BUSTOS 
In a battle for better pay wages at a restaurant in Mt. Hope, workers demonstrated alongside supporters on April 13, in a protest that will be scheduled every Monday moving forward.
Outside the Liberato Restaurant at the corner of Jerome Avenue and West 183rd Street, roughly 20 protestors assembled on the sidewalk entrance of the restaurant, many of them local students, teachers, workers and community volunteers.
Representatives of The Laundry Workers Center United (LWCU), a New York-based non-profit group that fights for improved working conditions, led the rally against the popular food venue in response to shady business practice claims made against the owner, Manuel Antonio Liberato.
LWCU's representative, Maomo Lopez, 33, said Mr. Liberato has broken all federal labor laws.
"We […] support the recovery of back-wages [and] most importantly changes inside the workplace," said Lopez, adding that some employee grievances include "no minimum-wage, a lot of sexual harassment, verbal abuse, physical abuse; there's a lot."
For many employees, sticking with the job is a begrudging choice–a steady paycheck, albeit small, requiring no working papers. It's one reason why many employees at Liberato are undocumented immigrants. Even for documented workers, the fight for pay increases rages. On April 15, low wage workers around the country took part in several workplace demonstrations to demand for better pay.
Maria Andres, an employee of the Liberato restaurant chain and member of LWCU, confirmed the allegations made against Liberato.
For Ms. Andres, who said she's a victim of wage theft and unsafe work conditions, spoke about conditions that take place behind the counters of Liberato, where patrons are served Latin American-themed dishes as alleged unlawful working conditions continues.
Ms. Andres, who's been working there for six years, is currently in the middle of a lawsuit against Liberato. Her suit, coordinated with the help of the LWCU, seeks back wages for the time she's been at the restaurant. For now, she's paid $4.44 per hour, roughly half the current minimum wage. She said she's also endured sexual harassment, not being allowed overtime pay or lunch breaks, and having to pay for things like uniforms and general first aid. Of the six years she's worked for Mr. Liberato, Ms. Andres is paid in cash and has received a pay raise "only once" since her first day.
"After working six days, for nine/ten hours a day, I receive an envelope with $210 inside," said Ms. Andres.
A mother of two, and an undocumented Mexican immigrant, she fears for her family's well-being. As low-wage laborers, Ms. Andres said "we do not have the things we need."
Oscar Ramirez, LWCU member and former employee of Liberato, said he worked for Mr. Liberato since the age of 17. For eight years he worked 60 hours a week at a rate of $3.60 per hour. He too received a pay raise only once.
Mr. Liberato was unavailable for comment despite a number of attempts to reach him. Employees at Liberato did not provide any contact information.
But some employees were sympathetic to Mr. Liberato. With mobile phone in hand, Ramirez Betances, 45, a seven-year employee of Liberato, quietly recorded video, took pictures, and listened in on the demands of his chanting co-workers, with little sympathy to show for them.
"I am out here, because all the times that [protestors] have come here, what they have done, […] is come to do harm, to us, the employees of Liberato," he said. "…[T]he workers of Liberato, none of them; you can go in and ask them all right now, none of us are with them."
Mr. Betances denies ever seeing any instances of sexual harassment at the restaurant, and claims the employees lie about unsafe conditions.
The lunchtime rally met with a swell of rush hour traffic underneath the 183rd Street Station of the #4 subway line, just blocks from Bronx Community College. It coincided with the first day back to classes since CUNY students left for spring break a week ago.
Inside the restaurant, business continued as usual.
But outside, Mr. Lopez, of Mexican descent, like many of the workers at Liberato, chanted "justice – now," alongside his fellow protestors in Spanish, reminding local residents of their stake in the battle for workers' rights as they proclaimed their ultimatum: "no justice, no chicken!" to the lead of a megaphone.