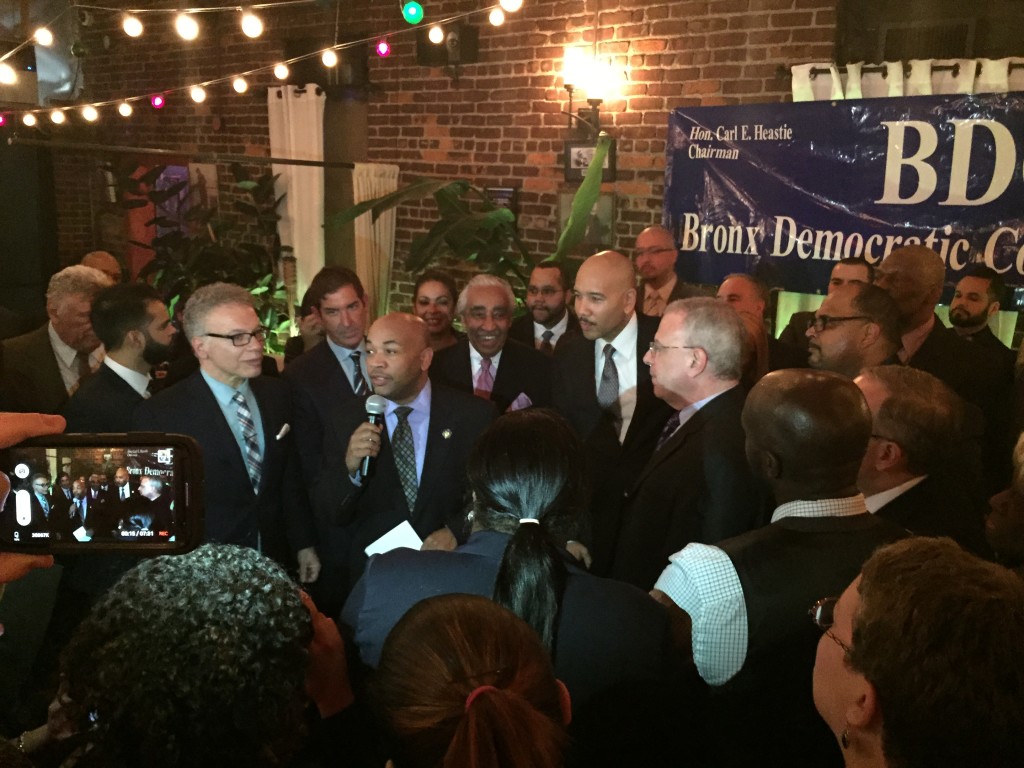 By DAVID CRUZ
Assemblyman Carl Heastie, the north Bronx legislator and leader of the borough's Democratic Committee, was voted in Tuesday as Assembly Speaker, replacing the disgraced Sheldon Silver, who resigned in late January.
Heastie's ascension came after two weeks of behind-the-scenes maneuvering from the Bronx delegation and to convince Assembly members to elect Heastie, fairly unknown outside of Bronx politics, making him Albany's first-ever Assembly Speaker from the Bronx, and more notably, the first-ever African-American Speaker.
Heastie is now the so-called third man in the room, primed to discuss the state budget and important legislation with Democratic Governor Andrew Cuomo and Republican Senate Majority Leader Dean Skelos. With Heastie in the room, it effectively changes the trajectory of the Bronx, which could see more state funding funneled into the borough.
"Shelly took care of his district quite well. I'm sure Carl will be taking care of the Bronx equally as well – within obvious limits," said Bob "Kappy" Kappstatter, former New York Daily News Bronx bureau chief and longtime borough political columnist. "And obviously, the Bronx will reap more benefits than it was reaping under Shelly Silver."
Heastie beat out a list of contenders from the boroughs and from upstate New York jockeyed for the position of Speaker, considered the third most powerful position in the State Legislature.
But critics of Heastie also see a man entrenched in the same notorious ways as Albany. Several editorial boards for major New York City newspapers have voiced concerns that Heastie is a carbon copy of Silver, who now faces several federal charges stemming from an alleged kickback scheme.
Eleanor Randolph, an editorial board member for the New York Times, wrote in a column that Heastie is a "bad choice," calling the scramble to pick Heastie as Speaker a "step backward, even for the notoriously backwards ways of Albany."
A New York Daily News editorial called Heastie a smart man, but cut from the same underhanded cloth as Silver.
A trained accountant, Heastie arrived in Albany in 2000 after a stint at the New York City Comptroller's Office as a budget analyst. He serves the 83rd Assembly District covering Wakefield, Williamsbridge, Edenwald and Baychester. His legislative record is somewhat spotty. In his first year he sponsored four bills that did not pass. The number of sponsored bills grew to 35 during the 2011-2012 legislative session.
He was the lead sponsor of the enacted Wage Theft Prevention Act, that further penalized employers who deprive workers of proper wages.
But Heastie's finances have also been questioned, mainly $23,000 in logged expenses, which ranks double the average legislator's, according to the Daily News. His last public filing showed $21,000 to $50,000 in credit card debt.
"From what I've read, the media is chasing whatever it can over Carl's spending," said Kappstatter, "but compared to Shelly and looking at other legislators' spending numbers, they seem to be pretty much nickel and dime stuff."
Heastie is expected to – if not already – resign his position as the leader of the Bronx Democratic County Committee, which offers a large election apparatus for political and judicial candidates.
Several potential candidates have been working behind-the-scenes to cobble support for the party leadership post, though at the moment Riverdale Assemblyman Jeff Dinowitz, the party's second in the command, will serve as interim boss.
Elected officials have bounced around names that include Assemblyman Marcos Crespo of Soundview and Assemblyman Luis Sepulveda of Parkchester, though Kappstatter suspects party insiders may be looking beyond Bronx electeds (City Council members are barred from becoming the party chairman).
"While Jeff Dinowitz may have an inside track to the post, there's a lot of sentiment that the post should go to an Hispanic, and maybe even a non-elected," said Kappstatter. "It could even be a woman. How about that!"