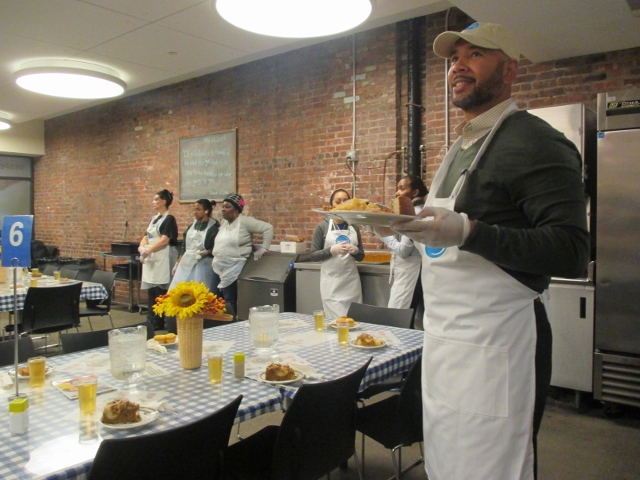 By Anton K. Nilsson
On the day before Thanksgiving, hungry Bronxites lined up in the vestibule outside of Part of the Solution, the food pantry and soup kitchen on Webster Avenue.
They brushed snow off their coats, waiting to be seated. Inside the dining hall, volunteers in white aprons were hurrying to set the tables, dishing out large portions of rice, beans, and ham, as well as hunks of bread and cake for dessert. Among the volunteers were two familiar faces: Councilman Richie Torres  and Bronx Borough President, Ruben Diaz Jr.
Helping to serve the community is "a blessing and an honor," said Diaz Jr., who made the outing a family event, bringing his mother, sister, son, niece and nephew to help.
"I want to thank POTS for doing this great work on a daily basis," said Diaz Jr.
"Four on table five!" the POTS Director of Development Maureen Fergus Sheehan shouted, and Torres and Diaz Jr. were quick to grab two plates each and start across the room. Soon all the seats in the dining hall were occupied by eaters still in their coats, scarves and hoods.
For Torres, whose district lies within POTS, the issue of hunger could not be closer to home.
"The Bronx has one of the highest rates of hunger in the country," said Torres. "Thanksgiving is not only an occasion for gratitude, but it is an occasion for public service. That is the spirit with which we are here today."
The hundreds of people that POTS serve food each day are only a fraction of those hungry in the Bronx. Torres' claims were backed by a recent report by the NYC Coalition Against Hunger showing that one in three Bronx children live in food insecure homes.
Rise in hunger was largely due to federal SNAP cuts, according to the report. But Joel Berg, executive director of NYCCHA, blamed Wall Streeters for not paying its fair share of taxes.
"In past recoveries, a rising economic tide lifted all boats, but now it's only lifting the yachts," said Berg in a statement. "It is particularly perverse then, that Washington has slashed federal food aid."
POTS feeds up to 800 people on a normal day, but because of the snowy weather, only about 500 were expected to show up on this occasion.