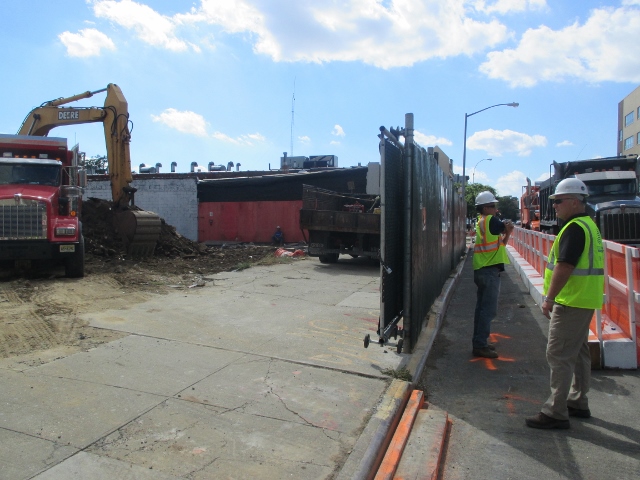 Heavy-duty bulldozers and trucks pepper an empty lot on Webster Avenue near 205th Street, where a new 10-story, 60-unit residential building is now under construction. And the point has been made loud and clear: The Bedford, as it will be called, will not be supportive housing, a nagging problem for the burgeoning Webster Avenue stretch.
A small fraction of units, however, will be reserved for the formerly homeless through the state Section 8 Housing Choice Voucher Program, said Guido Subotovsky, president of the Azimuth Development Group, the building's landlord. Over the summer, Subotovsky's crew tore down a glass shop, private home, and a church to make way for the modern art deco building at 3160 Webster Ave.
The residence will largely offer apartments at affordable rents and a first floor commercial component, as per city guidelines.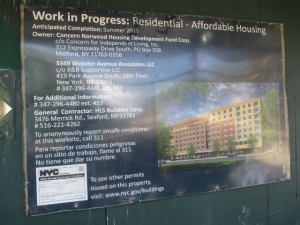 The $22 million project is financed through the New York State Division of Homes and Community Renewal, which mandates affordable leases be doled out via lottery. Monthly rents will run $751 for a studio apartment to $1786 for a three-bedroom unit, Subotovsky said.
The entire first floor will be allotted to commercial or community spaces that's part of a larger plan to turn Webster Avenue into a "vibrant corridor" for new housing and retail.
Abutting the site of The Bedford is a three-story mixed-used property housing a charter school, an impending medical office and a Crunch Fitness gym. The idea behind this wave of construction came after a major rezoning effort of 80 blocks of Webster Avenue in 2009, a move lobbied by the Four Bronx Institution Alliance.
"The rezoning of Webster Avenue that occurred a couple of years back was extremely important for the uptake of new development," Subotovsky said.  He notes that since rezoning, "the area has gone from much more of a heavy commercial district with auto garages and things of that nature, to a real retail thoroughfare."
Assaf Gal, owner of the Crunch next to The Bedford, told the Norwood News it is apparent that the neighborhood is changing. "It's not that it's becoming upscale," Gal said. "There are just more options now."
The Webster Avenue Merchants Association, helping to spur business development on Webster Avenue between East Mosholu Parkway and 195th Street, released a retail analysis of the area this summer, identifying which types of businesses are most sought-after by local residents.
A bank and a "nice, sit-down restaurant" are attractive businesses for The Bedford, said Marcia Cameron, deputy director of the Mosholu Preservation Corporation, the organization that created the group.
Adaline Walker-Santiago, chairperson of Community Board 7, told the Norwood News that her organization fully supports the development at 3160 Webster Ave. "There are so many things happening on Webster Avenue right now, that it is hard to keep track of them," Walker-Santiago said. "[The Bedford] is exactly the type of building we want," she continued. "It is classic, yet modern, and it is for people of mixed income." The commercial ground floor, Walker-Santiago said, is "exactly the type of place the community is looking for."
The latest construction project complements further development on the strip. A mile and half down, the Stagg Group is at the last phase of erecting two affordable housing buildings by Webster Avenue between 201st Street and Bedford Park Boulevard.
But a block up from The Bedford, an eight-story supportive housing facility by Concern Norwood Housing Development Fund Inc. is going up. The Bedford is expected to be completed by 2016.