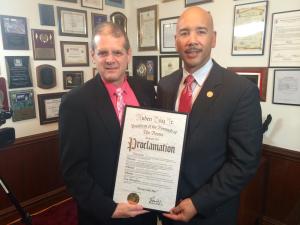 By David Cruz
The Edward R. Murrow of the Bronx is celebrating 20 years on the air.
Gary Axelbank, the even-handed Bronxite who's been the host of BronxTalk since 1994, is slated to hold an anniversary bash that doubles as a taping of the public access show on Oct. 22. 
The soiree at the Andrew Freedman House will highlight some landmark episodes in the program, a journalism talk show that's seen a pantheon of pundits, politicos and locals discuss borough issues each year. Axelbank recently wrapped up his 950th episode with the Norwood News and Friends of Mosholu Parkland. He's added it to a 68-page list of every episode and guest that's appeared on the program.
Following the recap presentation is a meet and greet with Axelbank, who will don his hosting cap to gauge guests about the program's popularity.
"BronxTalk was a revelation because it was the first talk show in the Bronx," Axelbank told the Norwood News. "I worked with people that reflected the local realities that are outside people's windows."
With 950 episodes in the can, a swell of unforgettable moments followed. One of them involved a 1996 debate (his six of 50 on-air political debates so far on BronxTalk) between convicted former State Senator Pedro Espada and David Rosado.
"Mr. Espada had let his security guards hand him a hatchet, and that was the moment that nobody could've predicted, and nobody has done better," said Axelbank with a laugh.
The show currently airs live on BronxNet, the public access station that's aired BronxTalk since the beginning. Axelbank was no stranger to broadcasting, having hailed from the radio music industry in his early years. After stints in Maryland and Delaware, Axelbank worked alongside an unknown shock jock Howard Stern, who was then a program director at the former WRNW.
"By the time BronxTalk came around, this was 1994, I had already been on the air for 18 years," said Axelbank. "So being on the air was not the issue, it was just learning a new medium."
Axelbank has adapted well, never breaking a sweat and preparing ahead of time for any interview or yearly debate during the political season.
He's never tired of the program and he intends on sticking around.
"Every day and every show is something else to communicate," said Axelbank. "The biggest personality of that show is the borough of the Bronx. It's just an endless amount of things to talk about and an endless number of interesting people."
Editor's Note: The show begins at 8pm. Guests are encouraged to get there at least a half hour ahead of time. For those unable to attend, a taping of the program can be found on channel 67 for Cablevision subscribers. It can also be found on www.bronxnet.org.