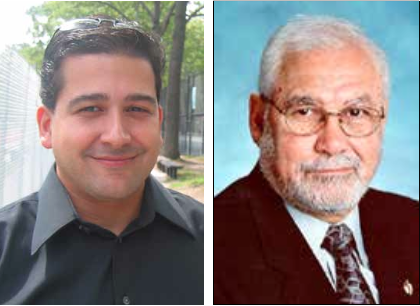 By DAVID CRUZ
At the Sea Shore Restaurant in City Island, a medium-size crowd turned up for Assemblyman Jose Rivera's fundraiser on March 7. Rivera took to the dance floor, ushered in his daughter, former Assemblywoman Naomi Rivera, and even schmoozed with her opponent, current Assemblyman Mark Gjonaj. He was in his comfort zone, engaging with supporters bearing donations.
For nearly 50 years, Rivera has stood virtually untouchable. He shattered racial barriers in a Bronx legislative caucus that was largely white, serving as a power groomer for rising Puerto Rican legislators like him, reflecting the changing demographics of the Bronx. He later became Assemblyman for the 78th Assembly District in 2002, a district that covers Fordham, Kingsbridge Heights, Bedford Park, and Belmont neighborhoods.
But Rivera's influence as a power broker has waned some. Adding to his declining influence is a YouTube video that surfaced showing Rivera, 77, making lewd comments to a young woman during a 2005 visit to the Dominican Republic.
The cloud of impropriety compelled former Community Board 7 District Manager Fernando Tirado to run against Rivera in this election cycle. Tirado, who is of Puerto Rican descent, left the Board following a contentious behind-the-scenes fight with the executive committee, who believed his brashness against protocol was a problem. He is currently working for a nonprofit in Long Island, though he's been seen making the rounds within the district.
Awkward First Impression
When he was Board district manager, Tirado claimed he was snubbed by staffers when attempting to organize a meet-and-greet with Rivera. But former Councilwoman Maria Baez, at the time one of Rivera's top staffers, balked at his district manager post, pointedly telling Tirado he hasn't aided Rivera in any political campaign.
"I never forgot that," said Tirado. "And I think there's too much of people being beholden to the political will of others and not being encouraged to think on their own."
Tirado's ambitious, somewhat quixotic, run against Rivera presents a David vs. Goliath scenario—a newcomer taking on a cog in the so-called Bronx machine. At one point, Rivera was the face of the Bronx political establishment, serving as Bronx Democratic County Leader. His persuasive, often garrulous charm so grabbed a variety of supporters that they've ignored his eccentric propensity for videotaping events. At one point, Rivera stood as the patriarch of a political dynasty, with his daughter Naomi at the 80th Assembly District and his son Joel rising to New York City Council as Majority Leader. The siblings have since left office.
Rivera's legacy as a working class political street fighter and champion for would-be Puerto Rican legislators is overshadowed by his recent history as a no-show public servant with few accomplishments within the last decade. His frail stance could very well have been sealed in 2008, when he was ousted as Bronx Democratic County Chair after a blistering coup by the so-called "Rainbow Rebels."
"So what if you served 32 years, but for the majority of that time you were in and out of your responsibilities?" asked Tirado.
When asked about Rivera's list of victories over the last 10 years, his chief of staff, Jasmin Clavasquin, referred to Rivera's official New York State Assembly webpage. But the page wasn't updated to reflect his final sponsorship—advocating for same-sex marriage five years ago. His biography page lists no further accomplishments past 2006 and an archaic phrase at the bottom—"VOTE IN 2000 ELECTION."
Some folks within the political circles say he does not appear at Community Board meetings that fall within his district, nor does he send representatives to meetings, standard for most representatives.
"I did see him at one event, but that was that one time in the whole five years that I've been there and that was at a senior center," said Tirado. "And that was really to announce that he was trying to get a bus trip to Atlantic City."
In a statement through Clavasquin, Rivera defended his lack of appearances since community boards "fall more in the purview of council members and borough presidents."
Institutional Protection
Working as a trailblazer in the early part of his life, where many Puerto Rican legislators have ascended today, Rivera has weaponized his influence in his later life. Legislators have been guided by a code of silence towards Rivera. Councilman Fernando Cabrera and state Sen. Gustavo Rivera, whose districts overlap with Rivera, declined to comment to the Norwood News over whether Rivera is still a capable elected official. Community groups also refused to go on the record fearing any reprisal from Rivera.
Lack of voter turnout has also added a protective layer for Rivera. Indeed, records from the city Board of Elections show Rivera's district holds the second worst voter turnout record in the past decade when compared to the rest of the borough. The worst falls in the 86th Assembly District.
"All local elections tend to produce low voter turnout," said Rivera in an email statement, though he emphasized that 77 percent of Bronxites voted for him in the last election cycle. Typically, incumbents tend to favor low voter turnout since it keeps their chances of any ousting to be virtually remote.
Note: The print version of the article erroneously reported Tirado was chair of Community Board 7. He was the Board district manager.