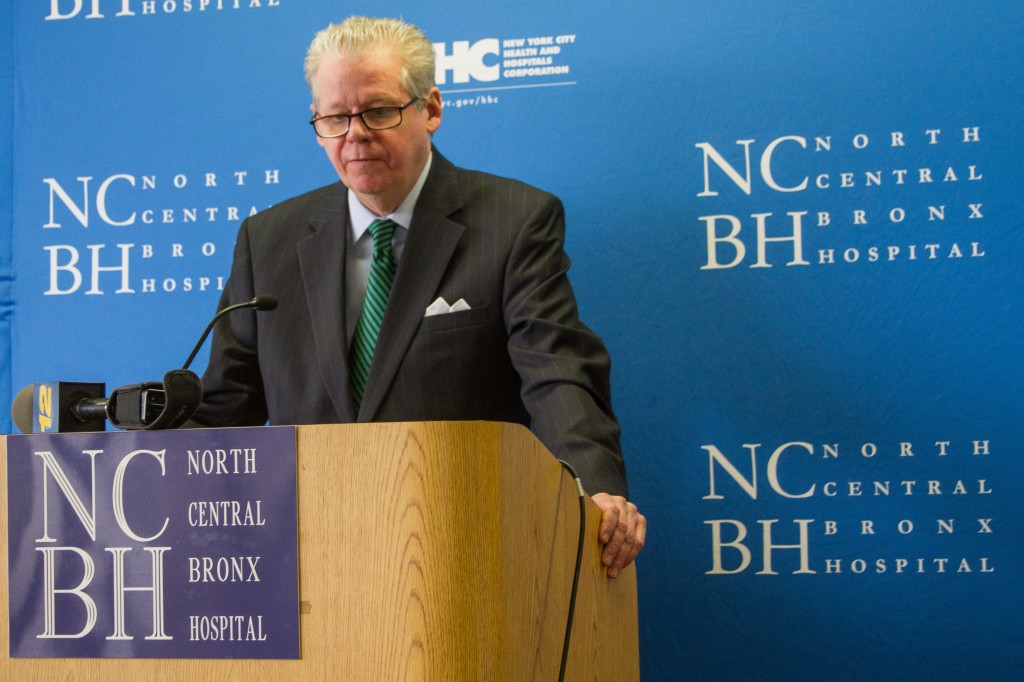 By Justin McCallum
NOTE: Community members are welcome to voice their concerns of the closure at a meeting with HHC, elected officials and advocates on Tuesday, March 18 at North Central Bronx Hospital at 6:30p.m.
Amid growing unrest over closure of their maternity ward, North Central Bronx Hospital officials assured the community of their ongoing commitment to reopening the ward.
But that won't happen until sometime this summer, as hospital brass revealed. Still, even with the delay, officials say the beds will not be decertified by the state.
"Last week we received approval from State Dept. of Health to allow us the necessary time to complete all the steps required for safely restoring maternity and newborn services," said William Walsh, NCBH president, during a news conference on Mar 17.
Staff shortages drove NCBH brass to shut its service in August, diverting medical staff to Jacobi Medical Center, another hospital managed by Health and Hospitals Corporation. Following a grassroots outcry, however, NCBH announced in December that they planned to re-open the ward by the end of April. The latest from NCBH, however, pushes back the deadline a number of months.
"We don't have a date as yet, but the target is the end of the summer," said Walsh. When pressured, he said the opening will be closer to September, stating they "don't want to cut corners" when it comes to patients health, re-emphasizing that the end of summer date is a "target." He was impressed with the overall "significant progress."
Many lauded HHC for their plan to reopen the labor and delivery services, which includes a $4.5 million investment toward staff restructuring. Congressman Charles Rangel, whose district falls within the hospital, was thrilled to see some movement towards the issue. "The least we can do is say thank you," he said.
Part of the staff restructuring will still involve using licensed midwives, though the new model includes physician assistants, registered nurses and senior obstetricians.
The chief obstetrician, Dr. Michael Zinaman, told reporters that HHC looks to "improve access and productivity of our extensive array of ambulatory OBGYN services including prenatal care, family planning, and gynecological surgical services."
But some parties were still concerned that the reopening has been postponed even more, with north Bronx expectant mothers facing over a year without delivery facilities in the area.
Dr. Matthew Hurley of Doctors Council urged the labor and delivery services to re-open as soon as possible, stating that the community "needs[s] a firm date for reopening." Doctors Council SEIU recognized the importance of the "HHC's steps in the right direction" but to "remain vigilant" without a fully outlined plan. Registered nurse and HHC Executive Council member Anne Bové echoed Hurley, demanding that mothers "need a guaranteed date" for planning for their families' health.
Councilman Andy King, who last month helped lead a demonstration to urge a speedy reopening by NCBH with 1199 SEIU and New York State Nurses Association, seemed pleased by the news proclaiming that "labor does deliver!" But King, whose district does not fall within the district, is closely tied to the labor union, a reason he could have been closely involved. Councilman Andy Cohen, whose district does reside within the ward, hopes he collaborate with "HHC and my colleagues in government to ensure that the resources are in place to safely and effectively provide these important services to patients."
Councilman Ritchie Torres first broached the question of how expeditious the ward can re-open during a Health Committee meeting. Torres, whose district overlaps with NCBH, also asked what assurances could be made to ensure the ward will remain open.
"We expect to build this plan carefully and deliberately," said Dr. Ross Wilson, with HHC's Medical and Professional Affairs Division, testifying before the panel. "And we don't want to reopen the service until we are really confident that we've got everything in place for it to be safe."