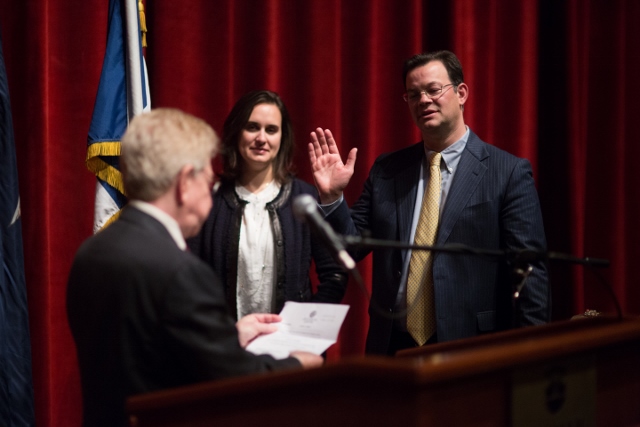 by David Cruz 
With his wife and energetic child by his side, Andy Cohen took the oath of office as the next Councilman for the 11th District, succeeding term-limited Oliver Koppell.  Well-wishers, community leaders and nearly the entire Bronx Democratic Caucus were on hand to witness Cohen sworn to office by friend and former colleague Bronx Supreme Court Justice Justice Edgar Walker.
"The campaigning is over, the rhetoric is over, no more campaign promises—it's time for the real work to begin," said Cohen, delivering remarks from a prepared speech in a nervously quick yet emotional tone.
His inauguration at Lehman College's Lovinger Theater on January 5th was what 81st Assembly District Leader Bruce Feld called "the wedding."  Just several days before Cohen obtained the Council's "marriage certificate," after taking the oath of office  in front of the New York City Clerk, formalizing his ascension as leader of the 11th Council District.  The district oversees an area with an eclectic economic spectrum, where working class neighborhoods such as Norwood lie in the shadow of other communities such as affluent Riverdale.
The ceremony was a rally of sorts, with Cohen's fellow city, state, and federal colleagues offering advice on how to balance a career and leadership.  Carl Heastie, the borough's Democratic Party boss, advised Cohen to keep to his roots.
"You will always going to be Andy Cohen even after your days as Councilman," said Heastie.  "So never let this job change who you are and you stay the principle man that you are."
Cohen's Climb
Cohen's rise to the Councilmember caps several years of community involvement and solid relationships he's made with several key political players over the years.  He arrived to the Bronx from Queens in 2000, settling in Spuyten Duyvil with his wife Heather.  A lawyer by trade, Cohen's exposure to the Bronx political scene was helped by Assemblyman Jeffrey Dinowitz, who hired Cohen to serve as his legal counsel.  He eventually left to work for Bronx Supreme Court Justice Edgar Walker, though he maintained close ties to the community by serving as a member of Community Board 8.  He also served as an adjunct professor for John Jay College.
He was also a member of the influential Benjamin Franklin Reform Democratic Club, remaining on the inside of Bronx politics.  On his website, Cohen explained how it was community leaders within the district that convinced him to run for office.  He appeared to be a shoo-in for the Council seat from the time he announced his candidacy in December 2012, thanks to his involvement with the club, and arguably Dinowitz, who also serves as Chair of the Bronx Democratic County Committee.  Through a secret ballot, Cohen won the support from club members, putting him ahead against any other contenders.  Dinowitz soon helped Cohen secure endorsements from unions, later getting the final blessing from the Bronx County.
With help from the Bronx political machine and a big campaign war chest, Cohen won the September Primary by 68%, defeating leading opponent Cliff Stanton.  With the Bronx overwhelmingly Democratic, Cohen won the General Election in November.
Progressive Politics
In his inaugural speech, Cohen outlined a platform that's in line with the progressive politics primed to be promoted by Mayor de Blasio, who ran a campaign that intends to close what many city legislators call inequity gap.  On Cohen's agenda is fixing his district's schools, emphasizing the link between a better quality of life and a decent education.
"I will be on the frontlines with our students, parents, teachers and administrators," said Cohen.  "I begun meeting with all the principals in the district, and I will meet with every parent association to take their concerns directly to City Hall."
Cohen also made assurances he will bring in more capital funding to improve plenty of parklands in the district, ensuring to secure funds for some park projects along with realizing the city's 20-year master plan for Van Cortlandt Park.  But notwithstanding a Council member's intent to bring in more funding for his district, Cohen's biggest test would be fixing the perceived divide between working class Norwood and more middle class Riverdale.
Dinowitz disputed the divide, calling it the 11th District a "close-knit community."
"If you ask somebody on the street where do they live, I don't think most people are gonna say, 'I live in Norwood, I live in Kingsbridge, or I live in Riverdale,'" said Dinowitz.  "They're going to say they live in the Bronx.  And that's what Andy represents–somebody who can bring us together."