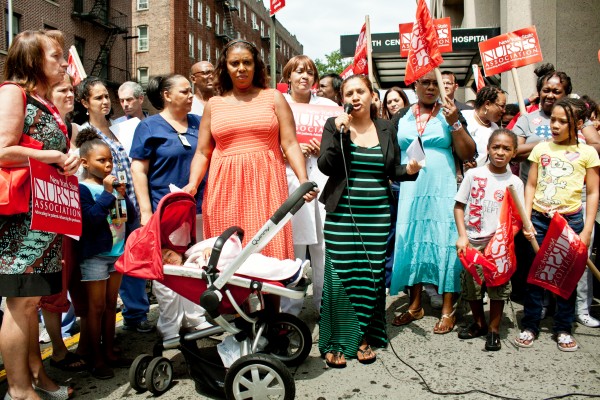 Jahir, 32, and his pregnant wife, who live in the apartment across the street from North Central Bronx Hospital in Norwood, were the first to be turned away following the official closure of the facility's labor and delivery, nursery, and neonatal care units two weeks ago.
The couple gave birth to their first son, now 5, at NCBH. They are now among the many dismayed by the loss of services. "I am really upset that they are taking it away," said Jahir on Aug. 12, the day the closures took effect, as he took part in a planned rally featuring dozens of hospital employees, union leaders and politicians. "This is not good for our community."
Critics at the rally called the decision to close some of NCB's most used and central services "dangerous" and "abrupt."
"There was no public hearing or transparency," said Jill Furillo, a nurse at North Central Bronx Hospital and executive director of the New York Nurses Association. "A week ago Bloomberg said you can't have a hospital on every corner. Well this corner and this community needs this hospital and needs these services!"
NCBH was responsible for roughly 1,500 deliveries last year, 10 percent of all births in the borough.
The New York City Health and Hospitals Corporation (HHC), which operates NCBH, released a statement specifying that the shift will "consolidate" services at Jacobi Hospital, which oversaw its own 1,900 births last year.
"There will be sufficient capacity to handle the projected additional deliveries," the statement said. "No staff member who works in the NCBH unit will lose their job."
The HHC also said some staffers will remain in the hospital's ambulatory OB/GYN or inpatient GYN services and others will be transferred to Jacobi's labor and delivery units, indicating that shuttle service will be provided between the two facilities.
Jacobi is approximately 10 minutes from NCBH by car and nearly 50 minutes by public transport.
Local residents and nurses are concerned about the loss of accessible emergency care for expecting mothers in their neighborhood.
Norwood resident Elizabeth von Uhl gave birth to her son, Dax, now 22 months old, on October 7, 2011 after walking near the hospital when her water broke suddenly at 3 a.m.
"I do not trust that any change in women's health services will be smooth," she said. "It will affect a lot of women and may even adversely affect women and children's health as going to the doctor is no longer as convenient as walking down the street."
"This hospital was responsible for [1,500] births last year, so it is really a vital service to the community. Jacobi is on the other side of the Bronx!" said Mary Fitzgerald, a nurse at Montefiore's Moses campus, which is next door to NCBH and not equipped with delivery units or neonatal care.
Others feel the changes could be the beginning of the end for NCBH as rumors of additional closures have begun to circulate.
"Maternity service is at the heart of the NCB Hospital. Without the maternity unit, we might as well close all service," said Mei ka Chin, who spent 22 years as the associate director of midwifery at NCBH and is now director of women's healthcare at Shanghai Family Hospital and Clinics in China, in an email.
Chin and Judy Wessler of the Committee on the Public's Health System (CPHS), said the hospital could be ripe for a takeover.
Fitzgerald said the closures will have a cascade effect at NCBH. "This is part of the dismantling of services, one-by-one," she said.
This is not the first time NCBH has faced closure.
In April 1999, the hospital's in-patient pediatric and rehabilitation units were shut down. A year earlier, NCBH reported a $4.6 operating deficit, and was expected to close within two to three years but managed to stay open until 2006 when it again faced reductions and the possibility of closure.
Patient advocacy and union groups believe these changes are part of a larger "patient care crisis" that unfairly targets already underserved neighborhoods throughout the city.
St. Vincent's Hospital in Greenwich Village closed in 2010 after slipping nearly $1 million into debt and North-Shore-LIJ took over operations at Lenox Hill Hospital on the Upper East Side the same year. Interfaith Medical Center in Bedford-Stuyvesant, Holliswood Hospital in Queens, Brookdale Medical Center in Brooklyn, SUNY Downstate Brooklyn, and Long Island College Hospital in Cobble Hill have also faced shutdown in recent years.
But according to some, the restructuring of services is part of a broader trend intended to increase specialization of care and quality of services.
Rich Umbdenstock, president and CEO of the American Hospital Association, said cutbacks have lowered the cost of health care, decreased the federal deficit, and improved patient care.
For now, only time will tell.
HHC says the cuts may not be permanent, and has agreed to meet with CPHS soon to discuss the loss of services at North Central Bronx. (Editor's note: This meeting is scheduled to take place this afternoon.)
Editor's note: This story was originally published in the Aug. 22-Sept. 4 print edition of the Norwood News. In the original version, the woman clutching the stroller in the accompanying photo for the article was misidentified as Bronx Assemblywoman Vanessa Gibson. The woman is New York City Council member Letitia James.