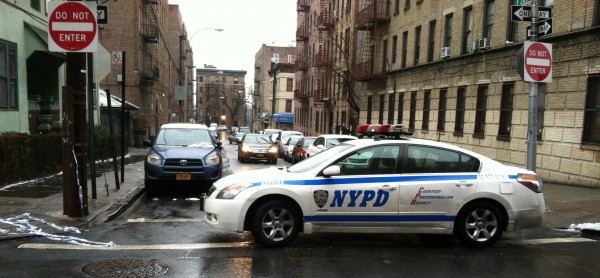 The Bronx Crime Report is a regular feature on the Norwood News' Breaking Bronx blog that is published weekly (now on Tuesdays). It includes the latest crime updates, stories and features from throughout the Bronx, plus crime statistics for the 52nd Precinct — Norwood, Bedford Park, Fordham-Bedford, and parts of Fordham, University Heights and Kingsbridge Heights — as well as links to stats for other Bronx precincts.
The Stories
Shootings Pile Up Over the Weekend; 8 Bronx Victims
The big news coming out of the weekend was that 27 people were shot and 7 were killed during a 72-hour period from Friday through Sunday (25 of those shootings happened in a 48-hour period).
At least eight Bronxites were shot during that 48-hour period, including one person in the 52nd Precinct here in the northwest Bronx — a 20-year-old man who was shot on the corner of Bedford Park Blvd. and Webster Ave. at 3:30 a.m. on Sunday morning. He has not been identified.
At this point, the 20-year-old is expected to survive, but others weren't so fortunate.
Ivan Martinez, 21, was found by police with bullet wound in his head on the corner of East 139th Street and Brook Avenue at about 3:25 a.m. on Sunday. He was pronounced dead on arrival at Lincoln Hospital.
On Friday night, Terrence Davis, 24, was shot multiple times in the torso in front of 31 W. Burnside Ave. and later pronounced dead at Bronx Lebanon Hospital.
Police have not announced any arrests in the two homicides.
Infant Death Being Investigated
On Saturday morning, May 25, an unconscious and unresponsive 4-week-old boy was brought into North Central Bronx Hospital by his parents. The infant, identified as Maximus Mussenden of DeKalb Avenue, was pronounced dead on arrival by hospital personnel, who called police.
Police officials say they are investigating and waiting to hear from the Medical Examiner to determine a cause of death.
In 2006, 4-year-old Quachaun Brown, who also lived nearby, on Kossuth Avenue, was taken to North Central in a similar state of trauma. His mother and boyfriend were eventually convicted of manslaughter in that case after it was discovered that Quachaun had been severely beaten in the days leading up to his death.
–Alex Kratz

Bronx Pedestrians in Peril on the Concourse
In three separate incidents where pedestrians were struck by cars in a short seven-hour period, including two along the Grand Concourse, one person was killed and six others injured — some of them severely.
According to police, two children were crossing the Concourse at East 167th Street just after 9 a.m. on Friday, May 17, when they were struck by a silver BMW traveling northbound. The unidentified pair of youngsters were rushed to a local hospital with severe head trauma.
Police say the driver remained at the scene and no criminality is suspected.
Later that afternoon, just after 3:30 p.m., officers from the NYPD's Accident Investigation Squad were called back to the Grand Concourse, after an out-of-control SUV struck three people in the Mt. Eden neighborhood.
Police say Zuleimi Torres, 16, was crossing the Concourse with a friend at East 172nd Street when she was struck by a Chevy SUV, also heading northbound.
Zuleimi was rushed to St. Barnabas Hospital where she was declared dead on arrival by hospital staff. The unidentified friend, a 16-year-old girl, was recovering at the same hospital and was listed in "satisfactory condition."
The vehicle struck a third person, a 51-year-old woman. Recovering at Bronx Lebanon Hospital, she was initially reported in serious condition, but has been upgraded to stable.
The driver was immediately brought to the 45th Precinct for a court-ordered blood test, but that test apparently came back negative for alcohol.
A third serious crash took place that same day, at 2:45 p.m., at the intersection of Westchester and Morrison avenues. Two children, ages 9 and 11, were struck. The pair was transported to Jacobi Hospital in critical condition.
Meanwhile, detectives continue to hunt for the driver who struck and killed a man in Fordham Heights. The victim, Nelson Martinez, 61, was crossing the Concourse at Field Place back on March 2, when the vehicle struck him and continued to travel southbound at a high rate of speed.
Martinez died at St. Barnabas Hospital on Sunday, March 17, as a result of the injuries he suffered in the crash.
–David Greene
The Stats
52nd Precinct Crime Stats Thru May 26, 2013
Find statistics for all every Bronx precinct here: 40th, 41st, 42nd , 43rd, 44th, 45th, 46th, 47th, 48th, 49th, 50th.