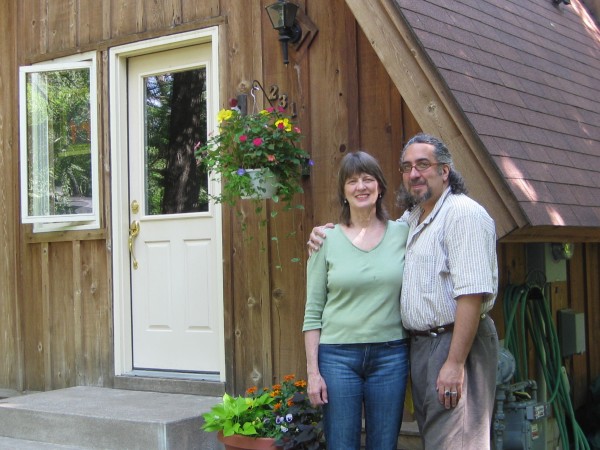 Ibrahim Gonzalez, a longtime Norwood resident and musician who hosted two radio shows on WBAI and dabbled in a multitude of art forms over the years, died in his sleep sometime this morning. He was 57 years old.
It's still unclear exactly what caused his death. Janet Norquist-Gonzalez, his wife and partner of more than 20 years, said Gonzalez had complained of acid reflux-type symptoms, including chest pains, at about 1 a.m. after they had attended a dinner party and fundraiser earlier in the evening.
But that wasn't a rare occurrence. Gonzalez had suffered from similar symptoms before and had mild cases of diabetes and asthma that he had dealt with most of his life. When Norquist-Gonzalez woke up this morning, Gonzalez was unresponsive and she immediately called 911. Emergency workers took him to Jacobi Hospital where he was pronounced him dead.
Norquist-Gonzalez, who called Gonzalez the "love of her life," said the funeral and memorial service arrangements were still being worked out. But the plan was to hold some kind of a service in Harlem, where Gonzalez grew up, and then end up at the chapel in Woodlawn Cemetery in the Bronx, near Gonzalez and Norquist's home on Reservoir Oval East and where he will be buried among some of his jazz heroes.
We'll post details about the services when they become available.
On his website, mambodervish.com (Mambo Dervish was Gonzalez's alter ego and combined his passions for music and spirituality), Gonzalez answers the question, "Who is Ibrahim Gonzalez?":
Ibrahim Gonzalez has been keeping his involvements with all of his passions moving along as a total lifetime dedication to self discovery. Whether it be music, photography, radio, writing, composing, teaching or videography, one thing that all of his interests bring him to is communicating. His spiritual journey has led him down the artist's way and he is perfectly suited for this multi-faceted lifestyle. Some have referred to him as a renaissance man, but the artist prefers to think of himself as someone who is blessed with a love for discovery and is a natural born eclectic.
Here's a link to a story we wrote about Gonzalez in 2008.

[Video: Ibrahim Gonzalez, playing the congas, performing with the Ibrahim Gonzalez Orchestra, in 2009.]