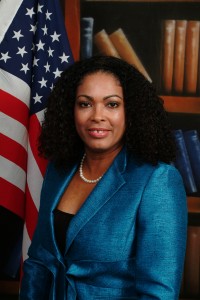 Yudelka Tapia's path to becoming an elected official hit a massive roadblock this week when a judge upheld the New York City Campaign Finance Board's decision to hold her accountable for more than $100,000 in penalties and reimbursement payments, stemming from an unsuccessful City Council campaign in 2009.
"We are pleased that the Court upheld the Board's enforcement actions concerning this campaign," said Matt Sollars, a spokesperson for the campaign finance board. "Candidates who violate the City's campaign finance laws face significant penalties and public funds repayment obligations."
During and following her 2009 run in the 14th Council District, Tapia racked up 12 campaign finances violations for a total of $47,774 in penalties. The violations included, among other things, making late filings or not making required filings, accepting money from a corporation, not reporting expenditures and not responding to draft reports.
Though she has already "terminated" her campaign's registry with the city's campaign finance board, Tapia says she will appeal the ruling. Leo Glickman, Tapia's lawyer, released a statement earlier today, saying Tapia is being punished too severely for simply being late in filing documentation. Although the campaign never actually filed documentation accounting for nearly $60,000 in taxpayer funding, Glickman says it would show the funds were spent properly.
Glickman said the filings were late because Tapia's son, Jorge Javier, who was also her treasurer at the time, "became very ill and was repeatedly admitted to the hospital."
The Board, however, didn't buy the excuse, saying it gave Tapia nearly three years to respond to requests for documentation and held a public hearing, which Tapia did not attend, to discuss the matter.
The board  upheld the penalties and reimbursement payments during an internal appeal hearing in January, which Tapia and her son both attended. In February, Tapia took the case to State Supreme Court and on Tuesday, Judge Sharon A.M. Aarons upheld the Board's actions against her.
Tapia was one of several candidates looking to replace Joel Rivera in the 15ht Council District.
The penalties don't preclude Tapia from running for office at the city or state level, but she won't be able to participate in the city's matching funds program until she repays $59,930.86 in matching funds that weren't considered "qualified expenditures" and the $47,774 in fines.  (Because he was treasurer, Tapia's son is also responsible for paying back the funding and fines.)
Tapia is now turning her attention to the open 86th District assembly seat recently vacated by Nelson Castro, who left office in March after it was revealed that he had become a government informant after being indicted himself on perjury charges back in 2009.
On Wednesday, according to the state Board of Elections website, Tapia filed her January 2013 campaign finance report. She reported $16,378 in contributions and $1,293.33 in expenditures. The state doesn't have a matching funds program.
The violations occurred during her unsuccessful run for City Council in the 14th District, which includes Kingsbridge Heights, University Heights and Morris Heights, when Tapia was awarded $78, 828 from the campaign finance board's matching funds program.
In November of 2009, following the campaign, which she lost in the Democratic primary to Fernando Cabrera, the board began an audit into how Tapia's campaign used the matching funds she received through the program.
When the board asked for documentation, Tapia's campaign didn't respond. The board granted the campaign four additional extensions to allow them to file the proper documents and the campaign failed to file them.
It remains unclear what happened to the funding. In some cases, the board refers violation cases to law enforcement agencies as it did with Queens City Council candidate Al Baldeo, who was indicted this past fall on charges that he paid people to donate to his campaign so he could get matching funds from the city.  Under the program, for every donation under $175 reported by the candidate, the campaign finance board matches it 6 to 1. A $100 donation would be worth another $600 in city funding.
The board would not comment on whether Tapia's case had been referred to law enforcement agencies.
Editor's note: More on this story in next week's print edition.