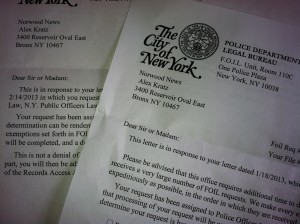 New legislation, born out of reporting by the Norwood News and introduced by Bronx Councilman Fernando Cabrera, that will bring more transparency and accountability to the police department and provide invaluable public information is on the verge of being voted into law by the New York City Council.
Cabrera's so-called "Crime Mapping Bill" is expected to pass through the Council's Technology committee later today and then be overwhelmingly voted into law at tomorrow's official Council meeting.
The bill requires the city's Department of Information Technology and Telecommunications (DoITT) to "create and maintain an interactive crime mapping website to allow the public receive information about recent crime activity in their neighborhood," according to a press release sent out by Cabrera's office.
Just like how the city maintains a map of 311 complaints, it would now also have a map to track criminal complaints. The map would be updated at least monthly and would be searchable by address, area code and precinct.
Cabrera says the interactive crime map's impact will be enormous for residents, city agencies, nonprofits and elected officials (not to mention journalists). At the same time, he says it will improve police-community relations, which have suffered with the recent proliferation of the department's wide use of stop & frisk tactics, especially in minority and low-income neighborhoods.
"When the data is up [it] is going to be a way for the community to not feel mislead; it will help elected officials, community organizations, and the general public to really see where the problems are, so they can organize and put in place initiatives against crime. It will help to take away the stigma around certain neighborhoods," Cabrera said in a statement. "It will also change the way police and the community perceives each other because there is going to be transparency as where crime is taking place, and this transparency will build trust improving the police relationship with the community making them partner in the fight against crime."
For years, the Norwood News has advocated for making the NYPD's crime statistics within each individual sector of the city's precincts accessible to the public and journalists.
(A quick refresher: Each precinct in the city has about a dozen or so sectors, usually coherent neighborhoods, within its boundaries. Police compile crime data inside each sector to help them target their resources so they can attack crime where its happening. We want the data so we can inform residents in those areas about crime trends so they can take safety precautions and also so they can advocate for more resources if they think more are needed.)
The Norwood News began banging the drum about this issue several years ago when the commander of the 52nd Precinct abruptly stopped providing the sector stats to us as a courtesy, saying NYPD brass had admonished him for providing the information. (When we first asked for it, they produced it in a matter of minutes.)
We were forced to file a Freedom of Information Law request, through regular mail (most city and state agencies allow you to file these requests via e-mail or fax — not the NYPD). It took months for the information to be mailed to us. The next time we "FOILed" for the stats, it took them nearly an entire year to produce the statistics.
When we talked about this at a local community board meeting, Cabrera's office was listening and saw an opportunity for common sense legislation. When they first introduced the bill two years ago, it called on the NYPD to provide the sector stats to local community boards on a periodic basis.
The sector stats bill evolved into the Crime Mapping bill that is now before the City Council and expected to pass into law tomorrow.
As a news organization, we can't wait for this legislation and the map to become a reality. Crime trends are popping up in several of the neighborhoods we cover. But the extent of them is unclear, besides what we hear from residents  and from police leaders at monthly meetings and/or when we can get them on the phone.
In late January, the Norwood News sent a Freedom of Informational Law request to the NYPD asking for the 2012 crime statistics for each of the 15 individual sectors in the 52nd Precinct, which includes our primary coverage areas in the northwest Bronx.
In a letter dated Feb. 21, a records access officer sent a reply saying they would need 20 business days just to determine "whether the records can be located." We received another letter, dated exactly one month later, on March 21, saying the department needed more time to access the records because they had not been received "from other NYPD unit(s)."
The letter said we could expect to receive our records by May 24, more than two months later.
These were boiler-plate responses that we've received each time we've requested this information, which is frustrating when we know that it all could have been taken care of with a few mouse clicks and hitting the "print" button.
Cabrera says the NYPD is officially "neutral" on his crime mapping legislation. They didn't respond to a request for comment on the pending legislation.
DoITT officials say it would take about six months to get the website and map up and running and wouldn't require much extra work on their end or from the NYPD, which is often the agency's excuse for not being more forthcoming with information.
The NYPD compiles this information and inputs into a software program already. Now, all they need to do is set it free. Cabrera's bill will require them to.