By Lindsay Armstrong
Police have arrested and charged a second suspect in the Nov. 1 stabbing death of Bronx resident Gabriel Sherwood.
James D. Garlick, whose girlfriend lived across the street from the University Heights building where he Sherwood was murdered, was arrested in Manhattan on Nov. 11. Police charged him with murder in the first degree and criminal possession of a weapon, according to a court report filed by the Bronx District Attorney's office.
Garlick, who often went by his middle name, Darnell, lived in the building next door to Sherwood's long-time partner, Prum Odle. Odle was shocked when he learned that Garlick was wanted in the case.
"The guy that killed my partner, I don't know what came into his mind that day. He was a very nice person," Odle said. "When I found out he was the one, I felt so sad."
Sherwood suffered multiple stab wounds to his torso during an altercation in the lobby of 2460 Grand Ave. Security cameras captured the entire struggle on tape. Read more
We're going to do a little experiment here on Breaking Bronx with some live coverage from the Occupy Wall Street demonstrations happening today as part of the "National Day of Action for the 99%" effort that will culminate in Foley Square in downtown Manhattan at 5 p.m. There will be a handful of events at Bronx subway stations. Norwood News reporters Ronald Chavez and Emily Piccone will be at Yankee Stadium and Fordham Road, respectively, filing reports via Twitter. I'll do my best to capture all the action here.
By Ronald Chavez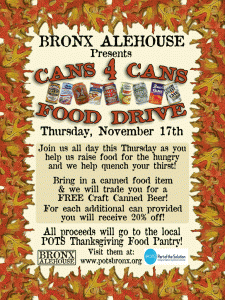 A great deal at the Bronx Ale House is reinforcing the idea of beer as panacea. All day tomorrow, Nov. 17, if you bring one can of food to the Kingsbridge Heights bar's, "Cans 4 Cans Food Drive," you'll get a free can of craft beer. The food will go to Part of the Solution's Thanksgiving food pantry.
Part of the Solution, better known as POTS, is a nonprofit multi-service community organization that offers a food, legal services, showers and haircuts to the poor.
The food will help feed a growing number of people in the community who need it on Thanksgiving. POTS said it's seen usage of its services grow by 88 percent from 2005 to 2010.
POTS says it needs canned protein like tuna, salmon and beans the most.
After the first can, each additional can of food will get you 20 percent off your next beer. That means you can guzzle so that on Thanksgiving, others can gobble.
For the first time in what feels like a long time, manufacturing jobs are coming into the Bronx instead of leaving it:  Smith Electric, a Missouri-based company which makes electric trucks, will be opening a facility in Port Morris.
Buoyed by a $6 million package of tax breaks, Smith Electric plans to renovate the  Murray Fleiss building, a former lamp warehouse at 275 Locust Ave., according to a press release. The site should be up and running by 2012 and will create 100 jobs, a statement said.
"This project is a win-win for the Bronx and the entire State, and continues to show not only our commitment to bringing new jobs to the Bronx but to growing the green economy here in our borough," Bronx Borough President Ruben Diaz, Jr., said in a statement.
According to Smith Electric's website, the company makes zero-emission commercial electric vehicles to use an alternative to traditional diesel trucks. It's customers include big-names like the Coca-Cola Company and Frito-Lay.
By Lindsay Armstrong
A handful of community members gathered in front of Monroe College for last night's candlelit vigil in honor of Bimal Chanda. Eight flames honored the 59-year-old Fordham resident who died two weeks ago as the result of a brutal beating at the hands of two unidentified thugs.
The turnout for the vigil was much smaller than expected, but organizers said that was not because there wasn't support for the victim.
Mohammed Solaiman Ali, a friend of Chanda's who organized the event said it was not a lack of respect for Mr. Chanda that kept many members of the local Bangladeshi and Indian communities away from the vigil, but rather fear.
"They are afraid. They don't want people to see their faces," Ali said. "Even my wife said she wouldn't come tonight. She said, 'Don't make yourself a target.'"
Ali understands this fear all too well. In the summer of 2007, he was the victim of a series of crimes. A woman allegedly burglarized Ali's Fordham-area home twice within a matter of weeks. When he confronted the suspect about the burglary, Ali says she threatened him and later physically assaulted him with a male partner.
"I couldn't live properly, do my job properly, or even be on my block because I didn't feel secure," Ali says.
When Ali heard about the attack against Chanda he decided it was time to send a message to the community: violence against innocent people must stop. Read more
A number of local groups and elected officials will host a forum tonight at the Riverdale Y, 5625 Arlington Avenue, from 6 to 8 p.m.
"Laying the Foundation for Healthy Living," is the first in a series of forums organized by the Bronx-Smoke Free Partnership, and will focus on the health benefits of smoke-free housing policies. Panelists include the housing chair for Bronx Community Board 8, a representative from the New York Fire Department Fire Safety Education Department, and a pediatrician from Montefiore Medical Center. RSVP to Deidre Sully at dsully@healthsolutions.org or at (718) 466-8862.
In other anti-smoking news, tomorrow, Nov. 17, is the Great American Smokeout, a day sponsored by the American Cancer Society that aims to inspire smokers to either quit, or to smoke less. Montefiore Medical Center and Bronx Breathes will be handing out free nicotine patches, gum and quit-smoking literature at eight sites throughout the Bronx: At the hospital's Moses Division, 111 East 210th Street inside the Food Pavilion; 600 East 233rd Street outside the cafeteria; 600 East 233rd Street in the 4th floor Cafeteria; at the Family Health Center, 360 E. 193rd St.; Bronx East, 2300 Westchester Ave.; at the Comprehensive Family Care Center, 1621 Eastchester Road and at the Comprehensive Health Care Center, 305 E. 161st St.
For more information, call Bronx Breathes at (718) 430-2601.
By Emily Piccone
After Council Member Ydanis Rodriguez was arrested early Wednesday morning at Zuccotti Park for participating in the Occupy Wall Street movement, Latino political and organizational leaders, including northwest Bronx State Senator Gustavo Rivera, are standing in support of Rodriguez and urging community participation during tomorrow's National Day of Action for the 99%.
According to a press release, Rivera was scheduled to appear at a rally today at noon on the steps of City Hall, along with Rodriguez, State Senator Adriano Espaillat, Council Member Melissa Mark-Viverito, as well as members of the groups La Fuente and Make the Road New York, to speak out and exemplify New Yorkers' rights to free speech and freedom of assembly.
Tomorrow's "Day of Action," celebrating the Occupy Wall Street movement's two-month anniversary, includes an "Occupy the Subways" rally at the city's main transit hubs. In the Bronx, protesters will be convening at 3 p.m. at a handful of train stations, including Fordham Road (4 train), 3rd Ave and 138th Street (6), 163rd and Southern Blvd (6), and 161st at Yankee Stadium (B, D, 4).
From the train stations, Occupiers will be heading to Manhattan's Foley Square for a larger rally at 5 p.m.
Community leaders and local elected officials will hold a prayer vigil tonight for Bimal Chanda, the Fordham resident who was fatally beaten two weeks ago in the stairwell of his apartment building on West 190th Street. The service will be held outside of Monroe College, 2501 Jerome Ave., at 6 p.m.
Community Board 7 member Mohammed Ali, who was a close friend of Chanda's, is organizing the rally to draw attention to the recent uptick in neighborhood crime, and the vulnerability of immigrants to attack. He believes Chanda, a native of India, was targeted because of his ethnicity.
The outbreak in violent crime attracted the attention of city politicians, who met last week to discuss tactics to curb violence.
The same week that Chanda was killed, another man was stabbed to death in an apartment building just around the corner. Last week, a man was shot to death on Bainbridge Avenue, a four-year-old boy was shot and critically injured in a botched robbery in University Heights, and in another incident, a gunman opened fire at Bronx-Lebonan Hospital. 
A group of protestors from downtown Manhattan's Occupy Wall Street encampment came to the Bronx this weekend, in a show of support for Woodlawn Cemetery workers campaigning against what they say are unfair labor practices at the landmark cemetery.
About 75 Wall Street demonstrators and members from several labor unions showed up on Saturday to rally with the cemetery workers, who for the last couple of years have tried unsuccessfully to address what they said were acts of overt racism by Woodlawn supervisors.
"We're going to be there to support them, because their struggle is our struggle," said Occupy Wall Street organizer Alan Janczewski.
The group marched outside the gates of the 150-year-old cemetery, holding signs and chanting slogans like, "Hey hey, ho ho, racist bosses got to go."
For the past few years, unionized Woodlawn employees have been at odds with management, claiming supervisors there discriminated against minority workers. Last spring, the cemetery laid off 15 of its 37 workers, a move officials say was necessary to cut budgets costs but which workers claim was retaliation for protesting. Read more
By Alex Kratz
There's good news and there's bad news for Norwood's heavily-used Williamsbridge Oval Park.
We'll start with the good news. Tomorrow morning at 11 a.m., the Parks Department will hold a ribbon-cutting ceremony to celebrate the completion of the new playgrounds and basketball courts on the south end of the park. The playgrounds were finished just before the 4th of July thanks to some heavy lobbying by the Friend of Williamsbridge Oval volunteer ground. The basketball courts were only recently finished; their completion was delayed by a shoddy concrete job earlier in the summer.
Now, the bad news. A Parks spokesperson said the plumber working on the major overhaul of the Rec Center has defaulted, which will delay the opening of the center until the spring of 2012. It was originally supposed to open this past spring. Read more
We took last week off, but we're back today on Breaking Bronx with some freewheeling and random tidbits as we head into the weekend.
— First of all, a very Happy Veteran's Day to all of our brave men and women who have served or are currently serving overseas.
— I want to take a minute to send a shout out to the vet I know best, ex-Marine Nicky Rosa, a tattoo enthusiast and beer aficionado who served in both Iraq and Afghanistan and experienced some crazy, ah, stuff. (Full disclosure: he's my lovely wife's cousin.) Soon after coming home from the Middle East, Nicky moved to the Bronx, a borough he is exceedingly passionate about. He loves the Bronx's working-class, down-to-earth people and attitude. For the past few years, he's lived on Decatur Avenue, a few blocks north of Fordham Road (one of toughest neighborhoods in the northwest Bronx and he loves it) and now spends his days underneath the Cross Bronx Expressway plying his trade as a union iron worker. Though it's not official and I don't mean to jinx it, Nicky is in the process of fulfilling his dream of buying a house in Woodlawn, which he hopes to fix up with the help of his beautiful girlfriend Kelly.
Recently, I've read lots of stories about veterans struggling to adapt to life after war and I think it's completely understandable. While it hasn't always been easy for him, Nicky has worked hard, stayed positive and, as a consequence, his story keeps getting better and better and should serve as an inspiration to other veterans who are looking to find their post-war way. Cheers, Nicky.
— The family of Bimal Chanda, the 59-year-old Bengali man who was fatally beaten two weeks ago, has hired attorney Joseph Awad.In a phone interview today, Awad said Chanda's widow, who found her husband in stairwell (and may or may not have scared off his attackers) is understandably devastated and receiving counseling to help her cope with the pain of losing her husband. I asked him about rumors saying Chanda was targeted for some reason — like his ethnicity or the possibility that he witnessed a crime. Awad said, at this point, "there was no reason to believe he was targeted." Read more
By Alex Kratz

[Video: Council Speaker Christine Quinn, second from the right, talks about the recent spike in violence citywide. Sitting with her, from left to right, are Community Board 7 Chair Paul Foster, Councilman Fernando Cabrera, and Deputy Borough President Aurelia Greene.]
In reaction to a recent spike in violent crime, including the shooting of a 4-year-old in University Heights on Tuesday night, Bronx Councilman Fernando Cabrera and Council Speaker Christine Quinn held a public brainstorming session among community leaders. The goal was to solicit solutions, both immediate and long-term, for curbing the recent rise in violence.
In terms of long-term fixes, at the beginning of the meeting, Quinn announced the formation of a gun violence task force in the Council headed by Cabrera and Brooklyn's Jumaane Williams.
From there, Cabrera, Deputy Borough President Aurelia Greene and community board leaders from several community districts offered up a wide range of ideas, some concrete, others more philosophical. Read more
By Alex Kratz and Emily Piccone
The recent outbreak of violence in the northwest Bronx continues. A four-year-old boy was shot during a botched robbery attempt in University Heights on Tuesday night. Last night, two hospital workers were struck by bullets when a gunman opened fire at Bronx Lebanon Hospital in Mount Eden.
Both of the hospital workers were in stable condition and were expected to be release. But the boy, Cincer Balthazar, is in critical but stable condition at Columbia University Medical Center while police sort out the gory details and local elected officials search for answers.
Details remain somewhat sketchy and differ according to reports, but this much is clear: Cincer's father, Bobby Balthazar, had taken his son out for ice cream and was returning him to a homeless shelter near Grand Avenue and Evelyn Place where the boy lived with his mother. While walking back to the shelter, Balthazar was approached by three young men who tried to steal the father's designer Pelle Pelle jacket at gunpoint. Read more
A fire that began today at around 2 p.m. in Montefiore Medical Center's main building on Gun Hill Road forced the evacuation of 250 hospital employees for a little more than an hour. Montefiore officials said no one was injured, patients were temporarily transported to other parts of the building and employees successfully followed emergency procedures.
After carbon dioxide levels died down, employees returned to work shortly after 3 p.m.
Witnesses said black smoke began billowing out of a Montefiore building vent on Gun Hill Road, near Baibridge Avenue, at around 2 p.m. Soon, Montefiore employees were streaming out of the front entrance to the building wondering when they would be allowed to return.
The two-alarm fire completely shut down traffic around the already congested intersection of Bainbridge Avenue and Gun Hill Road.
Inspector Joseph Dowling, the commander of the 52nd Precinct, said the fire erupted in the boiler room, but was mostly doused by "foam units" that dispersed automatically when the fire started. Smoke from the fire began circulating through the hospital's ventilation system causing conditions that forced an evacuation of patients and staff.
Patients being treated in the emergency and intensive care units were taken to other parts of the building that weren't affected by the fire, a Montefiore spokesperson said.
Meanwhile, in the hospital's operating room, business continued as usual. David Turk, an anesthesiologist who was in the middle of helping out with a thyroid operation at the time the fire broke out, said they could smell smoke and knew something was happening, but it didn't affect their case.
Firefighters are currently responding to a two-alarm fire at Montefiore Hospital, on Gun Hill Road, near Bainbridge Avenue. Norwood News editor Alex Kratz is on the scene and says the blaze was small and started by a generator above emergency room. The emergency room and two intensive care rooms were evacuated.
According to the hospital's Twitter feed, no one was injured and the fire was contained immediately.
We'll have more information for you as it come in.
Update: Employees returning to the building, as of 2:55 p.m.
By Lulaine Compere
Morgan Powell has been on a nine-year mission — researching, traveling and interviewing people about the history of African Americans in the Bronx. He estimates, conservatively, that he has spent $8000 to bring this story to life.
In the spring, Powell partnered with the Bronx River Alliance and held a free two-hour walking tour along the Bronx River to highlight certain places and people that are important to the African American history in the area. And two Saturdays ago at the Bronx Library Center, Powell turned his walking tour into a presentation called "The Bronx River's Afro-American Heritage in 100 Golden Moments."
"The point of this project was to write African American history into a story people might think they know about the Bronx River," Powell says, adding: "African Americans are the second biggest ethnic group in the Bronx."
Powell says the walking tour wasn't his original idea. But when someone at the Bronx River Alliance suggested it, Powell decided to do it. Currently there are no plans to extend the walking tour or expand it to other parts in the Bronx. In the future, Powell says he wants to publish academic essays about the Bronx's African American history. Read more
By David Greene
By David Greene
Last Thursday evening, as mourners began paying their respects to murder victim Bimal Chanda at the Parkchester Funeral Home, Chanda's friends joined with community leaders and local elected officials outside of the building to publicly demand answers in his death.
A day earlier, Chanda, 59, died from injuries he suffered during an Oct. 29 attack in his West 190th Street apartment building stairwell.
The wake and press conference last Thursday night were charged with anger and emotion.
As Mohammed Solaiman Ali, a longtime friend of the victim and Community Board 7 member, spoke to a crowd of assembled reporters, his voice cracked with emotion."I cannot even believe he's not in the world anymore, this innocent guy," Ali said. "He's like a hero. He knew every single thing." Read more
Yes, it's Election Day in New York, in case you were wondering why the kids have off from school. Bronxites eager to fulfill their civic duty, however, will be disappointed to learn that there's no actual race going on in the Boogie Down.
New Yorkers in some parts of the city will be voting for district attorney and judicial candidates, but there's only one name on the Bronx ballot — Bronx District Attorney Robert Johnson.
Johnson, the borough's DA for the last two decades, hasn't had an opponent since 1999, according to City Limits.  
So while you might not get to indulge in the thrill of voting today, you can enjoy the thrill of parking on any side of the street you want: thanks to Election Day, alternate side rules are suspended.
Buzunesh Deba, the runner up in the women's race for the New York City Marathon isn't just a Bronxite. She may be your neighbor.
The 195th Street resident finished just four seconds behind fellow Ethiopian and friend Firehiwot Dado at 2:23:19, according to the Daily News.
Deba and Dado rushed past Mary Keitany with about one mile of the 26.1 mile race to go. Keitany unwisely shot ahead at the start, and could not keep her pace.
Deba moved to the Bronx from Asella, Ethiopia six years ago as an 18-year-old after marrying Worku Bey, according to the New York Times. Bey, formerly an elite runner himself, quit to become Deba's trainer.
This isn't the first time Deba's legs carried her to great finishes. Last year she won the Twin Cities Marathon and the Grandma Marathon in Minnesota, but her time for the New York City Marathon yesterday was her best ever. Deba had previously finished 10th and seventh in her hometown race.
Deba also told the Times her diet consists of broccoli, potatoes, rice, and sometimes chicken. When she's not running, she admires at the zebras at the nearby Bronx Zoo.
On the men's side, Kenyan Geoffrey Mutai won the marathon in grand fashion. At 02:05:06, he smashed the previous record for the marathon by 2:37.
By David Greene and Jeanmarie Evelly
A 21-year-old man was shot and killed on Saturday on Bainbridge Avenue and E. 198th Street — the third homicide this week in the 52nd Precinct.
The shooting took place outside of 2843 Bainbridge Avenue, at 4:26 a.m. on Saturday. The victim, identified by police as Edwin Valdez, 21, of the Grand Concourse, was shot once in the chest and died a short time later at St. Barnabas Hospital. One witness claimed to have heard multiple shots fired before observing a group of teens fleeing north on Bainbridge Avenue. Police canvassed local hospitals, believing the gunman was also shot, but have not identified the shooter. Police have no suspects and continue to investigate. Read more
By Jeanmarie Evelly
On Oct. 18, Bronx AIDS Services sponsored its annual "Clothesline Project," in Fordham Plaza. Domestic violence survivors and their supporters decorated white T-shirts with messages of encouragement, and strung the shirts along clotheslines across the square. The event is meant to be an outlet of expression for survivors of abuse, and an opportunity for them to symbolically air their dirty laundry, said organizer SoJourner McCauley. Read more
By Ronald Chavez
Despite its name, traffic on Gun Hill Road is known to be anything but bullet speed. That's why the Department of Transportation has presented a new study that includes a slew of fixes it hopes will speed up the molasses-slow road.
The East Gun Hill Corridor Study proposes a series of street direction changes, extended sidewalks and curbs, and repairs to make intersections safer and speed up traffic. Read more
By David Greene
The old school grassroots organizers with the Northwest Bronx Community and Clergy Coalition have found an energetic new ally in the growing number of demonstrators with the nascent Occupy the Bronx movement.
The two groups, who share a "power to the people" message, joined forces on a recent Saturday afternoon to collectively call out big banks for what they say is the banks' role in creating the country's economic crisis.
But first, each group held their own separate assemblies on opposite ends of Fordham Road. Read more
By Jasmeet Sidhu
On a recent rainy Saturday morning, seventh-grader Mehrina Tabassum sat quietly at the front of a classroom inside MS 80 on Mosholu Parkway, listening as a tutor instructed the small group of students to tackle a math problem.
"What is the greatest common factor of 105 and 126?" he asked, as students quickly grabbed their pencils.
Mehrina was there for extra weekend tutoring sessions in math and reading that she hopes will help her gain admission to Stuyvesant High School, a prestigious school in lower Manhattan.
"I think Stuyvesant will be kind of challenging, but I think it's going to be fun," said Mehrina, who wants to be a pediatrician.
History, however, is not on Mehrina's side. School administrators said not a single student from MS 80 last year was accepted to Stuyvesant or any of the city's seven other elite public high schools that selectively admit eighth-grade applicants based on their scores on the Specialized High School Admissions Test (SHSAT).
According to the Bronx borough president's office, barely six percent of Bronx students last year were among the nearly 6,000 students across the city accepted into any of these specialized high schools, including the Bronx High School of Science in nearby Bedford Park.
That's why Mehrina was among the few dozen students gathered inside MS 80 on Oct. 29 for the start of the Science Schools Initiative, a Washington Heights-based tutoring service that provides free preparation for the SHSAT to low-income students. The founders said the program at MS 80, which is the first of its kind in a Bronx school, will help level the playing field for families who can't afford pricey test preparation programs. Read more
With DeWitt Clinton's thrilling 14-13 high school football victory over John F. Kennedy, the Governors cemented its recent dominance over its northwest Bronx rivals and established momentum as the team pushes toward the PSAL playoffs.
As big as the win was for the team, it was a personal victory for Clinton Defensive Coordinator Alex Vega, who used to coach at Kennedy. Vega told the New York Post, "Other than the day my son was born, this is the happiest day of my life."
It was the first time Vega coached on Kennedy grounds in two seasons. He was booted by former JFK Principal Anthony Rotunno for alleged employee misconduct, which he denied.
Head Coach Howard Langley said the win was a big emotional lift. "It's almost like an in-season playoff game when you play Kennedy."
Clinton, which has now won three in a row against JFK after dropping 11 straight to the Knights, beat Truman last week to improve to 5-3 going into its season finale against Lehman on Nov. 16. JFK rebounded to beat Lehman, 27-12, and finishes against Truman on Nov. 16.
The New York City Marathon is just getting underway. There are two events being held along the short Bronx portion of the event: Yes the Bronx and Project Obesity are holding their annual Energize the Bronx gathering at Willis Wall Island, at E.135th Street and Willis Avenue, from 10 a.m. to 5 p.m., and Bronxmedia will provide live entertainment from 10 a.m. to 4 p.m. at 139th Street and Morris Avenue. In the meantime, we offer this story about one of the Bronxites running today.
By Emily Piccone
Six years ago, Rob Vassilarakis was coming up from the East 138th 5 train station when he was suddenly hit with a wave of energy that would change his life for good. It turned out to be New York City marathon runners charging through the 20-mile mark.
"I was coming up the stairs and I could hear the feet of all the runners and I'm like, what is that?" Rob remembers. "It was this energy, this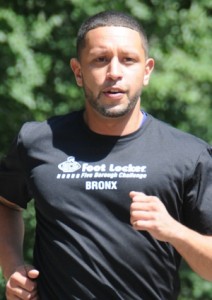 overwhelming, beautiful energy that just embraces you. Being an addict, I was loving the feeling."
By October of 2006, Rob had been living in and out of jobs, on and off the streets, HIV positive, and battling a crystal meth addiction for the past 18 years. He still remembers the exact day of that month when he finally sat down to a computer, Googled "drug treatment NYC," and checked into a rehab center.
You wouldn't know it seeing him today, sitting comfortably in a purple button-down shirt and slacks at his desk in the 'El Faro' rehab clinic, a program of Harlem United, where he works with HIV/AIDS patients. From his firm handshake, to his confident smile, he exudes health. And today, as part of his second time running a marathon, he will be the sole representative of the Bronx in the Foot Locker 5 Borough Challenge, a race for charity within the massive ING Marathon.
When he was 17, just shy of his eighteenth birthday, Rob's mother read a personal journal of his, and upon finding out he was gay, threw him out of the family's house on Long Island.
After getting thrown out, Rob moved into a quickly all consuming lifestyle on the Lower East Side.
"It felt like a blessing and a curse. Once she found out, I could live my life as an out gay man, but I fell into a lot of the things that young people on their own might fall into," Rob said.
After battling with feelings of neglect from his upbringing, the attention Rob received in the clubs he started to work at became as addictive as the drugs that went with the scene. Read more
The NYPD released video footage of two male suspects who detectives believe may be connected to the murder of Bimal Chanda, who was beaten on Saturday morning and died from his injuries yesterday morning. The story is now getting picked up citywide. Reports say Chanda used to be a cab driver and that he hoped to start a nonprofit to fight unemployment.
Anyone with information on the case should contact the Crime Stoppers hotline at 1-800-577-TIPS, or text CRIMES and then enter TIP577, or visit www.nypdcrimestoppers.com.
Bimal Chanda, a 59-year-old man with deep ties to the northwest Bronx community where he lived for nearly three decades died yesterday morning from injuries suffered during a severe beating on Saturday morning.
In a cruel twist, Chanda and his family were in the final stages of moving out of the neighborhood, near West 190th Street and Grand Avenue, because of concerns about increasing crime, according to Chanda's longtime friend, Mohammed Ali, who is a member of Community Board 7.
At around 9 a.m., Saturday morning, Chandra left the family's longtime apartment building, 30 W. 190th St., to pick up some packing tape. When he returned, police say Chandra was attacked by two men in the second floor stairwell and beaten with an unknown metal object.
Chanda was taken to St. Barnabas Hospital, but succumbed to his injuries, which included severe internal bleeding, yesterday morning at 6 a.m. Police immediately declared his death a homicide and said the investigation is ongoing.  Though police say Chanda was the victim of a mugging, Ali is skeptical and searching for other explanations. He said Chanda still had more than $90 and his cell phone in his pocket following the beating.
Ali, who lives nearby and has been outspoken about crime problems (he was robbed at gunpoint in his home in 2007), helped organized a prayer gathering and press conference tonight at 7 p.m. at the  funeral home in Parkchester (1430 Union Port Road)  where the family is holding a memorial service for Chanda. (Parkchester is also the area Chanda and his family, including his wife and teenage daughter, were moving to.)  He said Assemblyman Peter Rivera, State Senator Ruben Diaz, Sr. and Councilman Fernando Cabrera will be attending the press conference in an attempt to bring light to a neighborhood that he believes is under siege.
On Tuesday evening, in an apparently unrelated incident, a 35-year-old man was stabbed to death just a block away from Chanda's beating. Police have not identified the victim yet.
A 35-year-old man was stabbed to death last night on Grand Avenue, just north of Fordham Road and just a block away from Devoe Park, according to police.
Officers from the 52nd Precinct found the man bleeding to death from multiple stab wounds in the lobby of 2460 Grand Ave. at around 6 p.m. Emergency workers transported the victim to St. Barnabas Hospital, where he was pronounced dead on arrival.
Police are waiting to notify the family of the victim before releasing his name. They said no arrest have been made yet and that the investigation is ongoing.
We'll have more details when we get them.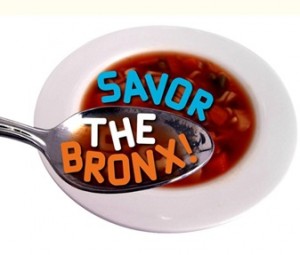 The Bronx is finally joining its foodie-mad other boroughs in launching the first-ever Bronx Restaurant Week. It is the last of the five boroughs to host a discount-driven restaurant week, showcasing the area's best food and dining, but don't they save the best for last? Savor the Bronx, created by BP Ruben Diaz, Jr. and the New York State Restaurant Association, kicked off yesterday, and will last through Sunday, Nov. 13.
Participating restaurants will serve up deal alongside cuisine from around the world, such as the Guyanese restaurant Coconut Palm off the Zerega 6 train, offering a $14.99 dinner special.
Crowned the 'official brewery' of Savor the Bronx by BP Diaz, the Bronx Brewery will be partnering up with the Bronx Ale House on Tuesday November 8, beginning at 6 pm, held at the Ale House. The brewery will be hosting a beer tasting as chefs at the Bronx Ale house get creative in the kitchen with pairing food dishes to the brewery's Pale Ale.
If brew food doesn't wet your palate, possibly a scenic trip out to City Island's Portofino, where they are offering customers complimentary dessert and coffee with an entree.
The menus are first rate and the deals are bountiful across the borough this week- don't miss out on savoring the Bronx!
For a complete list of restaurants and other information on Bronx restaurant week visit savorthebronx.com. And here's an in-depth preview of the event from NY1, featuring the Bronx Ale House owner James Langstine as well as borough president and apparent Ale House patron Ruben Diaz, Jr., who goes on and on and on some more about the types of food the Bronx has to offer.
If you do take in a meal at any of these restaurants, let us know how it goes.
And finally, a question: what restaurants aren't on the list that should be on the list?
Two years ago today, on Halloween morning, a fire tore through a string of stores at the corner of Bainbridge Avenue and East 204th Street, reducing the 10 businesses housed there to little more than charred remains. Today, the space still sits empty, boarded up and strewn with rubble.
We sent a team of student reporters from the Bronx Youth Journalism Initiative – a journalism program for Bronx High School students run by the Norwood News — out on the street recently to ask local residents what they'd like to see built in the vacant lot. Read more
After a steady flow of complaints to the Bronx Borough President's office, other elected officials, and community board offices, the city's Sanitation Department (DSNYC)  kicked off its "Don't Be a Pooper-trator" campaign to crack down on negligent dog owners.
While the "pooper scooper" law of 1978 created a fine, now $250, for failing to clean up after your pooch, the sidewalks and parks of the Bronx clearly show that few dog owners are fearful of it. At a press conference today at the Bedford Park Senior Center, Bronx Borough President Ruben Diaz, Jr., joined by Sanitation Commissioner John Doherty and Community Board managers Fernando Tirado (District 7) and Jeremy Warneck (District 9), laid out the new enforcement plan.
"If you are walking your dog and you are caught without cleaning up after it, the pooper scooper law will be enforced, and it will be the most expensive piece of crap you'll ever pay for. We're dead serious about this," said Diaz.
Diaz reiterated that sanitation officers will be on the prowl in areas with high levels of sidewalk and park poop, and that there will be zero forgiveness for these tickets. Read more
By By Alex Kratz
The edgy new $4.5 million, bird-shaped Poe Park Visitor's Center, once on pace to open four months ago, remains shuttered and is not scheduled to open any time soon as the Parks Department scrambles to figure out how to staff it, according to an article today in the New York Times.
In early June, the Norwood News asked the Parks Department when the Visitor's Center would open to the public. In an e-mail, Parks Department spokesman Zachary Feder responded: "We're in the process of making the final preparations needed to open the center. The center will be open before the end of the month."
Nearly five months later, the Visitor's Center still hasn't opened. Angel Hernandez, of the Bronx Historical Society, which helps run the recently renovated Poe Cottage, told the Times that the neither the society or the Parks Department can afford to staff the new center. Hernandez said they've failed to secure any grants or funding to help staff it and the Parks Department rejected a proposal to sell paving stones engraved with the names of donors, as they've done in at least one other city park, the Times points out.
"We are looking into the intricacies of managing the center," Deputy Parks Commission Larry Scott Blackmon told the Times.
Meanwhile, Poe Park visitors still don't have a place to use the bathroom — the Times reported that there was a note saying the locked bathrooms were under repair when a reporter visited last week — and the exterior of the building is already being vandalized.
Other than all that gloom, there's a load of great detail about Poe Cottage, the final home of Edgar Allan Poe, as well as the interesting a mysterious history of the writer's final years.
Here's a Norwood News story on the Poe Cottage renovation project, and another story on the visitor's center, which reports that it was originally slated to open in April, of 2010.
– Alex Kratz
Last week, City Comptroller took a little mini-tour of the Bronx. Above, you can see video of his exchange with Bronx Community College Student Body President Tricia Warren during which he briefly discusses the economy, President Barack Obama's jobs bill, and the Tea Party.
Liu, who was joined by State Assemblyman Nelson Castro at BCC, also visited the Morris Heights Senior Center and the South Bronx Job Corps Center.
Since that visit, disturbing Bronx unemployment statistics have poured in from Liu's office. At 13.7 percent, the unemployment rate in the Bronx is the worst of the five boroughs. Read more
By David Greene
This past Saturday, demonstrators from the nascent Occupy the Bronx movement joined forces with old guard grassroots organizers from the Northwest Bronx Community and Clergy Coalition to collectively call out big banks for their role in creating in the country's economic crisis.
But first, each group held their own separate assemblies on opposite ends of Fordham Road. Read more
Story and Video by Emily Piccone
Early Sunday morning thousands gathered on 161st street for the start of the 17th annual Tour de Bronx. Bronx Borough President Ruben Diaz Jr. welcomed the huge crowd of people, coming from the five boroughs, Westchester County and even as far as Stamford, Conn., to take part in the annual ride. Read more
The hotly anticipated match-up between old football rivals the DeWitt Clinton Governors and the John F. Kennedy's Knights ended with redemption for Kennedy coach turned Clinton Defensive Coordinator Alex Vega, according to the NY Post.
Clinton was ahead 14-13 with just over three minutes to go, but the Knights were well into the Clinton red zone (inside the 20-yard line, for those non-football fanatics). That's when Clinton sophomore linebacker Xavier Worrell intercepted a pass that would have put JFK in the lead and securing the one-point victory for the Governors. Clinton is now 4-3 on the season,  while JFK dropped to 3-4.
As big as the win was for the team, it was a personal victory for Vega, who used to coach at Kennedy.  Clinton's defensive coordinator cried and told the Post, "Other than the day my son was born, this is the happiest day of my life." Read more
Happy Monday, Breaking Bronx readers. From here on out, we'll be starting each work week off with a post called "Weekend Wrap,"  linking to relevant local news and big Bronx stories that went down over the weekend. Make sure you check back with us here every Monday.
Some items from the last few days:
A bill passed recently by the City Council will require the DOE to provide extensive reports on how school space is being utilized–though local parents are skeptical this will do anything for the crammed classrooms in the notoriously overcrowded Bronx District 10. This Daily News story sites local Bedford Park schools PS 8 and PS 86 among the most packed, with some classes holding as many as 40 students.
According to the MTA's website service on the No. 4, 5 and 6 trains is back to normal this afternoon after a derailment downtown caused serious delays on the line this morning.
Friday News & Notes is a new regular feature we're implementing on Breaking Bronx as a way to report news tidbits, preview weekend happenings, and point out some of the stories you may have missed earlier in the week. Like Breaking Bronx, this will be an evolving feature.
— "Master carver" Ray Villafane will be at the Botanical Garden this weekend carving up the world's largest pumpkin, which weighs in at 1,818.5 pounds. The photo above, by Adi Talwar, is from last year's giant pumpkin carving extravaganza at the Garden. Click here for more of Adi's pumpkin carving photos.
— The Norwood News talked with Councilman Fernando Cabrera for an article about the sector stats legislation he introduced two weeks ago. This didn't make it into the story, but he called the Norwood News the "instigator" and the "conscious awakener" of the bill.
— Speaking of neighborhood crime stats, we recently interviewed longtime NYC crime reporter Murray Weiss, who spearheaded an amazingly thorough new crime statistics database on dnainfo.com. Check back for our interview with Weiss next week on Breaking Bronx. And look for our detailed crime statistics analysis of all 15 sectors in the 52nd Precinct in the next edition of the Norwood News print edition, Nov. 3.
— Spoke with new Community Board 7 Vice Chair Adaline Walker-Santiago this morning. Walker-Santiago narrowly defeated Parks Chair William Francis, 16-14, at Tuesday night's meeting to take over for the late great Ozzie Brown. Walker-Santiago, a former city and DOE employee, is fast becoming one of the most active members of CB 7. She was instrumental in implementing a new free course for students at MS 80 (the Mosholu Parkway school on the chopping block after years of low performance) that will give students concentrated help in studying for the entrance exams into specialized high schools, like Bronx Science. (More on this next week and in the next print edition.) During a speech at the first-ever Bronx Education Summit, Boro Prez Ruben Diaz, Jr. commented on the lack of Bronx kids in specialized schools, "Our flagship school — the Bronx High School of Science — barely has any Bronx students within its walls."
— The Tour de Bronx is Sunday! Get your ride on, Bronxites.
By Ronald Chavez
After persistent lobbying, Schools Chancellor Dennis Walcott said he would meet with parents of students at PS 51, the Bronx New School, which was moved from Bedford Park to Crotona after the building the school had inhabited for nearly two decades was found to be contaminated.
But parents, who rallied outside of a Panel for Education Policy meeting that Walcott attended, say they're still skeptical about the Department of Education's willingness to address their concerns.
It's been three months since parents were alerted to the fact that the Bedford Park building that housed the Bronx New School had tested positive for sky-high levels of trichloroethylene, a toxin linked to cancer. The school was moved to St. Martin of Tours on 182nd Street in Crotona with just weeks to go before the start of the school year. Read more
By Alex Kratz
Spurred on by a Norwood News campaign, Councilman Fernando Cabrera introduced legislation this month that would force the New York City Police Department to publish neighborhood crime statistics each month.
On its website, the NYPD provides updated crime statistics for each of the city's precincts. But police also generate statistics for several neighborhoods within each precinct. Those more detailed and localized statistics are provided by some precinct commanders. But most, including the those in the 52nd Precinct, force you to file a Freedom of Information Law request to obtain the statistics. The NYPD can take anywhere from a few months to more than a year to fulfill most FOIL requests.
Cabrera says providing the statistics to the public is "not an option, it's a necessity." Read more
By Emily Piccone
Since 1863, the sprawling Woodlawn Cemetery has seen jazz greats, literary giants, political leaders and everyone in between entombed above and beneath its hallowed grounds. On Sunday, Oct. 16, the cemetery was inducted into the National Historic Landmark Registry. It is the sixth Bronx institution to make the list.
"From every racial background, the Woodlawn Cemetery represents the largest and most distinguished register of mausoleums in the country," said John Liu, the New York City Comptroller.
The ceremony joined together Woodlawn Cemetery President John P. Toale, Bronx Borough President Ruben Diaz, Jr., State Senator Jeffrey Klein, Bronx Historian Lloyd Ultan, Lehman College President Ricardo Fernandez, and many others who assisted in distinguishing the cemetery as a National Landmark. Read more
By Ronald Chavez
For the first-ever Bronx Education Summit at Lehman College, Borough President Ruben Diaz, Jr. said he wanted to spark conversation.
He got what he wanted.
In an early morning speech, education scholar Diane Ravitch blasted the city's education system since Mayor Michael Bloomberg took the reigns in 2002, saying rising test scores are misleading and that fewer and fewer of high school graduates are prepared for college.
"The DOE responds to systemic problems with a simple formula," she said. "The same formula now for 10 years: close the schools that enroll low performing students. Open new schools, especially charter schools. This doesn't help children learn English." Read more
By Lindsay Armstrong
Francisco Rosario sits at a worn wooden desk behind a storefront window, transforming a pile of flat, brown leaves into cigars as thick as Italian sausages. He holds the butt of a cigar snugly between his lips as he works, tearing, smoothing, and rolling the fragrant leaves. Our Lady of Fatima, emblazoned on a gold medal hanging from his neck, presides over the ritual.
Rosario, 52, has been making cigars since his childhood in the Dominican Republic. In spite of chatter to the contrary, he insists that Dominican cigars are the best.
"Cubans are famous because no one can get them here," he said in a mix of Spanish and English. "But Dominican cigars are better. They have two kinds of tobacco. We have eight."
After moving to New York at age 34, Rosario dreamed of opening his own cigar shop. Eight years later, that dream became a reality. Rosario's Cigars, on East Gun Hill Road in Norwood, is now celebrating its 10th anniversary. Read more
By David Greene
Nearly two years after filing a grievance against the management of Woodlawn Cemetery, with claims of unfair labor practices and racism, employees continue to speak out, even after 15 of 37 workers were laid off in April.
A handful of workers and their supporters gathered outside the cemetery on Saturday, Oct. 15, a day before a plaque would be dedicated in honor of Woodlawn becoming a national landmark.
Frank Russo, a former U.S. Marine who has worked at Woodlawn since 1979, said that since testifying before the independent attorney who was investigating workers' claims last summer, he has become a target of supervisors.
"I worked for seven years in the crematory," he said. "The minute I spoke to the attorney, that was it, my days were numbered there."
Russo, a white man who says he spoke out on behalf of minority employees, says he was immediately transferred and lost his overtime, which amounted to about $300 a week. Read more
By Jeanmarie Evelly
Mayor Bloomberg and a number of city and elected officials gathered at the Bronx Library Center on Kingsbridge Road last week to launch the first effort of the city's "Young Men's Initiative," a $127 million multi-agency program unveiled this summer to address the disparities faced by the city's young black and Latino men.
The first leg of the initiative will focus on improving youth reading skills, the mayor announced last week, with $3 million funneled to the expansion of the Young Adult Literacy Program, which works with 16 to 24 year olds who read between the fourth and eighth grade levels.
The program, founded in 2008, will now be offered at 17 sites across the city and will nearly double the number of participants to an estimated 1,000 young people this year. Read more
By Emily Piccone
Teaming up with professional mixed martial artists, a celebrity fitness trainer and a dietician from Jacobi Medical Center, Assemblywoman Naomi Rivera has set out to tackle childhood obesity in her new "Fight the Bulge" campaign.
The obesity epidemic has replaced smoking as the leading killer of Americans, Rivera said in a press release, and Hispanic children are particularly at risk: nearly half of Latinos born after the year 2000 will develop diabetes, a recent study estimates.
On Oct. 10, Rivera hosted an educational forum at Bronx House, on Pelham Parkway, to discuss the risks associated with an unhealthy lifestyle and the best tactics for combating obesity.  In attendance were personal trainer Donovan Green, nutritionist Dr. Gloria Brent of Jacobi Medical Center, and UFC professional fighters Nick Pace and Louis "Good Night" Gaudinot.   Read more
By Jeanmarie Evelly
Bronx State Sen. Gustavo Rivera is getting back to his roots as educator, teaching a series of free civics classes this month at the Bronx Library Center that cover topics like the Constitution and the Bill of Rights, elections and how different levels of government work.
Rivera, who has taught at Pace University and CUNY Hunter, said he wanted to do something productive during his time off from Albany (the legislative session starts back up in January) and thought the classes would help stress the importance of civic participation to his constituents.
"I've always believed that people need to participate in local government," Rivera said. "People should understand how government works so they can demand more of their government."
The classes started last week and will be held every Thursday evening, from 6 to 7 p.m. until Nov. 3 at the Bronx Library Center, 310 E. Kingsbridge Rd. Future series are being planned for other areas of the district.
Classes are free and open to the public, and you can attend one or attend all, Rivera said. To RSVP or for more information, call (718) 933-2034.
Bronx bicycling enthusiasts can get in gear for the 17th annual Tour de Bronx, as registration for the Oct. 23 event is now open. The tour is a joint project by Bronx Borough President Ruben Diaz, Jr., advocacy group Transportation Alternatives, and local hospitals to promote health and exercise.
"Riding a bike around our borough is the healthiest way to see the best of the Bronx, and I invite everyone to join me again this year to tour our wonderful borough," Diaz said in a press release.
The borough president kicked off the event at a press conference at the Children's Hospital at Montefiore last Wednesday.
For Roxanne Watson, the event could be another marker in her recovery. Watson received a heart transplant at Montefiore Hospital last year and has recovered well enough to try and bike the borough.
"For a long time I couldn't even walk.  Now I'm exercising three times a week and willing to try new things like Tour de Bronx," Watson said.
It's the largest free cycling event in the state, according to a press release. Bicyclists can choose between a 25-mile course designed for all skill levels or a more rigorous 40-mile course, for more experienced bikers.
The tour starts at the Bronx County Building on 161st Street and the Grand Concourse, heads into Mott Haven, then snakes around the southeastern edges of the borough. It pulls northward and to the west after Throgs Neck and ends near Bedford Park.
To register for this year's Tour de Bronx, head to http://tourdebronx.org/register or call (718) 590-3518.
By Ronald Chavez
An ancient rivalry is back in the Bronx for an emotional showdown under Friday night lights. Dewitt Clinton's Governors are headed to John F. Kennedy's Riverdale campus in what should be a hard-fought contest that starts at 7 p.m.
The Governors have beaten JFK the past two years after suffering 11 straight losses to the Knights.
In an interview yesterday, Clinton head coach Howard Langley said he's expecting an emotional game. "Kids are going to experience emotion and adrenaline that they're never going to feel again," he said.
Former Knights coach Alex Vega will find himself in an unusual position –- trying to keep his old team off the scoreboard. Now the defensive coordinator for Clinton, Vega declined to talk to the press, but Langley said it would be like playing against family for him.
The teams are both 3-3 after losses last week, and have each dropped off the NY Post's power rankings.