Last week, City Comptroller took a little mini-tour of the Bronx. Above, you can see video of his exchange with Bronx Community College Student Body President Tricia Warren during which he briefly discusses the economy, President Barack Obama's jobs bill, and the Tea Party.
Liu, who was joined by State Assemblyman Nelson Castro at BCC, also visited the Morris Heights Senior Center and the South Bronx Job Corps Center.
Since that visit, disturbing Bronx unemployment statistics have poured in from Liu's office. At 13.7 percent, the unemployment rate in the Bronx is the worst of the five boroughs. Read more
By David Greene
This past Saturday, demonstrators from the nascent Occupy the Bronx movement joined forces with old guard grassroots organizers from the Northwest Bronx Community and Clergy Coalition to collectively call out big banks for their role in creating in the country's economic crisis.
But first, each group held their own separate assemblies on opposite ends of Fordham Road. Read more
Story and Video by Emily Piccone
Early Sunday morning thousands gathered on 161st street for the start of the 17th annual Tour de Bronx. Bronx Borough President Ruben Diaz Jr. welcomed the huge crowd of people, coming from the five boroughs, Westchester County and even as far as Stamford, Conn., to take part in the annual ride. Read more
The hotly anticipated match-up between old football rivals the DeWitt Clinton Governors and the John F. Kennedy's Knights ended with redemption for Kennedy coach turned Clinton Defensive Coordinator Alex Vega, according to the NY Post.
Clinton was ahead 14-13 with just over three minutes to go, but the Knights were well into the Clinton red zone (inside the 20-yard line, for those non-football fanatics). That's when Clinton sophomore linebacker Xavier Worrell intercepted a pass that would have put JFK in the lead and securing the one-point victory for the Governors. Clinton is now 4-3 on the season,  while JFK dropped to 3-4.
As big as the win was for the team, it was a personal victory for Vega, who used to coach at Kennedy.  Clinton's defensive coordinator cried and told the Post, "Other than the day my son was born, this is the happiest day of my life." Read more
Happy Monday, Breaking Bronx readers. From here on out, we'll be starting each work week off with a post called "Weekend Wrap,"  linking to relevant local news and big Bronx stories that went down over the weekend. Make sure you check back with us here every Monday.
Some items from the last few days:
A bill passed recently by the City Council will require the DOE to provide extensive reports on how school space is being utilized–though local parents are skeptical this will do anything for the crammed classrooms in the notoriously overcrowded Bronx District 10. This Daily News story sites local Bedford Park schools PS 8 and PS 86 among the most packed, with some classes holding as many as 40 students.
According to the MTA's website service on the No. 4, 5 and 6 trains is back to normal this afternoon after a derailment downtown caused serious delays on the line this morning.
Friday News & Notes is a new regular feature we're implementing on Breaking Bronx as a way to report news tidbits, preview weekend happenings, and point out some of the stories you may have missed earlier in the week. Like Breaking Bronx, this will be an evolving feature.
— "Master carver" Ray Villafane will be at the Botanical Garden this weekend carving up the world's largest pumpkin, which weighs in at 1,818.5 pounds. The photo above, by Adi Talwar, is from last year's giant pumpkin carving extravaganza at the Garden. Click here for more of Adi's pumpkin carving photos.
— The Norwood News talked with Councilman Fernando Cabrera for an article about the sector stats legislation he introduced two weeks ago. This didn't make it into the story, but he called the Norwood News the "instigator" and the "conscious awakener" of the bill.
— Speaking of neighborhood crime stats, we recently interviewed longtime NYC crime reporter Murray Weiss, who spearheaded an amazingly thorough new crime statistics database on dnainfo.com. Check back for our interview with Weiss next week on Breaking Bronx. And look for our detailed crime statistics analysis of all 15 sectors in the 52nd Precinct in the next edition of the Norwood News print edition, Nov. 3.
— Spoke with new Community Board 7 Vice Chair Adaline Walker-Santiago this morning. Walker-Santiago narrowly defeated Parks Chair William Francis, 16-14, at Tuesday night's meeting to take over for the late great Ozzie Brown. Walker-Santiago, a former city and DOE employee, is fast becoming one of the most active members of CB 7. She was instrumental in implementing a new free course for students at MS 80 (the Mosholu Parkway school on the chopping block after years of low performance) that will give students concentrated help in studying for the entrance exams into specialized high schools, like Bronx Science. (More on this next week and in the next print edition.) During a speech at the first-ever Bronx Education Summit, Boro Prez Ruben Diaz, Jr. commented on the lack of Bronx kids in specialized schools, "Our flagship school — the Bronx High School of Science — barely has any Bronx students within its walls."
— The Tour de Bronx is Sunday! Get your ride on, Bronxites.
By Ronald Chavez
After persistent lobbying, Schools Chancellor Dennis Walcott said he would meet with parents of students at PS 51, the Bronx New School, which was moved from Bedford Park to Crotona after the building the school had inhabited for nearly two decades was found to be contaminated.
But parents, who rallied outside of a Panel for Education Policy meeting that Walcott attended, say they're still skeptical about the Department of Education's willingness to address their concerns.
It's been three months since parents were alerted to the fact that the Bedford Park building that housed the Bronx New School had tested positive for sky-high levels of trichloroethylene, a toxin linked to cancer. The school was moved to St. Martin of Tours on 182nd Street in Crotona with just weeks to go before the start of the school year. Read more
By Alex Kratz
Spurred on by a Norwood News campaign, Councilman Fernando Cabrera introduced legislation this month that would force the New York City Police Department to publish neighborhood crime statistics each month.
On its website, the NYPD provides updated crime statistics for each of the city's precincts. But police also generate statistics for several neighborhoods within each precinct. Those more detailed and localized statistics are provided by some precinct commanders. But most, including the those in the 52nd Precinct, force you to file a Freedom of Information Law request to obtain the statistics. The NYPD can take anywhere from a few months to more than a year to fulfill most FOIL requests.
Cabrera says providing the statistics to the public is "not an option, it's a necessity." Read more
By Emily Piccone
Since 1863, the sprawling Woodlawn Cemetery has seen jazz greats, literary giants, political leaders and everyone in between entombed above and beneath its hallowed grounds. On Sunday, Oct. 16, the cemetery was inducted into the National Historic Landmark Registry. It is the sixth Bronx institution to make the list.
"From every racial background, the Woodlawn Cemetery represents the largest and most distinguished register of mausoleums in the country," said John Liu, the New York City Comptroller.
The ceremony joined together Woodlawn Cemetery President John P. Toale, Bronx Borough President Ruben Diaz, Jr., State Senator Jeffrey Klein, Bronx Historian Lloyd Ultan, Lehman College President Ricardo Fernandez, and many others who assisted in distinguishing the cemetery as a National Landmark. Read more
By Ronald Chavez
For the first-ever Bronx Education Summit at Lehman College, Borough President Ruben Diaz, Jr. said he wanted to spark conversation.
He got what he wanted.
In an early morning speech, education scholar Diane Ravitch blasted the city's education system since Mayor Michael Bloomberg took the reigns in 2002, saying rising test scores are misleading and that fewer and fewer of high school graduates are prepared for college.
"The DOE responds to systemic problems with a simple formula," she said. "The same formula now for 10 years: close the schools that enroll low performing students. Open new schools, especially charter schools. This doesn't help children learn English." Read more
By Lindsay Armstrong
Francisco Rosario sits at a worn wooden desk behind a storefront window, transforming a pile of flat, brown leaves into cigars as thick as Italian sausages. He holds the butt of a cigar snugly between his lips as he works, tearing, smoothing, and rolling the fragrant leaves. Our Lady of Fatima, emblazoned on a gold medal hanging from his neck, presides over the ritual.
Rosario, 52, has been making cigars since his childhood in the Dominican Republic. In spite of chatter to the contrary, he insists that Dominican cigars are the best.
"Cubans are famous because no one can get them here," he said in a mix of Spanish and English. "But Dominican cigars are better. They have two kinds of tobacco. We have eight."
After moving to New York at age 34, Rosario dreamed of opening his own cigar shop. Eight years later, that dream became a reality. Rosario's Cigars, on East Gun Hill Road in Norwood, is now celebrating its 10th anniversary. Read more
By David Greene
Nearly two years after filing a grievance against the management of Woodlawn Cemetery, with claims of unfair labor practices and racism, employees continue to speak out, even after 15 of 37 workers were laid off in April.
A handful of workers and their supporters gathered outside the cemetery on Saturday, Oct. 15, a day before a plaque would be dedicated in honor of Woodlawn becoming a national landmark.
Frank Russo, a former U.S. Marine who has worked at Woodlawn since 1979, said that since testifying before the independent attorney who was investigating workers' claims last summer, he has become a target of supervisors.
"I worked for seven years in the crematory," he said. "The minute I spoke to the attorney, that was it, my days were numbered there."
Russo, a white man who says he spoke out on behalf of minority employees, says he was immediately transferred and lost his overtime, which amounted to about $300 a week. Read more
By Jeanmarie Evelly
Mayor Bloomberg and a number of city and elected officials gathered at the Bronx Library Center on Kingsbridge Road last week to launch the first effort of the city's "Young Men's Initiative," a $127 million multi-agency program unveiled this summer to address the disparities faced by the city's young black and Latino men.
The first leg of the initiative will focus on improving youth reading skills, the mayor announced last week, with $3 million funneled to the expansion of the Young Adult Literacy Program, which works with 16 to 24 year olds who read between the fourth and eighth grade levels.
The program, founded in 2008, will now be offered at 17 sites across the city and will nearly double the number of participants to an estimated 1,000 young people this year. Read more
By Emily Piccone
Teaming up with professional mixed martial artists, a celebrity fitness trainer and a dietician from Jacobi Medical Center, Assemblywoman Naomi Rivera has set out to tackle childhood obesity in her new "Fight the Bulge" campaign.
The obesity epidemic has replaced smoking as the leading killer of Americans, Rivera said in a press release, and Hispanic children are particularly at risk: nearly half of Latinos born after the year 2000 will develop diabetes, a recent study estimates.
On Oct. 10, Rivera hosted an educational forum at Bronx House, on Pelham Parkway, to discuss the risks associated with an unhealthy lifestyle and the best tactics for combating obesity.  In attendance were personal trainer Donovan Green, nutritionist Dr. Gloria Brent of Jacobi Medical Center, and UFC professional fighters Nick Pace and Louis "Good Night" Gaudinot.   Read more
By Jeanmarie Evelly
Bronx State Sen. Gustavo Rivera is getting back to his roots as educator, teaching a series of free civics classes this month at the Bronx Library Center that cover topics like the Constitution and the Bill of Rights, elections and how different levels of government work.
Rivera, who has taught at Pace University and CUNY Hunter, said he wanted to do something productive during his time off from Albany (the legislative session starts back up in January) and thought the classes would help stress the importance of civic participation to his constituents.
"I've always believed that people need to participate in local government," Rivera said. "People should understand how government works so they can demand more of their government."
The classes started last week and will be held every Thursday evening, from 6 to 7 p.m. until Nov. 3 at the Bronx Library Center, 310 E. Kingsbridge Rd. Future series are being planned for other areas of the district.
Classes are free and open to the public, and you can attend one or attend all, Rivera said. To RSVP or for more information, call (718) 933-2034.
Bronx bicycling enthusiasts can get in gear for the 17th annual Tour de Bronx, as registration for the Oct. 23 event is now open. The tour is a joint project by Bronx Borough President Ruben Diaz, Jr., advocacy group Transportation Alternatives, and local hospitals to promote health and exercise.
"Riding a bike around our borough is the healthiest way to see the best of the Bronx, and I invite everyone to join me again this year to tour our wonderful borough," Diaz said in a press release.
The borough president kicked off the event at a press conference at the Children's Hospital at Montefiore last Wednesday.
For Roxanne Watson, the event could be another marker in her recovery. Watson received a heart transplant at Montefiore Hospital last year and has recovered well enough to try and bike the borough.
"For a long time I couldn't even walk.  Now I'm exercising three times a week and willing to try new things like Tour de Bronx," Watson said.
It's the largest free cycling event in the state, according to a press release. Bicyclists can choose between a 25-mile course designed for all skill levels or a more rigorous 40-mile course, for more experienced bikers.
The tour starts at the Bronx County Building on 161st Street and the Grand Concourse, heads into Mott Haven, then snakes around the southeastern edges of the borough. It pulls northward and to the west after Throgs Neck and ends near Bedford Park.
To register for this year's Tour de Bronx, head to http://tourdebronx.org/register or call (718) 590-3518.
By Ronald Chavez
An ancient rivalry is back in the Bronx for an emotional showdown under Friday night lights. Dewitt Clinton's Governors are headed to John F. Kennedy's Riverdale campus in what should be a hard-fought contest that starts at 7 p.m.
The Governors have beaten JFK the past two years after suffering 11 straight losses to the Knights.
In an interview yesterday, Clinton head coach Howard Langley said he's expecting an emotional game. "Kids are going to experience emotion and adrenaline that they're never going to feel again," he said.
Former Knights coach Alex Vega will find himself in an unusual position –- trying to keep his old team off the scoreboard. Now the defensive coordinator for Clinton, Vega declined to talk to the press, but Langley said it would be like playing against family for him.
The teams are both 3-3 after losses last week, and have each dropped off the NY Post's power rankings.
Slide show and Story By Lindsay Armstrong
More than 250 people crowded into St. Brendan's auditorium on a recent Sunday evening to celebrate the 17th anniversary of the church's Filipino parish.
Lumen Castaneda, a former resident of Norwood, founded the parish in conjunction with St. Brendan's in 1994. The church offers a monthly mass in Tagalog, the Philippine native tongue.
Head pastor, Father George Stewart says the group is a vibrant part of the larger church community. "This is a very ethnically diverse parish. We have 48 nations represented and they all add to the experience," Stewart said. "We're very excited for them."
Supporters of a living wage bill that's been lingering in the City Council for over a year now are making another effort to revive the lagging legislation, in a drawn-out battle with the Bloomberg administration and business leaders who say it would ultimately kill jobs.
Sponsors of the proposed Fair Wages for New Yorkers Act, which would require developers receiving substantial taxpayer-funded subsidies to pay workers $10 an hour with benefits, or $11.50 without, unveiled revisions to the bill earlier this month in an attempt to compromise with critics. Whether the newly watered-down version of the legislation is enough to sway its opponents will likely be debated on Nov. 22, when a public hearing for the bill—its second to date—has been scheduled by the City Council.
Read more
Gabriel De Los Santos, a veteran of the Occupy Wall Street movement now stretching into its second month, showed up at the first Occupy the Bronx rally at Fordham Plaza last Saturday. He held a hand-written cardboard sign, a replica of dozens he had created and distributed during the past month. It read: "Land of the Free? Hypocrisy."
Sporting a backwards Suicidal Tendencies baseball cap, sleeveless black Cannibal Corpse T-shirt and a faint wisp of a mustache, De Los Santos is 15-year-old student at Lehman High School who lives just blocks from Fordham Plaza. He was one of close to 100 people who attended the rally — evidence that the Occupy movement is spreading, not only to the outer boroughs, but to locations around the world. Similar Occupy-type rallies took place last Saturday in Chicago, Rome, Sydney, Tokyo and Hong Kong, according to the New York Times. Read more
By Jeanmarie Evelly
Students, parents and school workers rallied outside of the Bronx's PS 66 in West Farms last week to protest the planned layoff of some 700 city school workers, among them aides, parent coordinators and other school support staff.
The layoffs are the result of state and city budget cuts, and if a compromise isn't reached, the employees on the chopping block could be out of work within the next few weeks.
"Most of those job losses would be felt in East New York, Brownsville, Williamsburg, Washington Heights, and the south Bronx. These communities are already in need of enhanced social services and are suffering with higher unemployment rates," said Santos Crespo, president of local Union 372, which represents the workers. "The economic sense in laying off city workers does not add up." Read more
By Lindsay Armstrong and David Greene
A group of concerned Norwood residents marched through Williamsbridge Reservoir Oval in late September in a show of solidarity amid a recent spate of muggings in the park.
Friends of the Williamsbridge Oval, a local advocacy group, organized the event following news of the fifth mugging in the past month.
"I heard people saying things like 'Don't go into the park.' To me that seems like the wrong reaction," said Eileen Markey, one of the organizers. "We want to say: 'We don't accept that behavior here.'"
About 25 other residents joined Markey in sending that message. They marched around the track and along the park's pathways, holding up hand-lettered signs and chanting, "What do we want? A safe park. When do we want it? Now."
James McGeown, executive officer of the 52nd Precinct said police regularly patrol this area, but have stepped up their presence in response to the muggings, which all follow a similar pattern. The muggers approach the victim from behind, knock the person down, and grab his or her belongings before fleeing.
A day earlier, the NYPD announced the arrest of Jose Velazquez, 21. Police said Velazquez stole a cell phone from a victim on Reservoir Oval East on Sept. 19. He is being charged with grand larceny, criminal possession of stolen property and unlawful possession of marijuana. Police believe Velazquez had an accomplice who is still at large. Read more
By Jasmeet Sidhu
On the morning before the 10th anniversary of 9/11, Imam Ifa Yahha made a jarring discovery outside the Masjid Hefaz mosque.
An unmarked package stuffed with roast meat, a photo of Osama bin Laden, mysterious white powder, and the burned remains of a Quran was placed in front of the door on East 198th Street off the Grand Concourse, said a mosque member.
"As far as I know, nothing of this magnitude has happened before," said Fahaam Razack, 27, a nursing student at Lehman College who has attended the mosque since he was 14. Read more
By Alex Kratz
Ed. Note: This is the third and final in a series of articles about 33rd District State Senator Gustavo Rivera, who was thrust into the spotlight after defeating the controversial Pedro Espada, Jr. last fall. Rivera represents the entire Norwood News coverage area.
Gustavo Rivera, a state senator for all of nine months, is comfortably in his element. Sitting at the head of a table in a cramped, windowless room deep inside the belly of The Family Health Center on East 193rd Street and Decatur Avenue, Rivera is asking questions and cracking jokes.
"Five different flavors of pork rinds," Rivera offers as the conversation turns to nutritional options at local bodegas.
Later, he asks about the Center's Friday food demonstrations and asks if they can help him be a better cook. "I burn water," he says, and everyone in the room — a conglomeration of public relations specialists, reporters, photographers and Center staffers — laughs. He's a hit. If politics doesn't work out for the 33rd district representative, he could make a run at "Last Comic Standing." (Plus, the multi-talented, 34-year-old Puerto Rican native can sing. Check him out on youtube.)
The Bronx CAN
But for now, Rivera's more interested in becoming "The Biggest Loser." The health initiative he launched with the help of the borough president's office, Montefiore Medical Center and St. Barnabas Hospital — called the Bronx CAN (Changing Attitudes Now) Health Initiative — is based partly on the model of the popular reality television series where obese people compete to see who can lose the most weight. Rivera wants Bronxites to live healthier lives and set healthy goals, like losing weight. Read more
By Jasmeet Sidhu
Bronx residents descended upon Jerome Avenue on droves between Mosholu Parkway and Gun Hill Road for the annual Jerome-Gun Hill Business Improvement District Festival on the last Saturday afternoon in September.
Now in its 10th year, the event drew large crowds as people of all ages enjoyed musical entertainment, games, shopping and food.
Organizers said the annual festival is a chance for people of the Bronx to come out and connect with local businesses in the area, while having a little fun. Read more
By Jeanmarie Evelly
Recent changes in New York State law combined with new developments in the technology of HIV testing are expanding the number of New Yorkers who are getting tested for AIDS and HIV, experts say.
Last summer, then-Gov. David Paterson signed a law mandating that health care providers offer HIV testing to patients between the ages of 13 and 64 who seek hospital or primary care services — an attempt to make testing a routine component of medical care.
"If you have a hangnail and you go to the emergency room, you need to be asked if you want to have an AIDS test," said Dr. Daniel Amsterdam, clinical director of laboratory medicine at the Erie County Medical Center in Buffalo, New York. Read more
Executive Director Eva Bornstein talks to the Norwood News about the Bedford Park performing arts center's 31st season.
Q: Approaching the 31st season at the Lehman Center, how does the schedule of artists compare to past seasons, particularly to last year's anniversary season?
A: I always feel every season is the greatest. The 31st is as important as the 30th because we want to continue indefinitely, and I tried to put as much variety as possible into this year's schedule. Smokey Robinson has been here before — he's a legend and we are proud to have him back. Mary Mary is opening the season on Oct. 9, and I'm definitely looking forward to it. They cross over from gospel to R&B and they're very hot and coming up.
Q: The schedule pulls from all different genres and parts of the globe. What would you say is the most unusual act of this season?
A: The theater of Vox Lumiere is going to be presenting a multimedia show based on the film Metropolis. It was a 1920's silent film piece, and they will have musicians, dancers and singers performing (based on the movie), with it playing in the background. It'll be an unusual presentation. Read more
By Jasmeet Sidhu
A 25-year-old college student and father of twins was fatally shot on a recent early Saturday morning in the area just south of Bedford Park.
Police said Bronx resident Kennedy Brown was found with a gunshot wound to the head in front of an apartment building on Decatur Avenue, off East 197th Street, just before 2 a.m. on Sept 24. Brown was taken to St. Barnabas Hospital where he was pronounced dead.
Detectives on the scene of the shooting said that no arrests have been made, and that the investigation is ongoing.
Shocked friends and family said they could find no explanation for Brown's shooting. Neighborhood residents said Brown was at a party Friday night that got "out of control." Read more
By Jeanmarie Evelly
The Economic Development Corporation left millions of dollars intended for public projects — including $8.9 million for the restoration of a waterfront site in the South Bronx — sitting unused for decades, an audit from the Comptroller's office found last week.
The so-called "Public Purpose Funds," were obtained by the city from private corporations in exchange for tax breaks. The money, $9.3 million, has been managed by the EDC in accounts that have seen no activity for years, according to a report released by Comptroller John C. Liu.
"It makes little sense that millions intended for economic development remain unused for so long, especially in the Bronx where jobs are greatly needed," Liu said in a statement.
"If the EDC can't figure out how to put the capital to work, then at least return the money to the city treasury." Read more
By Jeanmarie Evelly
Bronx Borough President Ruben Diaz, Jr., has hired Monica Major, formerly the Bronx representative on the Dept. of Education's Panel for Educational Policy, as his new education director.
Major, a lifelong Bronx resident who lives in Morris Park, served on the DOE panel—charged with voting on important educational issues like school closures and interventions—since October 2010. Before that, she was a member of the Community Education Council for Bronx School District 11, and a member of the Parent Commission on Mayoral Control, a grassroots, parent-led organization that advocated on the issue of school control. Read more
By Jeanmarie Evelly
The New York City Council passed a resolution last week urging a closer examination of cancer cases in Ground Zero first responders and asking that those who suffer from the disease be considered for health care coverage under the Zadroga Act — the bill that provides medical funds for people suffering from 9/11-related health problems.
Cancer is not currently on the list of conditions covered by the act, despite several recent studies suggesting a link between cancer cases and exposure to Ground Zero toxins, the Council resolution said.
"It is now clear from numerous studies and reports that those individuals who worked and volunteered at Ground Zero in rescue, recovery and rebuilding efforts were exposed to a higher risk of cancer," said Bronx City Councilman Oliver Koppell, who called on Dr. John Howard, administrator of the World Trade Center Health Program, to investigate the connection.
By Alex Kratz
The parents of current and former students at PS 51, the Bronx New School, say they are not satisfied with the Department of Education's response after discovering high levels of toxins at school's former building in Bedford Park. Next week, in response to the DOE's lack of response, they will take their list of complaints to the Panel for Education Policy meeting at the Bronx High School of Business next Wednesday evening.
In early August, the DOE announced the discovery of toxins at 3200 Jerome Ave. in Bedford Park, PS 51's home since the early 1990s. Later that month, DOE officials, including Chancellor Dennis Walcott, told parents that their kids' school would be transplanted to a former Catholic school building in Crotona. Parents say Walcott agreed to meet with them to discuss any issues they might have.
Now, parents say they have yet to meet with Walcott to address several issues and concerns stemming from the discovery of contamination at their former building as well as the move to Crotona. Read more
By Alex Kratz
On the corner of Fordham Road and University Avenue this past Sunday, colorful balloons danced in the wind and sunshine. Tethered to railings, the balloons dotted the path up to one of the Bronx's oldest churches, St. Nicholas of Tolentine, where the doors were wide open for a celebration.
A year and a half earlier, on a similarly lovely day in March, someone set fire to Tolentine's vestibule, including its doors, causing hundreds of thousands of dollars in damage and an unquantifiable amount of heartache for the church's parishioners.
Despite the act of arson committed that day, Father Joseph Girone, the head priest at Tolentine, said the church never wavered in its commitment to keeping its doors open to the public, as it always had.
"After what happened, we could have said we're closing our doors, but we didn't," Girone said. "That was important for us."
Tolentine usually holds three Masses on Sundays — one in English, one in Spanish and one in Vietnamese. But on this day celebrating the re-opening of the church's brand new (and many say, improved) vestibule, all of Tolentine's congregants came together for one giant service.
Much of the multi-lingual talk from the pulpit was about the symbolism of doors.
"The theme of the doors is that they represent us," Girone said. "People come in through those doors searching for God. They carry only their burdens, their joys and their sadness." When they emerge, Girone said, "they leave transformed through the celebration of the sacraments." Read more
By Jeanmarie Evelly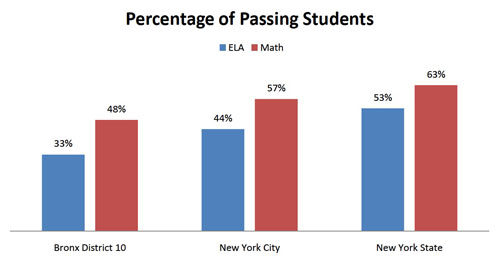 Elementary and middle school students in the Bronx's District 10, which contains all of the schools in the Norwood News coverage area, scored worse than students across both the city and state on last year's standardized math and English exams, according to data released last month.
Students in grades 3 through 8 are required to take the high-stakes tests every spring, and the scores are used, in part, to determine whether they can be promoted to the next grade level or held back. Students are given a grade number from 1 to 4, with scores 3 and over deemed "proficient" by the state.
On average, only 33 percent of District 10 students passed the English exam, compared to 44 percent of students citywide and 53 percent across the state. Math results were similarly staggered: an average of 48 percent of District 10 students passed, compared to 57 and 63 percent of city and state students, respectively.
Community Education Council President Marvin Shelton says that District 10, among the city's largest and most crowded, has remained stagnant over the years when it comes to test scores, despite Department of Education claims that student performance is improving across the city since Mayor Bloomberg took control of the school system in 2002.
"We still seem to be struggling with the high number of level one's and two's," Shelton said. "Nine years of mayoral control, and we don't have much to show for it. Progress is at a glacial pace. They're not strides, they're baby steps." Read more
Ed. Note: This is the second in a series of articles about 33rd District State Senator Gustavo Rivera who was thrust into the spotlight after defeating the controversial Pedro Espada, Jr. last fall. Rivera represents the entire Norwood News coverage area. Click here for Part I
First-Time Candidate Gustavo Rivera Takes on Pedro Espada
It was early spring, 2010, when Gustavo Rivera became a political candidate by default and a dash of desperation. At the time, two other Democrats had declared their intention to run against the incumbent in the 33rd Senate District, Pedro Espada, Jr., who, less than a year earlier, had brought the New York state senate to its knees by offering his party allegiance to the highest bidder.
Liz Krueger, a Democratic state senator from Manhattan whose unabashed hatred for Espada and his politics runs deep, sat in a diner on the Upper East Side with Rivera and Rivera's longtime friend, Chris Malone, a political science professor. They were discussing possible strategies for ousting Espada, whose political gamesmanship had all but squandered the Democrats' razor-thin majority in the senate — the first time in decades Democrats enjoyed control of both legislative houses. "We needed a non-criminal person to hold that seat," Krueger says now, referring to Espada's legal woes. (Espada has never been convicted of a felony, but is scheduled to stand trial for embezzlement sometime early next year.)
Krueger liked the two candidates already in the race, but didn't think either could take out the well-financed Espada. At one point, Rivera offered up himself in the form of a question. "Do you think I could win?" Krueger remembers Rivera asking. Hmm, Krueger remembers thinking, that just might work.
That afternoon, the trio spent "like forever," Krueger says, "talking about how this was perhaps totally the wrong thing to do, but we're going to do it anyway. From there we went out and we ran and ran hard."
Malone says Rivera, a Kingsbridge resident who couldn't stand the thought of being represented by Espada for another two years, ran not so much out of "opportunity, but out of necessity."
Rivera went from completely unknown to front-runner in a matter of months, garnering support from elected officials, unions and, especially, Bill Samuels, whose New Roosevelt Initiative pledged $250,000 to defeat Espada. Read more
The smell of fresh bread is wafting back to Bainbridge Avenue.
In 2009, the Bainbridge Bakery in Norwood was gutted, and then completely demolished by a pair of fires in the span of seven months. Nearly two years after the second blaze — which struck just a few days before the business was set to reopen — Ana and Tony Mirdita, the couple that owns the bakery, are preparing to move into a new space on the same block. And neighborhood residents are hungrily waiting.
"My wife is more excited, because she likes their bread," said Mark Goldberg, 71, who lives nearby. "It's nice that the bakery is open. Let's hope this is the last time."
In fact, the bakery's new space, a former hair salon on Bainbridge between 205th and 206th streets, is still shuttered. A pair of homemade signs posted in the window declared that it is "coming back soon."
In an interview on Friday, Tony Mirdita said that he had originally hoped to move the bakery back into its old spot on the block, which remains vacant following the second fire.
But Mirdita and his wife kept fielding questions about when they'd reopen, and when the old space was "not ready," they opted for the new one, just up the block. Tony Mirdita said he hopes to start serving customers in about four weeks.
In 2009, the family suffered through an ordeal that Jimmy Cronin, a butcher at Hillside Meat Market on the same block as the new bakery, described as "a kick to the gut." Read more
By Emily Piccone
The Bronx continued its annual tradition of remembering the 144 Bronx lives that were taken on Sept. 11, in a ceremony organized by Bronx Borough President Ruben Diaz, Jr. and his staff.
The feelings of renewing the brotherhood of patriotism were widespread on Thursday, Sept. 15 at Lou Gehrig Plaza, where more than 100 people were gathered.
"Today is a day that we should recall that sense of patriotism, that sense of brotherhood and sisterhood that locked the immediate aftermath of that horrible day 10 years ago," said Administrative Judge Douglas McKeon in his address to the crowd.
With a special ceremony in honor of the 10th anniversary of 9/11, Bronx Borough President Ruben Diaz, Jr. and his staff brought together a chorus of students that sang a selection of American melodies, a vocalist accompanied by Artistic Director Denise Perry of the Millennium Dance Company, and a final releasing of white doves after a reading of the 144 names of Bronx victims.
At the ceremony held last year, that list included one less name, Diaz explained to the audience.
A man by the name of Leon Heyward, a Bronxite who was coming up from the subway right as the second plane hit, chose to stay amidst the debris and smoke to help citizens escape. He was swept up in a cloud of toxic smoke, and passed away this past year. Read more
By Ronald Chavez
With local hunger and unemployment numbers on the rise, nonprofit multi-service group Part of the Solution is expanding with the opening of a brand new $8 million facility next door to its current Webster Avenue location.
Part of the Solution, or POTS, known for its widely-used soup kitchen, case management and legal services, haircuts and showers, is bolstering each of its programs and adding others.
This comes amid reports of rising poverty in the country, according to the latest Census figures. POTS officials say they saw an 88 percent spike in the use of its emergency food programs from 2005 to 2010. According to the Food Resource Action Center, POTS serves the congressional district (the 16th) with the highest rate of hunger in the country.
Much of the new center is already in use. But the new facility is tentatively scheduled to open at full strength on Oct. 1, or whenever the new kitchen, the centerpiece of POTS' programming, is completed.
The old kitchen served a maximum of 22 people at a time, whereas the new kitchen will have the capacity to serve 60 at a time. Staffers said the line to enter the old kitchen often extended outside the building and ran down the sidewalk. Read more
By Jeanmarie Evelly
Salads are great. Salads can — and should — be a part of your diet. They're a tasty way to up your daily vegetable and fruit intake and a quick, easy meal to take with you to work.
But salads can also be deceiving, when done wrong: a well-intentioned plate of greens can very easily go from healthy to high-calorie once you factor in toppings, and especially when doused in a fattening dressing (many restaurant salads are guilty of both).
So why not make your own dressing at home? DIY salad dressings are easy, generally healthier, and they'll save you money. One bottle of Newman's Own, according to the company's website, costs $7.98, but most simple dressings can be thrown together with ingredients that are probably already in your kitchen, if you're someone who cooks fairly often: oils, vinegars, and standard herbs and spices. Read more
A Manhattan State Supreme Court judge ruled last week that the city was no longer required to provide rental subsidies in a widely-used but controversial affordable housing program, putting thousands at risk of homelessness as soon as next month, some advocates say.
The court decision was the result of a class-action lawsuit by the nonprofit Legal Aid Society, challenging the city's decision to end the Advantage program, which provides housing subsidies to the formerly homeless for up to two years. The city contends that it can no longer afford to keep the program running after the State withdrew funding for it last year (it was originally scheduled to end in April). Advantage participants were given a temporary reprieve over the last few months after the Legal Aid Society filed its suit.
Last week's decision means the city can now legally cut the program; starting next month, some 12,000 Advantage participants will no longer receive their housing vouchers.
"It's going to wreak havoc on this part of the Bronx," said Sally Dunford, of the West Bronx Housing and Neighborhood Resource Center. "It's going to be like pulling the rug out from under a lot of people." Read more
By Jeanmarie Evelly
The Bronx is now one step closer to getting its own major hotel — not the seedy, hot-sheet kind that has so often plagued the borough, but what Bronx Borough President Ruben Diaz, Jr. predicts will be a "world-class" place to stay near Yankee Stadium.
The Bronx Overall Economic Development Center (BOEDC) released a "request for expressions of interest" on Monday, calling for interested developers to submit proposals to build a hotel on what is now a parking garage at River Avenue and East 153rd Street.
Bringing a high-end hotel to the Bronx has been a much-stated goal of Diaz since he took office.
"A major hotel and conference center has been a priority for the people of the Bronx for decades, and we are getting closer and closer to seeing that dream become a reality," he said in a press release this week.
The site of the proposed future hotel is leased from the city by Bronx Parking Development Company. The group, which used acres of city-owned land to build a number of parking garages around the new Yankee Stadium two years ago, has been in dire financial straits since, struggling to get game-goers to pay to park there.
BOEDC President Marlene Cintron said building a hotel on the site will "maximize a valuable underutilized tract of land," and could bring as many as 125 new jobs to the neighborhood.
The request is asking that projects meet certain requirements, among them a conference center, at least one high-end, penthouse-level restaurant, a concierge or condo level for long-term stays and some form of retail store.
By Jeanmarie Evelly
U.S. Congressman Eliot Engel, who represents portions of the north Bronx, is praising President Barack Obama's plan to raise the base tax rates on the wealthiest Americans to raise revenue and reduce the country's budget deficit.
Obama's proposal, announced Monday as part of a larger plan for economic growth, would increase taxes for people making over $1 million a year. The president is calling it the "Buffet Rule," after the billionaire investor who famously lamented in a New York Times Op-Ed last month that he pays a smaller portion of his income in taxes than the poor or middle class.
In a statement Tuesday, Engel said he agreed with Obama's decision to raise the income threshold for the tax hike from $250,000, the previously proposed bracket.
"Having the threshold at $1 million will not penalize high cost-of-living states, and will still generate the kind of revenues we need to address our long-term debt," he said.
Even with that change, the president's plan is already getting resistance from the Republicans of Congress, who claim that forcing the extremely wealthy to pay more will deter them from creating jobs and ultimately stall the economy—an idea that Engel dismissed.
"My Republican friends deride this as 'class warfare' because it asks the wealthy to pay more," he said. "Class warfare to me is refusing to tighten tax loopholes and continuing the Bush Tax Cut levels, while the middle and working class continue to struggle.  It is class warfare to have the highest rate of poverty in our history while one percent of the country controls half the wealth."
By Ronald Chavez
For the parents of kids at PS 51, the move from a contaminated building in Bedford Park to the St. Martin of Tours building in Crotona has been mostly smooth, with some minor hiccups.
Parent Stephanie Gonzalez said school buses were an hour late on the morning of the first day of school, but that the buses have been on time in the mornings since. Anthony Rivera said his brother had gotten a school bus at 2:50 p.m. and got home at 4:10, despite the new location being just two miles from the old one.
A Department of Education spokesperson said the DOE has not received any formal complaints about the school. PS 51 Parent Coordinator Helena Ortiz said the issues with bus scheduling had been worked out after the first week. She added that matters like air conditioning or when kids got back home once they were on the bus were handled by the bus company, and not by the school. Read more
By Ronald Chavez
Giovanni Martinez, 14, has been skateboarding at Williamsbridge Oval Park for about a year. He and his friends, a pack of teens who've become regulars at the Oval, use the concrete, foot-high ledges that surround the park's trees and walkways to grind and perform tricks.
But late this summer, the Parks Department halted the tricks by installing small metal wedges that protrude from the ledges, intended to stop the wheels on a skateboard.
"We have nowhere to skate now," said Giovanni. He said he and about 10 other skaters, his friends, were shocked when they found the wedges, which they call "stoppers." On a recent afternoon, the group had already succeeded in removing four of them, and hammered away on a fifth.
A skate park had originally been included in the renovation plans for Oval Park in 2008, but one never materialized. The Parks Department said Community Board 7 had voted for using the funds towards other improvements (the park boasts two brand new playgrounds, which opened this summer).
Even without an official, sanctioned skate space, some of Giovanni's friends have been riding at Oval Park for years. Now, they say their options are limited. There is a relatively new skate park by Yankee Stadium, but skaters are constantly being robbed in that area, they said. Read more
By Alex Kratz
State Senator Gustavo Rivera's Journey From Puerto Rico to the Bronx
Ed. Note: This is the first in a series of articles about State Senator Gustavo Rivera who was thrust into the spotlight after defeating the controversial Pedro Espada, Jr. last fall. Rivera represents the entire Norwood News coverage area.
Just 10 months into his new job as a state senator representing the northwest Bronx, Gustavo Rivera is a relative newcomer to elected office. But Rivera, a Puerto Rican native who moved to the Bronx 13 years ago, is not new to his party's liberal ideology. He grew into it through years of study and an unexpected discovery during his early years in New York City.
Much like the vast majority of Puerto Ricans, Jose Gustavo Rivera's parents, Lydia and Jose Manuel Rivera, exercised their right to vote on election days. (Rivera and his brothers, Jose Manuel, Jr. and Jose Javier, all go by their middle names.) But they were not in any other way political.
Both parents grew up in the center of the Caribbean island country without their fathers. Each became the first in their families to attain high school and college degrees and preached the value of education to their three sons.
"Both his mother and myself, we stressed the importance of education on them," says Rivera's father. "It doesn't matter what they want to do. But you need to have an education. It will always be there."
After earning undergraduate and master's degrees in biochemistry in Puerto Rico, Jose Rivera went to Wisconsin to pursue a PhD. But the pursuit was cut short when his first son, Gustavo Rivera's older brother, Jose Manuel, Jr., began showing signs of what is now known as autism. Determined to help his son succeed, the elder Rivera turned his attention to studying up on this mysterious developmental disability. Now a high-functioning autistic who was diagnosed with Asperger's syndrome, Gustavo's older brother makes a living translating books into Braille.
Jose Rivera, of course, wanted badly for his middle son, Gustavo, to go all the way with his education and earn his doctorate.
"Gustavo was always an extremely curious guy," his father says. "He wanted an answer for everything. Always wanted to know the why, what and  whom. It got him in trouble with some of his teachers."
As a child, Gustavo's mother called him "Papa con ojos" or "Potato with eyes" because of his oval-shaped head and enormous eyes. He was a mature conversationalist at a young age and felt as comfortable speaking with adults as he did with his peers, his father says. In secondary school, his father says young Gustavo was "very peculiar; he chose his friends very carefully." Read more
By Jasmeet Sidhu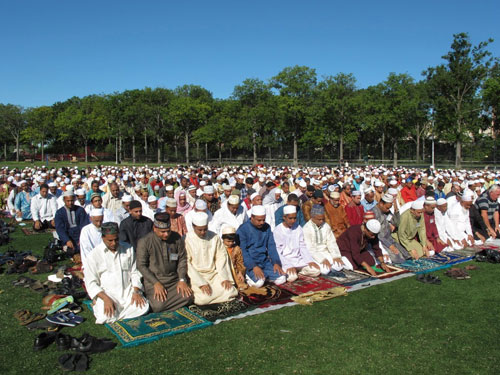 Several hundred Norwood-area Muslims gathered in Williamsbridge Oval Park on Tuesday Aug. 30, to celebrate Eid al-Fitr, the holiday marking the end of Ramadan.
The outdoor ceremony, which was organized by the North Bronx Islamic Center, was the first of its kind in the Norwood area.
"In this neighborhood, it's the first time we're doing it in a park," said longtime mosque attendee Nurul Haque. "After 30 days of the fast, sacrifice, mercy, discipline…you get to celebrate yourself along with others."
Moinul Hussein, a 24-year-old college student, said he was hoping the outdoor prayer would help dispel myths about the Muslim community.
"I want people to see us, what we do. There's nothing crazy going on. Just like how people go to the church and pray, we go to the mosque and pray. We follow an Imam, they follow a priest."
Ramadan is considered the holiest month for the religion of Islam. It is marked by followers fasting from sunrise to sunset.
By Jeanmarie Evelly
Bronx City Councilman Fernando Cabrera is petitioning Mayor Bloomberg to include prayer in next week's ceremony commemorating the 10th anniversary of the Sept. 11 attacks — joining a chorus of the city's religious leaders criticizing the mayor for excluding them from the memorial service.
During a radio broadcast last month, Bloomberg said the ceremony will feature a small group of current and former elected officials who will read pre-selected, nonreligious poems or texts.
Those scheduled to participate include: President Barack Obama, former President George W. Bush, Gov. Andrew Cuomo, New Jersey Gov. Chris Christi, former New York Gov. George Pataki, former mayor Rudy Guliani and Bloomberg himself.
"There's an awful lot of people who would like to participate, and you just can't do that," Bloomberg said.
A spokeswoman for the mayor's office told the Wall Street Journal and several other news outlets that there are no plans to amend the ceremony, and that religious rituals have never been included in any of the yearly memorials.
"It has been widely supported for the past 10 years and rather than have disagreements over which religious leaders participate, we would like to keep the focus of our commemoration ceremony on the family members of those who died," said spokeswoman Evelyn Erskine.
But Cabrera, himself a pastor at the New Life Outreach International Church on Morris Avenue, is personally crusading against Bloomberg's stance. He's gone on a number of television news shows over the last few weeks to discuss the issue and started an online petition (at press time, it had some 700 signatures).
"During 9/11, the faith community served as pillars for many New Yorkers coping with the tragedy. As a pastor during the tumultuous aftermath, I know firsthand that it was a time where people were searching for meaning and things bigger than themselves," Cabrera said in a statement. "People's faith helped fill this void and continues to serve as spiritual and emotional support."
By Jeanmarie Evelly
With the start of a new school year arriving just days before the 10th anniversary of the Sept. 11 attacks, the Department of Education unveiled a new classroom curriculum last week to help students understand the history and emotional weight of the event.
The curriculum, developed by the DOE and the National September 11 Memorial and Museum, includes lesson plans for each age group and classroom materials that teachers can download off the DOE's website.
"The 10th anniversary will be an emotional, difficult time for many New Yorkers, so it's important that our students understand what happened that day," said Schools Chancellor Dennis Walcott. "With the help of the 9/11 Memorial and Museum, we've created a guide to discussing these events with students in a meaningful way that is also academically rigorous."
Lessons focus on subjects like the history of the towers, the efforts of the first responders and how the city has since memorialized the tragedy. Kindergarteners, for example, can learn about the Search and Rescue Dogs that helped sort through the Ground Zero rubble in a lesson called "Furry Heroes."
Schools will also have access to special counseling resources should students or staff members need it, the DOE said.
As President Barack Obama prepares to deliver his much-hyped "jobs" speech this Thursday night, Bronx Congressman Eliot Engel says that investing in transportation construction is the key to creating more jobs.
In a statement released last week, Engel urged his colleagues in Congress to cooperate with President Obama to pass a federal transportation bill that funds roads, railways and transportation construction, something the president has been pressing as one solution to the nation's high unemployment rate.
'The best way for us to create immediate jobs is to rebuild our infrastructure," Engel said in a press release.
"It is a win-win for America," he added. "For example, the Center for Budget and Policy Priorities says that a $50 billion investment in school renovation could create half a million jobs in one to two years.  If we fail to reauthorize the transportation bill, we would lose 4,000 jobs instantly, $1 billion in revenue in the first 10 days, and approximately one million jobs in the first year."
Engel said he recently toured his district — which includes parts of the Bronx and Westchester — to survey the damage caused by Hurricane Irene.
"Bridges were knocked down and entire chunks of pavement were washed away, leaving municipalities with hazardous conditions, massive cleanup and logistical nightmares," Engel said. "This just proves that we need to pay much more attention to our national infrastructure than we have in recent decades."
Obama has said he is committed to rebuilding the nation's infrastructure as a means of reigniting the nation's stalled economy, and is expected to address this in his speech to Congress Thursday night.
The unemployment rate in the Bronx is the highest of any county in New York, according to the Department of Labor, at 12.3 percent in July.
By Justin Bodden
A Concourse that is grand shouldn't rack up nine fatalities and 411 pedestrian injuries in five years. But that's the record of the borough's most famous thoroughfare, which has prompted the city to identify a way to make Bronxites safer when crossing it.
Department of Transportation Commissioner Janette Sadik-Khan and James Vacca, the east Bronx lawmaker who chairs the City Council Transportation Committee, recently announced the installations of pedestrian countdown signals along the four-and-a-half-mile long, 180-foot-wide Grand Concourse in hopes of preventing future accidents.
The countdown signals are being installed at 49 intersections along the Concourse beginning at East 140th Street continuing up to Mosholu Parkway. The signals display how much time pedestrians have to cross before the light turns.
In February, 11-year-old Russell Smith was struck and killed by a Honda, as he crossed the Concourse at East 183rd Street after buying milk for his infant brother. In 2005, Virginia Verdee was walking home from church on a Friday night when she, too, was struck and killed at the same intersection.
"Speeding and reckless driving kills, and these pedestrian countdown signals will save life and limb up and down the Grand Concourse, which is one of the most deadly thoroughfares in our borough,"  Vacca said. "Pedestrian countdown signals give New Yorkers the information they need to make the safe choice, which often means waiting for the next light on streets like the Grand Concourse."
According to DOT studies, the countdown signals have been effective elsewhere in the city.
"I can see how there can be a lot of accidents on the Concourse — it's very populous, cars going up and down the street," said Daneda Gillespie, a drug abuse counselor who works near the Concourse and 183rd Street. "I think that's a very good idea to help prevent accidents. It might not prevent every crash, but it does help." Read more