By Jeanmarie Evelly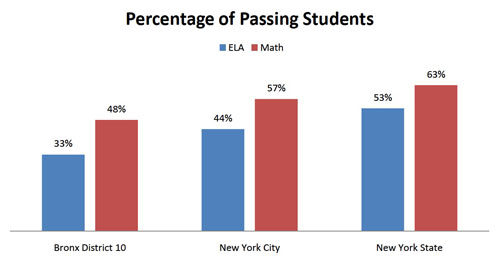 Elementary and middle school students in the Bronx's District 10, which contains all of the schools in the Norwood News coverage area, scored worse than students across both the city and state on last year's standardized math and English exams, according to data released last month.
Students in grades 3 through 8 are required to take the high-stakes tests every spring, and the scores are used, in part, to determine whether they can be promoted to the next grade level or held back. Students are given a grade number from 1 to 4, with scores 3 and over deemed "proficient" by the state.
On average, only 33 percent of District 10 students passed the English exam, compared to 44 percent of students citywide and 53 percent across the state. Math results were similarly staggered: an average of 48 percent of District 10 students passed, compared to 57 and 63 percent of city and state students, respectively.
Community Education Council President Marvin Shelton says that District 10, among the city's largest and most crowded, has remained stagnant over the years when it comes to test scores, despite Department of Education claims that student performance is improving across the city since Mayor Bloomberg took control of the school system in 2002.
"We still seem to be struggling with the high number of level one's and two's," Shelton said. "Nine years of mayoral control, and we don't have much to show for it. Progress is at a glacial pace. They're not strides, they're baby steps." Read more
Ed. Note: This is the second in a series of articles about 33rd District State Senator Gustavo Rivera who was thrust into the spotlight after defeating the controversial Pedro Espada, Jr. last fall. Rivera represents the entire Norwood News coverage area. Click here for Part I
First-Time Candidate Gustavo Rivera Takes on Pedro Espada
It was early spring, 2010, when Gustavo Rivera became a political candidate by default and a dash of desperation. At the time, two other Democrats had declared their intention to run against the incumbent in the 33rd Senate District, Pedro Espada, Jr., who, less than a year earlier, had brought the New York state senate to its knees by offering his party allegiance to the highest bidder.
Liz Krueger, a Democratic state senator from Manhattan whose unabashed hatred for Espada and his politics runs deep, sat in a diner on the Upper East Side with Rivera and Rivera's longtime friend, Chris Malone, a political science professor. They were discussing possible strategies for ousting Espada, whose political gamesmanship had all but squandered the Democrats' razor-thin majority in the senate — the first time in decades Democrats enjoyed control of both legislative houses. "We needed a non-criminal person to hold that seat," Krueger says now, referring to Espada's legal woes. (Espada has never been convicted of a felony, but is scheduled to stand trial for embezzlement sometime early next year.)
Krueger liked the two candidates already in the race, but didn't think either could take out the well-financed Espada. At one point, Rivera offered up himself in the form of a question. "Do you think I could win?" Krueger remembers Rivera asking. Hmm, Krueger remembers thinking, that just might work.
That afternoon, the trio spent "like forever," Krueger says, "talking about how this was perhaps totally the wrong thing to do, but we're going to do it anyway. From there we went out and we ran and ran hard."
Malone says Rivera, a Kingsbridge resident who couldn't stand the thought of being represented by Espada for another two years, ran not so much out of "opportunity, but out of necessity."
Rivera went from completely unknown to front-runner in a matter of months, garnering support from elected officials, unions and, especially, Bill Samuels, whose New Roosevelt Initiative pledged $250,000 to defeat Espada. Read more
The smell of fresh bread is wafting back to Bainbridge Avenue.
In 2009, the Bainbridge Bakery in Norwood was gutted, and then completely demolished by a pair of fires in the span of seven months. Nearly two years after the second blaze — which struck just a few days before the business was set to reopen — Ana and Tony Mirdita, the couple that owns the bakery, are preparing to move into a new space on the same block. And neighborhood residents are hungrily waiting.
"My wife is more excited, because she likes their bread," said Mark Goldberg, 71, who lives nearby. "It's nice that the bakery is open. Let's hope this is the last time."
In fact, the bakery's new space, a former hair salon on Bainbridge between 205th and 206th streets, is still shuttered. A pair of homemade signs posted in the window declared that it is "coming back soon."
In an interview on Friday, Tony Mirdita said that he had originally hoped to move the bakery back into its old spot on the block, which remains vacant following the second fire.
But Mirdita and his wife kept fielding questions about when they'd reopen, and when the old space was "not ready," they opted for the new one, just up the block. Tony Mirdita said he hopes to start serving customers in about four weeks.
In 2009, the family suffered through an ordeal that Jimmy Cronin, a butcher at Hillside Meat Market on the same block as the new bakery, described as "a kick to the gut." Read more
By Emily Piccone
The Bronx continued its annual tradition of remembering the 144 Bronx lives that were taken on Sept. 11, in a ceremony organized by Bronx Borough President Ruben Diaz, Jr. and his staff.
The feelings of renewing the brotherhood of patriotism were widespread on Thursday, Sept. 15 at Lou Gehrig Plaza, where more than 100 people were gathered.
"Today is a day that we should recall that sense of patriotism, that sense of brotherhood and sisterhood that locked the immediate aftermath of that horrible day 10 years ago," said Administrative Judge Douglas McKeon in his address to the crowd.
With a special ceremony in honor of the 10th anniversary of 9/11, Bronx Borough President Ruben Diaz, Jr. and his staff brought together a chorus of students that sang a selection of American melodies, a vocalist accompanied by Artistic Director Denise Perry of the Millennium Dance Company, and a final releasing of white doves after a reading of the 144 names of Bronx victims.
At the ceremony held last year, that list included one less name, Diaz explained to the audience.
A man by the name of Leon Heyward, a Bronxite who was coming up from the subway right as the second plane hit, chose to stay amidst the debris and smoke to help citizens escape. He was swept up in a cloud of toxic smoke, and passed away this past year. Read more
By Ronald Chavez
With local hunger and unemployment numbers on the rise, nonprofit multi-service group Part of the Solution is expanding with the opening of a brand new $8 million facility next door to its current Webster Avenue location.
Part of the Solution, or POTS, known for its widely-used soup kitchen, case management and legal services, haircuts and showers, is bolstering each of its programs and adding others.
This comes amid reports of rising poverty in the country, according to the latest Census figures. POTS officials say they saw an 88 percent spike in the use of its emergency food programs from 2005 to 2010. According to the Food Resource Action Center, POTS serves the congressional district (the 16th) with the highest rate of hunger in the country.
Much of the new center is already in use. But the new facility is tentatively scheduled to open at full strength on Oct. 1, or whenever the new kitchen, the centerpiece of POTS' programming, is completed.
The old kitchen served a maximum of 22 people at a time, whereas the new kitchen will have the capacity to serve 60 at a time. Staffers said the line to enter the old kitchen often extended outside the building and ran down the sidewalk. Read more
By Jeanmarie Evelly
Salads are great. Salads can — and should — be a part of your diet. They're a tasty way to up your daily vegetable and fruit intake and a quick, easy meal to take with you to work.
But salads can also be deceiving, when done wrong: a well-intentioned plate of greens can very easily go from healthy to high-calorie once you factor in toppings, and especially when doused in a fattening dressing (many restaurant salads are guilty of both).
So why not make your own dressing at home? DIY salad dressings are easy, generally healthier, and they'll save you money. One bottle of Newman's Own, according to the company's website, costs $7.98, but most simple dressings can be thrown together with ingredients that are probably already in your kitchen, if you're someone who cooks fairly often: oils, vinegars, and standard herbs and spices. Read more
A Manhattan State Supreme Court judge ruled last week that the city was no longer required to provide rental subsidies in a widely-used but controversial affordable housing program, putting thousands at risk of homelessness as soon as next month, some advocates say.
The court decision was the result of a class-action lawsuit by the nonprofit Legal Aid Society, challenging the city's decision to end the Advantage program, which provides housing subsidies to the formerly homeless for up to two years. The city contends that it can no longer afford to keep the program running after the State withdrew funding for it last year (it was originally scheduled to end in April). Advantage participants were given a temporary reprieve over the last few months after the Legal Aid Society filed its suit.
Last week's decision means the city can now legally cut the program; starting next month, some 12,000 Advantage participants will no longer receive their housing vouchers.
"It's going to wreak havoc on this part of the Bronx," said Sally Dunford, of the West Bronx Housing and Neighborhood Resource Center. "It's going to be like pulling the rug out from under a lot of people." Read more
By Jeanmarie Evelly
The Bronx is now one step closer to getting its own major hotel — not the seedy, hot-sheet kind that has so often plagued the borough, but what Bronx Borough President Ruben Diaz, Jr. predicts will be a "world-class" place to stay near Yankee Stadium.
The Bronx Overall Economic Development Center (BOEDC) released a "request for expressions of interest" on Monday, calling for interested developers to submit proposals to build a hotel on what is now a parking garage at River Avenue and East 153rd Street.
Bringing a high-end hotel to the Bronx has been a much-stated goal of Diaz since he took office.
"A major hotel and conference center has been a priority for the people of the Bronx for decades, and we are getting closer and closer to seeing that dream become a reality," he said in a press release this week.
The site of the proposed future hotel is leased from the city by Bronx Parking Development Company. The group, which used acres of city-owned land to build a number of parking garages around the new Yankee Stadium two years ago, has been in dire financial straits since, struggling to get game-goers to pay to park there.
BOEDC President Marlene Cintron said building a hotel on the site will "maximize a valuable underutilized tract of land," and could bring as many as 125 new jobs to the neighborhood.
The request is asking that projects meet certain requirements, among them a conference center, at least one high-end, penthouse-level restaurant, a concierge or condo level for long-term stays and some form of retail store.
By Jeanmarie Evelly
U.S. Congressman Eliot Engel, who represents portions of the north Bronx, is praising President Barack Obama's plan to raise the base tax rates on the wealthiest Americans to raise revenue and reduce the country's budget deficit.
Obama's proposal, announced Monday as part of a larger plan for economic growth, would increase taxes for people making over $1 million a year. The president is calling it the "Buffet Rule," after the billionaire investor who famously lamented in a New York Times Op-Ed last month that he pays a smaller portion of his income in taxes than the poor or middle class.
In a statement Tuesday, Engel said he agreed with Obama's decision to raise the income threshold for the tax hike from $250,000, the previously proposed bracket.
"Having the threshold at $1 million will not penalize high cost-of-living states, and will still generate the kind of revenues we need to address our long-term debt," he said.
Even with that change, the president's plan is already getting resistance from the Republicans of Congress, who claim that forcing the extremely wealthy to pay more will deter them from creating jobs and ultimately stall the economy—an idea that Engel dismissed.
"My Republican friends deride this as 'class warfare' because it asks the wealthy to pay more," he said. "Class warfare to me is refusing to tighten tax loopholes and continuing the Bush Tax Cut levels, while the middle and working class continue to struggle.  It is class warfare to have the highest rate of poverty in our history while one percent of the country controls half the wealth."
By Ronald Chavez
For the parents of kids at PS 51, the move from a contaminated building in Bedford Park to the St. Martin of Tours building in Crotona has been mostly smooth, with some minor hiccups.
Parent Stephanie Gonzalez said school buses were an hour late on the morning of the first day of school, but that the buses have been on time in the mornings since. Anthony Rivera said his brother had gotten a school bus at 2:50 p.m. and got home at 4:10, despite the new location being just two miles from the old one.
A Department of Education spokesperson said the DOE has not received any formal complaints about the school. PS 51 Parent Coordinator Helena Ortiz said the issues with bus scheduling had been worked out after the first week. She added that matters like air conditioning or when kids got back home once they were on the bus were handled by the bus company, and not by the school. Read more
By Ronald Chavez
Giovanni Martinez, 14, has been skateboarding at Williamsbridge Oval Park for about a year. He and his friends, a pack of teens who've become regulars at the Oval, use the concrete, foot-high ledges that surround the park's trees and walkways to grind and perform tricks.
But late this summer, the Parks Department halted the tricks by installing small metal wedges that protrude from the ledges, intended to stop the wheels on a skateboard.
"We have nowhere to skate now," said Giovanni. He said he and about 10 other skaters, his friends, were shocked when they found the wedges, which they call "stoppers." On a recent afternoon, the group had already succeeded in removing four of them, and hammered away on a fifth.
A skate park had originally been included in the renovation plans for Oval Park in 2008, but one never materialized. The Parks Department said Community Board 7 had voted for using the funds towards other improvements (the park boasts two brand new playgrounds, which opened this summer).
Even without an official, sanctioned skate space, some of Giovanni's friends have been riding at Oval Park for years. Now, they say their options are limited. There is a relatively new skate park by Yankee Stadium, but skaters are constantly being robbed in that area, they said. Read more
By Alex Kratz
State Senator Gustavo Rivera's Journey From Puerto Rico to the Bronx
Ed. Note: This is the first in a series of articles about State Senator Gustavo Rivera who was thrust into the spotlight after defeating the controversial Pedro Espada, Jr. last fall. Rivera represents the entire Norwood News coverage area.
Just 10 months into his new job as a state senator representing the northwest Bronx, Gustavo Rivera is a relative newcomer to elected office. But Rivera, a Puerto Rican native who moved to the Bronx 13 years ago, is not new to his party's liberal ideology. He grew into it through years of study and an unexpected discovery during his early years in New York City.
Much like the vast majority of Puerto Ricans, Jose Gustavo Rivera's parents, Lydia and Jose Manuel Rivera, exercised their right to vote on election days. (Rivera and his brothers, Jose Manuel, Jr. and Jose Javier, all go by their middle names.) But they were not in any other way political.
Both parents grew up in the center of the Caribbean island country without their fathers. Each became the first in their families to attain high school and college degrees and preached the value of education to their three sons.
"Both his mother and myself, we stressed the importance of education on them," says Rivera's father. "It doesn't matter what they want to do. But you need to have an education. It will always be there."
After earning undergraduate and master's degrees in biochemistry in Puerto Rico, Jose Rivera went to Wisconsin to pursue a PhD. But the pursuit was cut short when his first son, Gustavo Rivera's older brother, Jose Manuel, Jr., began showing signs of what is now known as autism. Determined to help his son succeed, the elder Rivera turned his attention to studying up on this mysterious developmental disability. Now a high-functioning autistic who was diagnosed with Asperger's syndrome, Gustavo's older brother makes a living translating books into Braille.
Jose Rivera, of course, wanted badly for his middle son, Gustavo, to go all the way with his education and earn his doctorate.
"Gustavo was always an extremely curious guy," his father says. "He wanted an answer for everything. Always wanted to know the why, what and  whom. It got him in trouble with some of his teachers."
As a child, Gustavo's mother called him "Papa con ojos" or "Potato with eyes" because of his oval-shaped head and enormous eyes. He was a mature conversationalist at a young age and felt as comfortable speaking with adults as he did with his peers, his father says. In secondary school, his father says young Gustavo was "very peculiar; he chose his friends very carefully." Read more
By Jasmeet Sidhu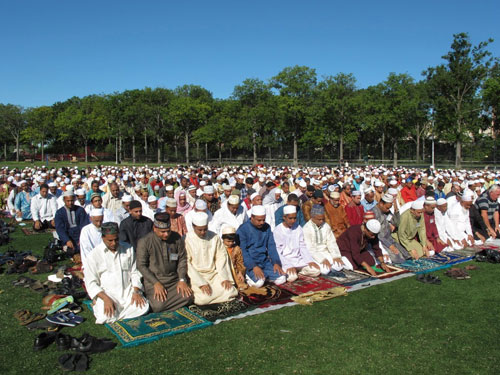 Several hundred Norwood-area Muslims gathered in Williamsbridge Oval Park on Tuesday Aug. 30, to celebrate Eid al-Fitr, the holiday marking the end of Ramadan.
The outdoor ceremony, which was organized by the North Bronx Islamic Center, was the first of its kind in the Norwood area.
"In this neighborhood, it's the first time we're doing it in a park," said longtime mosque attendee Nurul Haque. "After 30 days of the fast, sacrifice, mercy, discipline…you get to celebrate yourself along with others."
Moinul Hussein, a 24-year-old college student, said he was hoping the outdoor prayer would help dispel myths about the Muslim community.
"I want people to see us, what we do. There's nothing crazy going on. Just like how people go to the church and pray, we go to the mosque and pray. We follow an Imam, they follow a priest."
Ramadan is considered the holiest month for the religion of Islam. It is marked by followers fasting from sunrise to sunset.
By Jeanmarie Evelly
Bronx City Councilman Fernando Cabrera is petitioning Mayor Bloomberg to include prayer in next week's ceremony commemorating the 10th anniversary of the Sept. 11 attacks — joining a chorus of the city's religious leaders criticizing the mayor for excluding them from the memorial service.
During a radio broadcast last month, Bloomberg said the ceremony will feature a small group of current and former elected officials who will read pre-selected, nonreligious poems or texts.
Those scheduled to participate include: President Barack Obama, former President George W. Bush, Gov. Andrew Cuomo, New Jersey Gov. Chris Christi, former New York Gov. George Pataki, former mayor Rudy Guliani and Bloomberg himself.
"There's an awful lot of people who would like to participate, and you just can't do that," Bloomberg said.
A spokeswoman for the mayor's office told the Wall Street Journal and several other news outlets that there are no plans to amend the ceremony, and that religious rituals have never been included in any of the yearly memorials.
"It has been widely supported for the past 10 years and rather than have disagreements over which religious leaders participate, we would like to keep the focus of our commemoration ceremony on the family members of those who died," said spokeswoman Evelyn Erskine.
But Cabrera, himself a pastor at the New Life Outreach International Church on Morris Avenue, is personally crusading against Bloomberg's stance. He's gone on a number of television news shows over the last few weeks to discuss the issue and started an online petition (at press time, it had some 700 signatures).
"During 9/11, the faith community served as pillars for many New Yorkers coping with the tragedy. As a pastor during the tumultuous aftermath, I know firsthand that it was a time where people were searching for meaning and things bigger than themselves," Cabrera said in a statement. "People's faith helped fill this void and continues to serve as spiritual and emotional support."
By Jeanmarie Evelly
With the start of a new school year arriving just days before the 10th anniversary of the Sept. 11 attacks, the Department of Education unveiled a new classroom curriculum last week to help students understand the history and emotional weight of the event.
The curriculum, developed by the DOE and the National September 11 Memorial and Museum, includes lesson plans for each age group and classroom materials that teachers can download off the DOE's website.
"The 10th anniversary will be an emotional, difficult time for many New Yorkers, so it's important that our students understand what happened that day," said Schools Chancellor Dennis Walcott. "With the help of the 9/11 Memorial and Museum, we've created a guide to discussing these events with students in a meaningful way that is also academically rigorous."
Lessons focus on subjects like the history of the towers, the efforts of the first responders and how the city has since memorialized the tragedy. Kindergarteners, for example, can learn about the Search and Rescue Dogs that helped sort through the Ground Zero rubble in a lesson called "Furry Heroes."
Schools will also have access to special counseling resources should students or staff members need it, the DOE said.
As President Barack Obama prepares to deliver his much-hyped "jobs" speech this Thursday night, Bronx Congressman Eliot Engel says that investing in transportation construction is the key to creating more jobs.
In a statement released last week, Engel urged his colleagues in Congress to cooperate with President Obama to pass a federal transportation bill that funds roads, railways and transportation construction, something the president has been pressing as one solution to the nation's high unemployment rate.
'The best way for us to create immediate jobs is to rebuild our infrastructure," Engel said in a press release.
"It is a win-win for America," he added. "For example, the Center for Budget and Policy Priorities says that a $50 billion investment in school renovation could create half a million jobs in one to two years.  If we fail to reauthorize the transportation bill, we would lose 4,000 jobs instantly, $1 billion in revenue in the first 10 days, and approximately one million jobs in the first year."
Engel said he recently toured his district — which includes parts of the Bronx and Westchester — to survey the damage caused by Hurricane Irene.
"Bridges were knocked down and entire chunks of pavement were washed away, leaving municipalities with hazardous conditions, massive cleanup and logistical nightmares," Engel said. "This just proves that we need to pay much more attention to our national infrastructure than we have in recent decades."
Obama has said he is committed to rebuilding the nation's infrastructure as a means of reigniting the nation's stalled economy, and is expected to address this in his speech to Congress Thursday night.
The unemployment rate in the Bronx is the highest of any county in New York, according to the Department of Labor, at 12.3 percent in July.
By Justin Bodden
A Concourse that is grand shouldn't rack up nine fatalities and 411 pedestrian injuries in five years. But that's the record of the borough's most famous thoroughfare, which has prompted the city to identify a way to make Bronxites safer when crossing it.
Department of Transportation Commissioner Janette Sadik-Khan and James Vacca, the east Bronx lawmaker who chairs the City Council Transportation Committee, recently announced the installations of pedestrian countdown signals along the four-and-a-half-mile long, 180-foot-wide Grand Concourse in hopes of preventing future accidents.
The countdown signals are being installed at 49 intersections along the Concourse beginning at East 140th Street continuing up to Mosholu Parkway. The signals display how much time pedestrians have to cross before the light turns.
In February, 11-year-old Russell Smith was struck and killed by a Honda, as he crossed the Concourse at East 183rd Street after buying milk for his infant brother. In 2005, Virginia Verdee was walking home from church on a Friday night when she, too, was struck and killed at the same intersection.
"Speeding and reckless driving kills, and these pedestrian countdown signals will save life and limb up and down the Grand Concourse, which is one of the most deadly thoroughfares in our borough,"  Vacca said. "Pedestrian countdown signals give New Yorkers the information they need to make the safe choice, which often means waiting for the next light on streets like the Grand Concourse."
According to DOT studies, the countdown signals have been effective elsewhere in the city.
"I can see how there can be a lot of accidents on the Concourse — it's very populous, cars going up and down the street," said Daneda Gillespie, a drug abuse counselor who works near the Concourse and 183rd Street. "I think that's a very good idea to help prevent accidents. It might not prevent every crash, but it does help." Read more
By Ronald Chavez
At a tense public hearing last week, the Department of Education announced it will be moving Bedford Park elementary school PS 51, known as the Bronx New School, to a new building two miles south—the result of a discovery earlier this summer that its current site contains hazardous levels of a chemical toxin linked to cancer.
"I apologize to you. It will not happen again," Schools Chancellor Dennis Walcott told a crowd of seething parents at the Aug. 18 meeting at the Bronx High School of Science.
The school will re-open in less than two weeks, the first day of the new school year, in a building on East 182nd Street in Crotona, formerly the Catholic school at St. Martin of Tours. The new location is larger, with more classroom space and a gym next door.
But that's doing little to calm parents, worried over the news that PS 51's current building on Jerome Avenue tested positive for high levels of trichloroethylene (TCE), a chemical which can cause kidney and liver problems and damage to the central nervous system over long periods of time, according to the Environmental Protection Agency. TCE also causes dizziness, headaches, nausea and blurred vision.
"There were children in the school who were sick, and I mean seriously sick," said Annette Melendez, a former PTA president who said a number of students during her time at the school had complained of headaches and that one had died from cancer. "Gee, this is such a small school," she said. "Why are so many children sick in such a small school?" Read more
By Ronald Chavez
The northeast corner of East 188th Street and Webster Avenue will permanently be marked by tragedy.
Earlier this month, the corner was conamed Donnette and Sean Sanz Place, in honor of a city traffic enforcement agent who was struck by a speeding van while seven months pregnant.
In 2008, at the corner now bearing her name, Donnette Sanz was on her lunch break when a van with faulty breaks rammed into her, leaving her pinned under a school bus. Some 30 neighborhood residents managed to lift the school bus off of her.
Sanz was rushed to the hospital where doctors performed an emergency C-section to save her baby.  Sanz died about an hour after the operation. Her son, Sean Sanz initially survived, but ultimately died about a week later. Read more
By Ronald Chavez
Citing poor management that has led to deteriorating conditions, tenants at Tracey Towers argued against a proposal at a public hearing last month that would hike their rent by over 60 percent over the next three years.
RY Management, which operates the connected buildings, says its proposal to raise rent by 23.53 percent for this past July, again by 20.34 percent in July of 2012, and 16.9 percent for July of 2013 is necessary to cover the increased cost of fuel, insurance, and labor contracts.
At the same time, tenants allege management has ignored the twin 41-story buildings.
Some apartments near the top floors have been wrecked by water damage.
"When it rains, we pray hard," said Margaret Mack, who lives on the 41st floor. She's a member of the Committee for Survival and a resident since 1980. She said the windows in her apartment are "defective" and do little to keep rain out. Some of her walls are cracked and exposed. Read more
By Jeanmarie Evelly
On Aug. 10, the State Department of Health terminated the network of health care clinics run by former Bronx Sen. Pedro Espada, Jr. and his son from the state's Medicaid program–a move that will essentially mean closure for the five medical centers of the Soundview Network, which operate almost entirely on reimbursement funds from Medicaid patients.
The reason for the exclusion, the Health Department said, is Soundview's failure to comply with state laws that "are designed to ensure that Medicaid dollars are properly accounted for and that systems are in place to ensure that all claims for funding are valid."
Just hours before the announcement, the State's Office of the Medicaid Inspector General released a letter recommending Soundview be cut, also citing the organization's failure to comply as well as a "lack of oversight" of the business operations there, and the fact that both Espada and his son, Pedro Gautier Espada, are still leading the company, despite being barred from participating in the Medicaid program themselves back in January.
Both Espadas are facing trial on federal charges that they embezzled more than $500,000 from Soundview, spending the money on luxury car payments and exorbitant sushi restaurant tabs.
Espada held a press conference in response to the state's decision, defiantly declaring "this clinic will not close," to a group of reporters and blaming the attacks against him on political targeting by Gov. Andrew Cuomo. In his previous role as attorney general, Cuomo first raised the embezzlement charges against Espada in a civil suit in the spring of 2010.
According to the Department of Health, Soundview's Medicaid ban will go into effect Sept. 12. In the meantime, the state will be working to make sure the clinic's Medicaid patients will be effectively transferred somewhere else for care, according to a statement.
By Jeanmarie Evelly
New York City high school and middle school students will be required to take sex education classes starting this fall, the schools chancellor announced last week, the first time the city has broached such a mandate in over two decades.
Until now, schools were required by the state to educate students about HIV/AIDS. Whether or not to include lessons on broader sexual health topics in the curriculum — like sexually transmitted infections, birth control, how to properly use a condom — was left to the discretion of each individual school. The current requirements, Chancellor Dennis Walcott wrote in a letter to principals, is "leaving us with an uneven system that I believe does not serve our students well."
The new school curriculum requires one semester of sex education in middle schools, and another in high school. Principals can decide in which grade the semesters will be taught.
"We have students who are having sex before the age of 13; students who have had multiple sexual partners; and students who aren't protecting themselves against sexually transmitted diseases and HIV/AIDS," Walcott wrote.  "As a parent and a grandparent—and as the person responsible for ensuring that all of our public school students receive a high-quality education—that is very concerning."
The change is stemming, he said, from a larger, multimillion dollar program launched by the mayor earlier this month called the Young Men's Initiative, which aims to eliminate the social and economic disparities faced by black and Latino youth.
According to Health Department data, just over 25 percent of teenage girls, and 10 percent of boys, who were surveyed by the South Bronx District Public Health Office, said they did not use a condom the last time they had sex. The Bronx had a higher teen pregnancy rate in 2009 than any other borough, another report found—105 of every 1,000 girls.
Sex education in schools can mean the difference between a young woman graduating or not, said Nancy Biberman, president of Bronx nonprofit WHEDco, which runs an afterschool program for teenage girls called Just Ask Me, or JAM, based around advocacy for sexual health education in schools.
"It's just another tool in the tool kit of helping kids succeed," Biberman said, adding that the city's lack of a sex education mandate for the last 20 years has "significantly hurt a couple of generations."
JAM started in 2007, when a group of middle school girls at one of the WHEDco's afterschool program started discussing just how little they knew about sex.
"We came to realize that there was a huge problem in the schools," Biberman said. "The young people were saying, 'There's a lot we don't know. The information we're gettting about sex is coming from music videos and things we're hearing on the street.'"
That same group of girls started a petition and lobbied their principal, at Bronx's IS 218, to include sexual education in their health lessons. They were later asked to testify before the City Council when the idea of a mandate was being considered by the DOE.
Not everyone, of course, approves of the change. Bronx Sen. Ruben Diaz, Sr. accused Mayor Bloomberg of intending to "completely usurp the role of parents," in teaching their children about sex.
Parents have the right to opt their children out of classes on pregnancy prevention and birth control, Walcott said.
By Jeanmarie Evelly
U.S. Senator Kirsten Gillibrand met with a number of Bronx clergy leaders and local lawmakers last week to promote legislation she's sponsoring to reduce the number of unemployed young people in urban areas.
The Urban Job Acts of 2011 would funnel money to both national and local nonprofit organizations that work with young minorities, according to a press release. The funding would be used for educational, job readiness and social service programs that specifically target at-risk city populations, like high school dropouts or those involved with the criminal justice system.
"This program would give city organizations the tools and resources they need to help our youth prepare for future jobs, find employment opportunities, and reach their full potential," Gillibrand said. "The skills they would acquire through this program are invaluable. Helping our youth compete in this difficult economy will have a lasting, positive impact on our community." Read more
By Alex Kratz
On the first Friday morning of August, Ashley Santiago looked out the window of her apartment on the corner of Gun Hill Road and Rochambeau Avenue and saw fire raining down from the sky.
"My mom told me, 'Look, there's fire coming down from the sky,'" she said, two hours later.
Dressed in shorts and a tank top, the 18-year-old grabbed her wallet, cell phone and keys and ran out of the building, 3504 Rochambeau Ave., along with her mother, aunt and two dogs.
Santiago's family and every other resident, including two teenagers who were in the apartment where the fire erupted, made it out of the building in plenty of time, but damage from the fire left a handful of families homeless, at least temporarily. Read more
By Jeanmarie Evelly
The federal government continues to implement a controversial deportation program despite intense criticism and the fact that three states, New York included, have already attempted to withdraw from participating in it.
Earlier this month, the Department of Homeland Security (DHS) announced that it will continue to roll out its "Secure Communities" initiative, which requires local law enforcement agencies to share digital fingerprint records of people who are arrested with federal immigration officials, who then check the prints for a person's green card status—and deport anyone found to be residing here illegally.
Gov. Andrew Cuomo said in June that New York would not comply with the program, and the DHS had originally conveyed that participation by states was optional. In this month's announcement, however, DHS changed gears, saying it did not need state or local authorization to continue its practice of deporting based on arrest records.
New York legislators, including many here in the Bronx, continue the denounce to program, saying it would only harm communities with large immigrant populations and that the federal government is ignoring criticism of Secure Communities. Read more
By Jeanmarie Evelly
As part of an ongoing effort to turn around poor performing schools, the Department of Education is making changes this fall at 33 middle and high schools across the city, including two nearby: MS 80 on Mosholu Parkway, and MS 391, or the Angelo Patri School, further south on Webster Avenue.
The effort will qualify the city to receive millions of dollars in federal School Improvement Grants, doled out by the U.S. Department of Education, which require the DOE to institute one of four federally approved "intervention" methods to turn things around at each struggling school.
To the relief of teachers and parents, the city announced last month that none of the schools on its low-achieving list would be closed—one of the federal models on the table, and a favorite of the Bloomberg administration, which has shut down dozens of schools for poor performance over the last decade.
Instead, the DOE will institute two other federally approved tactics, "restart" and "transformation." Read more
Police and community came together on the evening of Aug. 2 in Williamsbridge Oval Park, which is just the point of National Night Out. There was music, games for kids, and the Office of Public Advocate Bill de Blasio gave Deputy Inspector Joseph Dowling a proclamation honoring the 52nd Precinct for its work in the community. (Photos by Adi Talwar)
By Jordan Moss
The signs of a highly unusual Sunday at the Bronx County Courthouse, where profound new rights were being conferred on a large group of New Yorkers, were hard to miss.
Staff of the mayor's office, sporting orange baseball caps, warmly greeted anyone who came within 50 yards of the courthouse's Concourse entrance. There was no crammed lineup leading to the metal detectors. Cameras, forbidden from courtrooms and confiscated for the duration of one's visit if found, were waved on through.
History, after all, was waiting for its close-up.
Another gantlet of helpers led people to the correct elevator to head down to the marriage bureau in the basement. About a couple of dozen gay couples calmly waited in a courtroom on the ground floor on the west side of the courthouse to be married on the first day it was possible, as allowed by a law passed by the state legislature and signed by Governor Cuomo a month ago. Many were with family and friends, and some were ust happy to be with each other on a day no one in the room would likely ever forget. There were delays in getting couples to the "altar" (a small office near the courtroom), but impatience was scarce.
Rhea Greenberg, a disability analyst for the state, and Janice Glock, a retired postal worker, met on a blind date and have been together for almost 12 years, living in Spuyten Duyvil. The couple, who jokingly referred to each other as "Spouse A" and "Spouse B," which is how they had to classify themselves on the marriage license forms, chose not to get married in nearby states like Connecticut or Massachusetts which preceded New York in allowing gay marriage. They held out hope for the Empire State to fall in line.
"This is where we've lived our lives," said Greenberg, who expressed relief that there were no protesters outside the building. "This is where we have roots, family, friends, and this is where we want to get married."
Though they know they're going to be together forever, there are practical considerations, Greenberg said. "I want to know if anything happens to me, that she is as protected as possible."
"We plan to stay together," Glock said. "We've worked out all the kinks. This is one more way of uniting ourselves."
On their anniversary on Aug. 12, they will gather with family and friends to celebrate their marriage at Silvio's, an Italian restaurant in Yonkers, where they also marked their domestic partnership about five years ago.
"Give them a plug," Greenberg told a reporter regarding Silvio's. "We told them we'd try to get them gay wedding business!"
A few rows back, Mott Haven residents Karen Cofield and Gwendolyn Williams also waited patiently, willing to endure some bureaucratic delays after five years together.
They met in a rehab center upstate and have been a support to each other ever since.
A reporter asked Cofield, a maintenance worker at Memorial Sloane Kettering, what being married meant to her. She hardly skipped a beat.
"Everything," said Cofield.
She added: "There's no question in our mind that we're going to be together. It's just another level for us."
Twenty seven couples tied the knot that day in the Bronx, 823 in the city as a whole.
Earlier in the morning, Criminal Court Judge Efrain Alvarado, assisting the other judges in managing a very unusual Sunday of legal proceedings, told the packed courtroom:
"We have a historic day today. Not just because it's the first time in New York State, but because we have come full circle in recognizing the equality and equal justice deserved by all."
David Greene contributed to this story.
By Jeanmarie Evelly
Change is coming to Webster Avenue.
The gritty, industrial stretch that runs through the neighborhoods of Norwood and Bedford Park was rezoned by the City Council this past March, with a plan designed to encourage more retail stores and residential housing in an area now largely composed of parking lots and auto body shops.
Though not necessarily a direct result of the city's change—zoning plans are more like gentle hands that shape a neighborhood, and depending on market conditions, it can take years before any real changes are seen—new projects already under way or in the pipeline along Webster are a portent for what the street could look like down the road.
Two developers are eyeing the avenue as the site of separate affordable housing complexes. One is already under way, in a lot technically located in Community Board 12, along the south end of Woodlawn Cemetery and just north of Gun Hill Road. Jackson Development Group is constructing over 400 new apartments in four buildings, calling the massive development "Webster Commons," and advertising the rentals for low and moderate-income tenants.
The project, subsidized by a number of city and state affordable housing programs as well as $839,000 in capital funding from Borough President Ruben Diaz, Jr., has drawn criticism from some community members.
"As the first projects on [a rezoned] Webster Avenue, I believe it's a poor decision to put in so-called affordable, low-income housing," said Andrew Laiosa, a member of Community Board 7 who openly describes himself as "anti-development."
He voted against both Webster Commons and another affordable housing complex planned for Webster Avenue, just north of 204th Street. That project, pitched to the community board several months ago by housing development groups Azimuth and Sebco, would be on a much smaller scale — 60 apartment units, a portion of which would be set aside for formerly homeless families and a first floor that would be leased to a for-profit daycare company.
Laiosa said he would rather see a developer with private money come to Webster Avenue, rather than government-subsidized projects aimed to house low-income tenants, which he said "sets a bad precedent." "What we need to do is have a diversity of incomes in the Bronx," he said. "We can't just become a dumping ground for all poor people in New York City."
The rezoning adopted for Webster Avenue this spring intentionally creates incentives for affordable housing, and a City Planning spokesperson compared it to a similar plan approved years ago in Morrisania—a south Bronx neighborhood that's subsequently been transformed by a building boom over the last decade, where brand new, low-income housing complexes have sprung up like dandelions.
The city and the Bloomberg administration heralds this growth as "revitalizing" to communities; the mayor has even set a goal of creating or preserving at least 165,000 units of affordable housing by 2014, part of his New Housing Marketplace Plan.
But some critics say policies like this don't address fundamental housing problems, like skyrocketing city rents, and instead create an incentive for building and overdevelopment that doesn't consider the bigger picture.
"It just doesn't make sense to build that big in the Bronx," said Kristin Hart, a Kingsbridge Heights resident who heads a local neighborhood association and is adamantly opposed to Jackson Development Group's plan. "In my opinion, they're building a giant city."
She fears the massive complex might remain largely vacant, or eventually fall into foreclosure.
"Most people in the Bronx are not going to be able to afford or qualify for these apartments, so what are they trying to accomplish?" she said. "The developers honestly don't care if it succeeds or if it fails. They just want to build."
But Eli Weiss, Jackson's finance director, said other projects in the Bronx that are similar to Webster Commons, like one on Decatur Avenue and another on St. Ann's Terrace, have gotten "fantastic" responses from renters and have near-zero vacancy rates.
"The demand is really there," he said. Rents at Webster Commons would start at around $859 a month for a studio apartment, he said.
Richard Gorman, who chairs Community Board 12 where the project is located, said he supports the plan and doesn't understand where the opposition is coming from.
"It was something we welcomed. That's an area of the district that's empty, vacant land," he said, adding that the location was plagued for years by people illegally dumping their garbage.
"They're doing a complete redevelopment of Webster Avenue," Gorman said, referring to the goals of the recent rezoning. "The best way to get shoppers [there] is to have people living nearby."
By Alex Kratz
Over the past several years, the area around Creston Avenue, just north of St. James Park, has built a reputation as a hot spot for the drug trade. Periodic violence highlighted the turf wars that accompanied it. Earlier this month, however, local and federal authorities made a big dent in curbing Creston's infamous image.
Culminating a year-long investigation by the FBI and NYPD with an early morning raid on the so-called "Creston Avenue Crew," police arrested eight people in the Bronx and three in Puerto Rico. A handful of others were already in custody, while two other Bronxites and a mysterious man named Fnu Lnu (no address was given), also known as "Jesse," remain at large. In total, according to a 17-page federal indictment, charges were filed against 20 people for drug trafficking, firearms and money laundering.
In the course of the raid, authorities discovered three guns, pounds of marijuana, marijuana growing equipment, scales, a police scanner, cocaine and thousands of dollars in cash. It amounted to a fraction of what the organization brought in and distributed over the past five years, law enforcement officials said.
"These defendants allegedly built a drug empire in the Bronx, using guns and violence to protect their operation and terrorize a neighborhood," said United States Attorney Preet Bharra.
The Creston Avenue Crew had a hand in two recent murders near St. James Park, according to the federal indictment. Standing in a crowd of bystanders, three of whom were also shot, 27-year-old Christopher "Gremlin" Santiago was murdered in June 2006. In 2009, Carlos Lorenzo was shot and killed on Creston Avenue.
Last year, a young father was shot and killed in the late afternoon while walking out of St. James Park near Creston Avenue. No one has been charged in his murder and it was not mentioned in the indictment.
This bust comes roughly one year after authorities took down the infamous La Perla Organization, which controlled a stretch of Valentine Avenue, just blocks away from Creston Avenue and St. James Park.
By Alex Kratz
James Perez, a Kingsbridge Heights resident and 24-year veteran of the United States Postal Service, is having a hard time imagining working outside of the Bronx. But he might not have a choice.
By the end of the fall, his position and at least 231 others at the Bronx mail processing plant will be eliminated as the USPS consolidates all of the Bronx's mail processing and distribution into the Manhattan plant. Perez and his coworkers may end up in Manhattan, but they could be transplanted to any postal location within 50 miles of the five boroughs.
The USPS, citing budget concerns due to a "dramatic" drop in mail volume, said this is a done deal, but the postal workers union is not giving up without a fight.
They organized a rally to protest the elimination of the Bronx plant for Wednesday afternoon, July 27. It will start at the recently-closed Oak Point station on East 149th Street and end at the Bronx General Post Office (where the processing plant is located) at East 149th Street and the Grand Concourse. There, at 11:30 a.m., along with Bronx Borough President Ruben Diaz, Jr., the union will list the reasons why eliminating the borough's processing center is a bad move and should be reconsidered.
"There is nothing good in it for anyone," said Chuck Zlatkin, the legislative and political director for the New York Area United Postal Workers Union.
In addition to all of the displaced workers, Zlatkin said mail delivery to the borough will be delayed, delivery trucks from Manhattan will mean more pollution and traffic for the Bronx and local businesses around the processing plant on East 149th Street will suffer.
"I understand our employees' concern over this move," said New York District Manager William J. Schnaars in a statement, "but the consolidation makes sense given the fiscal realities."
The USPS says the move will result in $8.8 million in annual savings and that delivery will not be affected.
Zlatkin and others say there is no way mail delivery will not be affected because the Manhattan plant is nine miles away from the Bronx plant and traffic will invariably affect delivery.
The consolidation comes on the heels of the USPS's decision earlier this year to close two Bronx post offices — Oak Point and Crotona. The agency also decided to close the Van Nest office, but community outrage has suspended that move for the time being.
Zlatkin said the USPS fiscal crisis cited as rationale for these closures and consolidations is "manufactured." For years, he said, the USPS overpaid, to the tune of $50 million to $75 million, into federal and civil service retirement funds. That, plus a new policy that forces the USPS to pre-fund retirement, is largely responsible for the budget gap, Zlatkin says.
In the past, Zlatkin said, Bronx Congressman Jose Serrano was able to stop the USPS from closing the borough's processing plant.
In a recent letter to the postmaster general, Serrano said the Bronx was "being asked to bear a disproportionate burden of your intended cost-cutting."
The Bronx plant is the only outer-borough plant being phased out, although a spokesperson for the USPS said the plant in Staten Island was being reviewed and others may be consolidated in the future.
By David Greene
A Saturday afternoon fire on the top floor of a five-story Decatur Avenue building in Norwood claimed the life of 37-year-old resident Chris Podesta who died of smoke inhalation, according to the medical examiner's office.
Press officers for the Fire and Police departments could not confirm the death by press time, but neighbors confirmed that it was Podesta who had died in the fire.
One resident of the block, who declined to give his name for this article, stood in shock after firefighters removed his friend Podesta from the building.
"They brought him out and he was all full of smoke and they were performing CPR on him," the resident said.
Another resident, a young woman in her 20s who also declined to give her name, said Podesta will be missed. "He was always the guy who would watch and defend us," she said.
A Fire Department spokesman could only provide a few basic details, saying that the fire, "was still under investigation." He did not know if someone had died in the fire.
The spokesman did say the FDNY responded to calls of a fire at 3212 Decatur Ave. at 1:30 p.m., on Saturday, July 23. Arriving units discovered the top floor apartment of the five-story building engulfed in flames. A total of 12 units and 60 firefighters were used to bring the fire under control.
Office of the City Medical Examiner's spokeswoman Ellen Borakove confirmed Podesta's death, saying, "I have a 37-year-old white male. He died from (a) smoke inhalation accident at that location."
Podesta was pronounced dead at Montefiore Medical Center. One firefighter was also treated for minor injuries at St. Barnabas Hospital.
Services for Podesta were scheduled for Tuesday and Wednesday at McKeon Funderal Home. A funeral service is scheduled for Thursday at. St. Brendan's Church at 10:45 a.m.
Jeanette Cardona originally planned on naming her new Webster Avenue dance studio and boutique Casa Cardona. But considering the studio's offerings, which include instruction in both belly and pole dancing, Cardona decided instead to take a risk and be bold, maybe even a little risqué, in naming her new business.
Armed with a catchy new name, RizzQue Studio and Boutique, and a diverse arsenal of dance clothing as well as traditional, risqué and kid-friendly dance classes, Cardona's Norwood-area studio is thriving.
"Yes, I make sexy clothes, but it's not about being erotic," she says, "it's about pushing yourself and unleashing your most inner self."
Cardona, better known as "J," worked for 17 years creating dance, fitness  and yoga wear, as well as lingerie, and dance costumes. Her dance studio offers Salsa and Hip Hop classes for kids and Belly Dance, Zumba, Yoga, Pilates, and Pole Dance Fitness classes for adults.
"It's 2011," Cardona says. "Pole dancing has gone mainstream. Years ago people only associated it with strip clubs, but it's not degrading, it is an art and dance form. It's about pushing yourself to your limits as an athlete."
pole dancing combines elements of modern dance, gymnastics, and ballet, Cardona says.
"It's so hard!" RizzQue regular Paulina Vilchez says, laughing. "I can't climb the pole, but I'm trying!"
Anna Marin, who also takes pole dancing classes at the studio, says, "It's just awesome. They are the only ones in the Bronx offering pole dancing."
Cardona says her biggest challenge was installing the poles. After a lot of research and planning, she finally figured out how to install six removable poles that can hold up to 250 pounds a piece. Since business is booming, she now plans to install four more.
Cardona had initially planned to open a clothing boutique, but when she saw 3037 Webster Ave., she knew the space could be more. With the help of her mother, Myrna Colon, the two women transformed the former karate studio into a dance studio, as well as a clothing boutique.
Not a dancer by trade, Cardona employs professional instructors for her dance classes, which she also takes part in. Meanwhile, she is in the process of receiving her certification in Pilates and Yoga instruction.
RizzQue opened inauspiciously on Dec. 4 at the beginning of a rough winter. "The snow storms didn't help," she says, shaking her head. But word of mouth is slowly building her clientele.
Cardona hopes RizzQue will be a place where people feel good about themselves. "Life gets in the way," she says, "and a lot of women forget to make time for themselves. I want people to be able to come here for an hour and have it be all about them."
Vilchez says that's exactly why she comes. "I can totally relax when I come here," she says.
As a lifelong Norwood resident, Cardona wanted to add something positive to the neighborhood.
"I've always loved this area, because it's such a melting pot," she says. One participant, she says, offering an example, is a little girl from Bulgaria who doesn't speak a word of English, but loves to dance. Cardona says, "Dance is something that can be translated in any language."
Ed. Note: Although most of the adult classes are geared towards women, the kid's classes are co-ed and are intended for children ages 5 -15. For more information, call ( (718) 882-1000 or visit www.rizzque.com.
This story was updated from an original version on 7/25/2011.
By Fausto Giovanny Pinto
Along the ethnically-diverse enclave that is the stretch of the Grand Concourse between 182nd Street and Fordham Road, lies African grocery stores, Dominican barbershops and a scene out of a Mexican-flavored Wild West movie.
Spurs, heavy-duty rope (to lasso bulls) and countless styles of cowboy boots and hats fill the shelves and walls that make up the niche clothing shop, Rudy El Vaquero.
"Here they have what I want, for good prices," said Angelica Valerio, who has been shopping at the store for over a year. "And whatever they don't have, they will get."
The business opened 10 years ago as a record shop. Owner Mario Martinez said people were travelling as far away as Queens and New Jersey to get their Mexican music fix and he wanted to offer these tunes closer to home.
Then one day after the record shop opened, Martinez brought in a pair of cowboy boots, a style popular among native Mexicans, Martinez included.
A pair of boots grew to a few. Soon he had hats, shirts and a growing demand. Six years ago, he moved the record shop two stores down to a smaller location and opened Rudy El Vaquero in its stead.
According to the 2010 Census, Hispanics make up more than 50 percent of the Bronx population, including a fast growing number of Mexicans. From 2001 to 2009, the Bronx's Mexican population nearly doubled, from 38,454 to 69,717. Martinez's shops are a testament to that.
Originally from Puebla, Mexico, Martinez says business has doubled since his cowboy shop first opened. Families often come in together looking for clothes to wear at big celebrations, where more formal Mexican cowboy attire is often required.
While some people only prefer to dress the cowboy way on special occasions, Martinez says there are some such as himself who wear this type of clothing everyday. Recently he has noticed younger customers.
Rudy's embroidered clothing is especially popular, Martinez says. Many regional Mexican bands come from as far as Connecticut and New Jersey for embroidered shirts, and hats adorned with hand-stitched logos.
Out of his shop, Martinez also advertises and sells tickets to shows, whether its bull riding in New Jersey or Ranchera-style music show shows along the Concourse.
Since opening, a new store has popped up nearby selling similar items. Martinez takes this as a compliment, saying, "When you do something right people will copy you."
Ed. Note: Rudy El Vaquero is located 2359 Grand Concourse. They are open Monday through Sunday from 10 a.m. to 8 p.m.
By Justin Bodden and David Greene
On June 30, Secretary of the Interior Ken Salazar announced that Woodlawn Cemetery, along with 13 other sites across the country, was designated a National Historic Landmark.
The title recognizes Woodlawn's role in preserving and celebrating those who have helped shape the world, according to a press release. The prestigious title has been designated to less than 2,500 places, putting the Norwood-area cemetery in rare company.
The 150-year-old, 400-acre Woodlawn Cemetery is the final resting place to some significant people in our nation's history, including jazz legend Miles Davis and former New York City Mayor Fiorello La Guardia.
Borough President Ruben Diaz Jr. was one of many who advocated for the cemetery to become a National Historic Landmark.
"The Woodlawn Cemetery is the final resting place for many famous Americans and it is vitally important to preserve our nation's history for ourselves and for the generations to come," said the borough president, who submitted a letter that supported the cemetery's designation back in October of 2010.
"Without our history we do not know where we came from and we do not know where we are headed," Diaz continued.
The cemetery was recently the backdrop to Diaz's "Bronx SalsaFest," which he hosted in collaboration with the Bronx Tourism Council — a week of Bronx events celebrating the musical genre.
On Saturday, July 9, the cemetery led a free walking tours to honor Celia Cruz, a legendary Cuban-born Salsa performer who was laid to rest at Woodlawn.
Brian Sahd, executive director of the Friends of Woodlawn Cemetery, said they were eager to participate in the festival once they heard about it.
"I said, 'we have to do something, we've got to get involved, because who's here? The Queen of Salsa is here,'" Sahd said.
By Alex Kratz
Ozzie Brown, a colorful, loquacious and dedicated member of Community Board 7 who was also active in the civil rights movement and an advocate for diabetes awareness, died last week after a battle with cancer. He was 67 years old.
Locally, Brown was best known for the active role he took as a member of the community board. But Brown was much more than that, a "true Renaissance Man," said former Bronx Borough President Adolf Carrion, one of Brown's best friends.
"Ozzie was a worldly person," Carrion said. "He brought a mix of experiences that many people would be surprised to hear about. He was a musician, a promoter of music, a philosopher, a lover of the arts."
Carrion, who met Brown when the two lived in the same Fordham Hill building in the early 1990s (Brown lived there until his death), said their families were close and they spent many vacations together over the years. As borough president, Carrion appointed him to a Harlem River redevelopment task force and later to Community Board 7.
"I knew he was the right man for the job," Carrion said, "because he cared about the community, about the people of the Bronx who had been marginalized."
Brown earned a reputation for offering extended, and often eloquent, speeches during board meetings and hearings. In recent years, he was in the middle of the board's efforts to expand its role in the community and played a crucial role in shepherding several land use projects, including the re-zoning of Webster Avenue. (Brown said he envisioned the industrialized strip as a bustling commercial and residential area full of "cultural" destinations like galleries, restaurants and bookstores.) Read more
By Jordan Moss
In the end, it was all about community.
The story line of the saga of the missing pop-up piano in Williamsbridge Oval Park shifted as the facts came out.
But when every last note was played, the result was a civic ballad celebrating what makes a neighborhood a neighborhood.
As the Norwood News reported two weeks ago, the pop-up piano provided by the nonprofit, Sing for Hope, in Williamsbridge Oval Park was reported stolen after consulting with local Parks Department staffers. But a few days later, detectives from the 52nd Precinct learned from witnesses in the park that a Parks Department sanitation crew picked up the piano, thinking it was a discarded instrument.
After an inquiry from the Norwood News, the Parks Department confirmed they were responsible and issued this statement: "Parks workers unknowingly discarded the piano which appeared to have been vandalized and was lying on its side. We were just alerted to this today and we send our apology to the community and Sing for Hope if any trouble was caused by this." Read more
By David Greene
A bizarre and tragic confrontation in a Bedford Park parking lot in late June left a star high school football player stabbed to death and his father charged with assault.
After attending his high school commencement ceremony at Lehman College, on Tuesday, June 28, Isayah Muller, 19, a star running back for the Truman High School Mustangs, and his family, left M.T. Jerome Town Corp. Parking Lot at Jerome Avenue and 198th Street.
While heading to City Island for a celebratory dinner, police say Isayah's father, Andre Muller, discovered that an expensive bottle of cologne was missing from the car. He immediately turned the car around and went back to the parking lot to confront the attendants.
Surveillance video from the parking lot shows Andre Muller growing increasingly angry with a pair of parking attendants who allowed Muller to search their drawers and personal bags. At one point, Muller punches one of the attendants. He then throws a bicycle and charges at them with snow shovel, while Isayah looks on.
After departing briefly, both Andre Muller and Isayah come charging back into the attendant booth, fists flying. One attendant is shown wielding a machete. Video then shows the two Mullers leaving abruptly. It is at this point, police say, that one of the attendants pierced Isayah's heart with a makeshift knife.
With Isayah's mother and girlfriend in the car, Andre Muller rushed Isayah to a nearby clinic. He was later transferred to St. Barnabas, where he died.
The teen's father was arrested the following day and charged with assault and criminal possession of a weapon. He was not charged in his son's death and pleaded not guilty to the charges. No charges are expected to be filed against the parking attendants.
Meanwhile, Andre's attorney, Lawrence Fredella, told Fox News that viewers were not given the entire surveillance video, so the entire story has yet to be told. Read more
By Jeanmarie Evelly
Two and a half months ago, when Steve Finkelstein took over the infamous Milbank buildings—10 formerly foreclosed properties in the northwest Bronx that made national headlines last year for their terrible living conditions—he had a lot of eyes watching him.
The plight of the Milbank tenants, as the group came to be known, captured the attention of countless city groups, the mayor, the City Council and the Department of Housing Preservation and Development (HPD), all of which vowed to monitor the new owner to make sure conditions at the buildings improved immediately.
Finkelstein, a Scarsdale-based landlord who owns dozens other of Bronx buildings, bought the properties for $28 million at the end of April after months of negotiations with tenants and the city.
Today, things seem to be going according to plan—or, according to some, even better than planned.
"It's pretty strong work," said HPD spokesman Eric Bederman, who said the 10 buildings, which had 4,805 housing code violations between them when Finkelstein took over, now have just 1,838.
"The new owner and his workmen are fantastic," said Gloria Thomas, who has lived at 2505 Aqueduct Ave. for nearly 30 years. "I'm very, very pleased with everything going on with Finkelstein. They're working on all the apartments diligently."
On a recent visit, Thomas' building and two others nearby—2500 University Ave. and 75 W. 190th St.—were a whirl of construction, smelling of sawdust and wet paint as work crews outfitted apartments with new parquet wood floors and kitchen tiles.
The improvements are a sea change for many tenants here, who say they'd fought for the past several years to secure basic amenities like hot water and locks on the front door. Now, security cameras monitor nearly every floor. Read more
By Fausto Giovanny Pinto
As a small crowd gathered in front of 2396 Valentine Ave. chanting, "No more guns! No more violence!" clusters of onlookers gathered on nearby stoops and poked their heads out of window perches above.
Organizers of the anti-violence rally hoped one of those onlookers might come forward with information about the shooting of Yvette Torres, a 15-year-old DeWitt Clinton High School student, who remains in critical condition after being shot in the head in front of 2396 Valentine Ave. on June 11.
Yvette was shot after confronting a gunman who was denied access to a party at the building, friends and family say.  There is speculation that witnesses were present but are apprehensive to come forward because they fear retribution or becoming labeled a snitch or a rat.
"We are here today to show we can't stand for something like this," said Robert Rios, an event director for Being Latino, a Hispanic lifestyle blog who helped organize the Rally for Yvette, "especially in the hood where you can't snitch, people are fearful [to come forward]."
Yvette's mother, Dorris Torres, who bears a strong resemblance to her daughter, briefly spoke to the crowd before fighting back tears.
"My daughter has been a fighter since day one. Now she needs someone to fight for her," she said. "Just say what happened. All we want is for someone to step up and help. Snitch rules don't apply. Think if it was your family."
Members of Bronx-based Affinity Church came out to the rally, setting up a small stage with speakers. Affinity Pastor Dimas Salaberrios said he has been leading his congregation to scenes of recent violence, such as the stabbing death of Truman H.S. football star Isayah Muller in Bedford Park (see page 3) and 21-year-old Aisha Morales who was recently gunned down in Longwood.
"We want people to know if you commit a homicide in the borough we love, we are going to come out against this," said Salaberrios.
Assemblyman Jose Rivera, who helped print 1,000 flyers for the event, was the only politician in attendence. He questioned the source of the gun violence problem.
"We have to take these guns away from criminals," Rivera said. "They are being sold to them. Someone has to be responsible. [Perhaps] the manufacturer?"
A June 19 article in the New York Post reported that a suspect had been arrested and charged in the shooting of Yvette. The NYPD refuted that story, saying no one has been arrested and the investigation remains open.
Rios said the Post article might have deterred potential witnesses, who figured the investigation was over, from coming forward,. "The Post did more damage than good," he said.
Still, volunteers and organizers at the rally were preparing for a drawn out campaign. They plan to canvass the area distributing flyers every Saturday until someone comes forward with information.
Organizers, who grew the rally using Facebook, found hope, support and manpower in the Shy-Shy Foundation, whose members came all the way from Brockton, Mass., to be part of the rally.
The foundation, which aims to stop gang violence, was created by Stephanie Matiyosus after her 16-year-old daughter, Chantel "Shy-Shy" Matiyosus, was shot to death while leaving a baby shower in 2009.
After two years of passing out flyers and holding outreach events, a witness came forward, which led police to make an arrest and charge a man with Chantel's murder earlier this year. Now the foundation is branching out to help others facing similar situations.
As of deadline, Yvette was slowly making progress at Columbia-Presbyterian Hospital. She is out of the Intensive Care Unit, breathing on her own, and blinking, said family friend Nelson Figueroa, who came up with the idea for the rally.
Ruben Bonet watched the rally from the front of his building nearby. A resident there for more than 40 years, Bonet has seen the best and worst of the neighborhood.
"A lot of things happen here and nothing gets resolved," he said. "This is something positive. It shows that the family and the neighborhood don't accept this."
By Jeanmarie Evelly
Critics of a recently-released report on possible uses for the Kingsbridge Armory said it lacked for funding sources. There were lots of ideas, but no money to make any of them happen.
Enter Creflo Dollar, a man with a vision and the resources to bring it to reality.
An evangelical preacher from Georgia, known for his lavish lifestyle and for touting the spiritual benefits of wealth, Dollar is proposing to take over the long-vacant Armory, according to the report released by the Bronx borough president's office last month.
World Changers Church International, an Atlanta-based, nondenominational parish led by Dollar and his wife, Taffi, has proposed turning the 575,000 square-foot West Kingsbridge Road building into a "state of the art church facility," fit with administrative offices, daycare and afterschool program space, a gymnasium, food and clothing banks and a recording studio.
The proposal was one of more than 20 submitted to Borough President Ruben Diaz, Jr., and a task force he appointed last year to consider future uses for the space. World Changers presented to the task force in January, and said their center, if approved, would be open to use for all community members, regardless of religious affiliation.
Dollar (yes, that's his real name, according to a "frequently asked questions" section on the church's website) is a controversial figure in the religious world, known for preaching "prosperity theology," or the idea that God rewards believers with wealth and financial bounty.
"Jesus came to restore abundance and prosperity in our lives," Dollar wrote in a column on his website. "Simply put, we don't have to be poor once we grab hold of the Word of God."
Bob Hall, head pastor of Bronx Household of Faith, a conservative evangelical Christian church in University Heights, called Dollar's ministry "crap," and said his focus on wealth and affluence gives Christianity a bad name.
"This is what frustrates me about the mega churches," he said. "If we had just a tenth of their landscaping budget, just think about how much good we could do.
Dollar's budget is big enough for World Changers' New York affiliate to rent out mega venues like Madison Square Garden and the Javits Center for services and World Changers is noticeably beefing up its presence in the Big Apple.
According to their proposal, the church has 8,000 active members and says that 1,600 of those live in the Bronx. Last year, The Ambassadors of Change, the parish's outreach organization in the tri-state area, hosted a Women's History Month event with the South Bronx Overall Economic Development Corporation, and teamed up with the group for a job fair in Manhattan last month.
A public relations firm representing Dollar did not return calls for comment.
The warm weather means the return of outdoor markets, offering a variety of fruits, vegetables, baked goods and other farm-fresh items. Here's our list of local spots.
New York Botanical Garden Green Market
Where: The Mosholu Gate, on Southern Boulevard between Mosholu Parkway and Bedford Park Boulevard
When: Wednesdays, 9 a.m. to 3 p.m.
Poe Park Green Market
Where: 192nd Street, between Grand Concourse and Valentine Avenue
When: Tuesdays, 8 a.m. to 3 p.m.
Kingsbridge Heights Youth Market
Where: West Kingsbridge Road, between Reservoir and Aqueduct avenues
When:  Fridays, 1 to 8 p.m.

Montefiore Medical Center Farmers Market
Where: Outside the main entrance of Montefiore's Moses Division, East 210th Street and Rochambeau Avenue
When: Thursdays, 11 a.m. to 3 p.m.
Harvest Home North Central Bronx Market
Where: Mosholu Parkway North and Jerome Avenue
When: Wednesdays, 8 a.m. to 6 p.m.
—Justin Bodden
By Jeanmarie Evelly and Justin Bodden
A series of new and graphic warning labels will start appearing on cigarette packages this fall, part of a federal effort to encourage more Americans to quit smoking
and deter potential smokers from taking up the habit.
The U.S. Food and Drug Administration unveiled the new labels last month, which include images of nicotine-damaged lungs, rotting teeth, a corpse and a man breathing from an oxygen tank—each picture paired with warnings like, "cancer can kill you."
"These images are pretty scary," said longtime Bronx smoker Ronald Wagenknecht, who said he's trying to quit for the second time, but isn't sure the new labels will make an impact.
"After 25 years, I just can't put one down," he said. "I need more than just images on the box."
Starting this September, every cigarette box, carton and cigarette ad will be required to feature one of the nine approved warnings, along with the phone number for the smoking cessation hotline 1-800-QUIT-NOW.
The label changes — the first in 25 years — are required by the Family Smoking Prevention and Tobacco Control Act, which President Obama signed into law in 2009.
"These labels are frank, honest and powerful depictions of the health risks of smoking and they will help encourage smokers to quit, and prevent children from smoking," said Health and Human Services Secretary Kathleen Sebelius, in a press release. "President Obama wants to make tobacco-related death and disease part of the nation's past, and not our future."
According to the Centers for Disease Control and Prevention, tobacco use is the leading cause of premature and preventable death in the United States, and kills 443,000 people each year.
By Alex Kratz
While 15-year-old DeWitt Clinton High School student Yvette Torres fights for her life at Columbia-Presbyterian Hospital, a group of people, many of whom have never met her, some from as far away as Massachusetts, are doing their best to track down the person who shot her in the back of the head and bring them to justice.
Yvette was shot in the head after she confronted a gunman at a June 11 party in an apartment building near Fordham Road, on the corner of East 187th Street and Valentine Avenue. It's unclear exactly what sparked the confrontation or why the gunman fired the shot that hit Yvette. But it is clear that there were witnesses to the crime and the shooter remains at large.
On June 17, the New York Post reported that a 17-year-old boy had been arrested and charged with Yvette's shooting. But the NYPD says no one has been arrested and the investigation is ongoing.
Seeing that the investigation had stalled, Queens resident Nelson Figueroa decided the police could use some help. Read more
By Jeanmarie Evelly
Lawmakers in Albany spent all of last week scrambling to address a long list of items on its agenda before breaking for the year, staying four days past the scheduled end of the legislative session and passing a number of high-profile laws in its final few days.
Among the legislation was a historic bill to legalize same-sex marriage, which after days of intense lobbying in Albany from parties on both sides of the debate, was passed by the State Senate late Friday night.
"I am proud that New York has sent a message loud and clear, that we will not tolerate inequality," said Bronx senator Gustavo Rivera, in a statement after the bill was approved. Read more
By Alex Kratz
During his lengthy and impassioned testimony at a public hearing concerning the fate of the vacant Muller Army Reserve Center in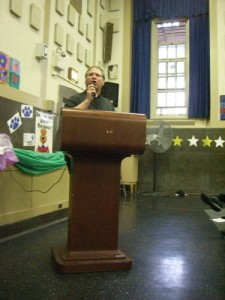 Wakefield, Father Richard Gorman compared the Bloomberg administration to a) Josef Stalin and b) a group of slave owners (with Wakefield residents being the slaves).
Gorman, the longtime chairman of Community Board 12, which includes Wakefield and Woodlawn, made those comparisons in the course of blasting the city's controversial proposal to house a 200-bed  homeless shelter for men in the Muller Center. The mayor's office says the city's homeless needs outweigh the desires of community residents and stakeholders.
Calling the city's plan "outrageous," Gorman said the report that determined a shelter would be the best use of the center was full of misrepresentations and inaccuracies. "It's a shame trees lost their lives to print that garbage," he said. Gorman also suggested the city's plan to turn the building over to the Doe Fund and give the group a fat city contract to run the shelter amounted to a giveback to the nonprofit, which provided valuable support to Bloomberg's campaign to extend term limits two years ago.
Gorman was not alone in his anger. The sweltering auditorium (the vitriol was equaled only by the thickness of the air) inside PS 21 on East 225th Street was jam-packed with opponents of the homeless shelter, including a long list of local politicians, community activists and residents.
One representative from the mayor's office, which holds two of the three voting positions on the Local Redevelopment Authority (LRA) tasked by the Department of Defense to find a suitable use for the center (Bronx Borough President Ruben Diaz, Jr. holds the other spot), spoke on behalf of the homeless shelter plan.
In an e-mail statement after the hearing, Andrew Brent, a spokesman for the mayor's office, said their position had not changed despite the overwhelming and vehement opposition to the homeless shelter plan.
"Given New York City's demand for temporary emergency shelter and the federal mandate, the Local Redevelopment Authority determined by majority that the facility should be utilized as a homeless shelter," Brent said in a statement.
Brent, who could not point to any community or political support for the city's plan, said the Doe Fund's application to run a homeless shelter at the center was the "most viable" option for the building's re-use.
In 2008, around 20 Doe Fund employees testified in support of Bloomberg's effort to extend term limits. Last year, the New York Times reported that Bloomberg, "through his charitable arms," had donated at least $10 million to the Doe Fund since winning re-election for a third term in 2009. (A spokesman for Bloomberg said the mayor had supported the Doe Fund financially long before the term limits vote. And a spokesman for the Doe Fund said the group's president, George T. McDonald, had always opposed term limits.)
At the end of last year, Diaz, Jr. repeatedly chose not to attend LRA meetings to prevent the three-member panel from having a quorum and being able to vote on, and approve, the homeless shelter plan.
Diaz spokesman John DeSio said the borough president had yet to decide whether voting against the plan at the next meeting would be better than ignoring another meeting, which might leave the building open to the highest bidder. The LRA must vote on the plan by the end of the month.
In his remarks at the hearing, Diaz said the mayor and the borough president's office, then occupied by Adolfo Carrion, had agreed the Muller Center would become the new home of the National Guard units currently housed in the Kingsbride Armory annex buildings in order to make way for new schools. The National Guard has said it would be willing to move the Armory units to the Muller Center with $750,000 worth of help from the city.
The city's re-use recommendation report mentions the Guard's willingness to move into the Center, but Brent said the Bronx's and the city's need for homeless shelter beds trumped that idea. The report said it would cost between $10 million and $15 million to turn the center into a homeless shelter.
Concerned local residents said the neighborhood was already saturated with homeless shelters. Many suggested the mayor's office was unfairly saddling their residential area with the Doe Fund's all-male clientele, which is made up of many former criminals and drug addicts.
"Why [is the city doing this]?" asked Mary Lauro of the Wakefield Taxpayers Association. "Because we are a minority community!"
By Jarrett Murphy
My son, Owen, and I were supposed to miss this game altogether. It was originally scheduled for back in April, for a day when we were in Ireland. But it rained that day, and the game was called off. So the second and final meeting between the Athletics and Pirates of the Mosholu Montefiore Community Center's baseball league's Bantam Division was instead set for Saturday, June 18 at Shandler Field in Van Cortlandt Park.
There was no rain this time. Intense sunshine baked the ballfield. The last time we'd been on the field, our Athletics had a 12-4 lead as the Yankees took their final at-bat only to see the Yanks score eight runs to eke out a tie. The week before there had been another cancelled game because of bad weather; that one would never be made up. This was to be our last game of the year.
The Athletics, coached by Sam Saltares, struck first, scoring twice. We came back with five runs. In the third, they took a 7-5 lead. Then we went ahead 10-7. They put four across in the next frame, but we scored one more in the bottom half to tie the game at 11. Our star player, Artie, was out of town. But we were getting enough offense off the bats of Deandre, our leadoff man, with Carlos, Romeo and Joel getting on base every time. Denae belted a rocket past the third baseman. David beat out a throw to first. Owen had two RBI singles despite having to lay down between at-bats with a headache and fever. Alyssa played heads-up right field, and Jeremy patrolled left. Nick and Quadir stole hits from the Bucs with clever fielding.
Yet we still came to our last at-bat of the season down 13-11. More hits came. The bases loaded up. The tying run came across. Then it was Richard's turn.
Richard, who happens to be our neighbor, had never played baseball before the season. People who came to our games often heard his name as coaches shouted for him to pay attention, stop playing with dirt, or at least stand up in the outfield. Earlier in the season, he'd asked me to stop the team from chanting his name when he was at the plate because it made him nervous.
Having taken his place in the batter's box, Richard made a couple of weak swings. Quickly, he was down to his last strike. The winning run was on third base.
The pitch came, and Richard swung, this time with purpose, with meaning. The ball popped off the bat rolling and bouncing toward the shortstop. The bench knew instantly, just by the peculiar way the ball was dribbling across the diamond, that it was all we needed. We roared. The runner on third scampered home. Richard, the fastest man on the team, sprinted to first. He beat the throw by two steps.
The field emptied as Richard stood on first not quite understanding why everyone was hitting him on the helmet. The coach and assistants, grown men all, leapt off their feet. Owen cried with joy. Our final record was 4-4-1, which is somehow way better than 3-5-1, but it didn't matter that much. If we had finished 1-9, this win would still have felt like the championship.
When the team got their trophies—every team gets trophies—Richard said it was the first he'd ever received. He also got the game ball. The next night he yelled into our yard to ask when the next game is. It was hard to tell him that there'd be no more games until April.
There is plenty not to like about sports—taxpayer-funded stadiums built on top of poor people's parks, spoiled millionaire athletes, absurd ticket prices, steroid cheats, jingoistic violence. And there's a lot about sports that is not very profound; they're an excuse to drink some beer and not think about more important, more depressing things. But sometimes sports are more than all of that. They are a ball dancing across a dusty field and an unlikely hero wondering why everyone is smiling at him.
Jarrett Murphy, a Norwood resident, is editor-in-chief of City Limits.
Freshman State Senator Gustavo Rivera knows a little bit about the public's high level of mistrust in their politicians. In fact, he rode that mistrust to victory over his predecessor Pedro Espada, Jr. last fall in the Democratic primary.
Such was the state of the northwest Bronx's 33rd Senate District seat, which Rivera now represents.
The now infamous Espada is awaiting trial for allegedly embezzling money from his network of Bronx nonprofit health clinics. His two-year term that ended in December was marked by a handful of investigations into possible ethical and legal violations. Espada did not come into office without a checkered ethical record, but he managed to defeat his own predecessor, Efrain Gonzalez, by repeatedly pointing out the dark cloud of federal corruption charges hanging over his head. (Gonzalez is now serving prison time for stealing state funds meant for local nonprofit groups.)
"I heard it from people all the time while I was campaigning last summer," Rivera said during a recent interview. "They don't trust us as legislators."
Rivera says the current crop of legislators in Albany is attempting to mend this strained relationship between the public and their representatives in government.
Weeks before the furious finale in Albany that brought the legalization of gay marriage, slightly strengthened rent regulation and a property tax cap, the state legislature passed an ethics reform package that freshman Rivera says will help the healing process along.
Part of that package includes language Rivera introduced as a bill in January that would require lawmakers to disclose outside income. (State legislators are considered part-time employees and are free to hold other jobs.)
The public should know where their representatives are getting their outside income from, Rivera said in a statement announcing the deal in early June, "especially if they are being paid by special interests, companies or individuals whose interests are diametrically opposed to the interests of their constituents and their community."
The deal also sets up a new Joint Commission on Public Ethics to police both the executive and legislative branches, requires legislators who are lawyers to reveal their clients, creates a database of all lobbyists and contractors doing business with the state and penalizes any lawmaker convicted of a felony by depriving them of their pension.
Good government groups said the reforms, especially with regard to disclosure, were commendable. But many, including the New York Times editorial board, trashed the new ethics commission as "so deeply flawed in its structure as to be wholly ineffective."
Rivera admitted the reforms won't solve all of Albany's problems and dysfunction, but said it's a step in the right direction.
And for those concerned about Gonzalez or Espada (if he's convicted), don't worry, their pensions are safe. The law only applies to future legislators.
By Kristen Gwynne
Claritza Caceres, 17, is a junior at the International School for Liberal Arts at the Walton campus. Quiet and modest, with a petite frame, her appearance hardly lets on that she is what many would consider a softball prodigy. This past season, Claritza muscled a .696 batting average with 45 runs batted in and 29 stolen bases. A pitcher, she had an earned run average of 3.68.
Claritza, who is from the Dominican Republic, did not play proper softball until came to the U.S. at age 12. But she got some serious practice in her home country, where she and friends improvised with sticks and bottle caps.
One year, Claritza got her first real softball as a birthday present from her uncle. Compared to hitting a cap with a stick, it was a piece of cake. "That ball is so special to me," she said. "It's my lucky one."   Read more
By Rachel Sander
In the past year, the disastrous effects of bullying have become more visible with high profile youth suicides. More adults are recognizing that bullying victims can suffer from depression, low self-esteem, health problems, poor grades, and have suicidal thoughts.
That's why Montefiore Medical Center's community forum two weeks ago focused on the issue.
"For too long, we've turned a blind eye," said Robert Spencer of the Bronx district attorney's office at the forum in Montefiore's Cherkasky Auditorium. Read more