By Alex Kratz
In an interview with Crain's NY today, Mayor Bloomberg said the city will issue another request for proposals to redevelop the Kingsbridge Armory with a few new tweaks.
The announcement marks something of a victory for Bronx Borough President Ruben Diaz, Jr. who has been pushing hard for the mayor to re-issue an RFP for the Armory since releasing a report this past summer showing wide and varied interest from groups who want to use the Armory.
"I'm so happy that we're working with the mayor and the administration and we're moving forward," Diaz told Crain's.
After Diaz released the report, some were skeptical that groups interested would be able to provide the resources to actually develop the Armory. Many also believed Bloomberg, still hurting from having an administration-backed plan to turn the Armory into a shopping mall defeated overwhelmingly in the City Council two years ago, would not agree to re-issue an RFP. Read more
By Alex Kratz
Editor's note: A version of this story appears in this week's print edition of the Norwood News. Today, Cardinal-designate Timothy Dolan is visiting POTS to officially bless the building for the Catholic Church.
After all the politicians, reporters and board members had left the grand opening of its sparkling new building on Webster Avenue, Part of the Solution, known as POTS, quickly got back down to business.
For POTS, a nonprofit organization that started 30 years ago as a soup kitchen and has since blossomed into a multi-service center offering everything from hair cuts to legal advice, that means putting food on the table and serving those in need. It was almost noon. Lunch was about to begin.
Bright-eyed high schoolers shuffled in to volunteer and friendly staffers, some of them former clients and volunteers, put them to work.
Though food wouldn't be served for another half hour, a line 30-deep had already formed outside of POTS' new building near the corner of East 197th Street. As it does almost every day, POTS would go on to feed around 400 people.
Less than an hour earlier, Speaker Christine Quinn helped Wally Johns, a former POTS client who volunteers and hangs around the place so much he was dubbed the "mayor" of POTS, cut the ribbon on the organization's new $8 million, 15,000-square-foot building.
The facility has been operational since the fall, but POTS waited until its 30th anniversary, Jan. 6, to officially open its doors. The delay also allowed the group to fill its vacant executive director position with former finance director Chris Bean, who had left POTS for about two months before returning in his new role. They announced his hiring at the ribbon cutting. Read more
By Alex Kratz
Following demonstrations that led to the arrests of seven people last week, including Bronx Councilman Fernando Cabrera, the New York City Housing Authority agreed to extend rental agreements with two Bronx churches who worship in city-owned buildings.
The churches — Bronx Bible Church at the Justice Sonia Sotomayor Houses and Infinity New York Church at the Bronx River Houses — will be allowed to continue renting space at the facilities until at least Feb. 26 while NYCHA completes its comprehensive review of all of its rental agreements with organizations.
Cabrera and pastors from both churches were arrested on Thursday morning after conducting a "prayer protest" in front of the downtown Manhattan building that houses the city's law department. Cabrera and the clergyman say they were told the law department directed NYCHA to evict them following a court ruling that upheld the city's ban on worship in public school buildings.
NYCHA and the law department insist that the two cases are completely separate and that NYCHA does not have a policy that excludes religious organizations from renting its public spaces for worship. Read more
By Jeanmarie Evelly
A group of current and former students from the Bronx High School of Science, organizing under the name "Take Back Bronx Science," rallied  across the street from the prestigious public school last Thursday, protesting administrative policies they say are harming the school's reputation and causing a number of  teachers there to resign or retire prematurely.
The students, a few dozen in number, stood on the edge of Harris Field across the street from the school, holdings signs that read "Where Have the Teachers Gone?" and "We Have a Voice." Organizing members of the group said the dissention stemmed from reports that a number of teachers have left the school in recent years over conflicts with administrative staff, namely the school's principal, Valerie Reidy.
By Alex Kratz

[Video: After making an arrest on Friday, police say they are still looking for one of the suspects on this video clip.]
Police arrested a 17-year-old on Friday and charged him in connection with the shooting of 11-year-old Ryan Aguari, who remains in "serious" condition at Jacobi Hospital after being shot in the stomach last Thursday night. Investigators are still looking for a second suspect they say was caught on video (above) at the Creston Avenue apartment building where Ryan lives.
Kijana Jenkins, who lives on Claflin Avenue in Kingsbridge Heights, just blocks away from where the shooting took place, was charged with assault, weapons possession and reckless endangerment and arraigned on Saturday. NY1 reported that police said Jenkins made incriminating statements to police.
Police say Jenkins is one of two suspects caught on video around the time the shooting took place. They are still looking for the second male suspect and are seeking the public's help in tracking him down.
Ryan was reportedly playing video games late Thursday night, Jan. 5, when the door bell rang. When he went to answer it, several bullets were fired through the door, one of them hitting him in the stomach.
It was the second time a child has been shot in the 52nd Precinct in the past two months.
Editor's note: Anyone with information in regards to this incident is asked to call Crime stoppers at 1-800-577-TIPS (8477). The public can also submit their tips by logging onto the Crime stoppers website at WWW.NYPDCRIMESTOPPERS.COM or by texting their tips to 274637 (CRIMES) then enter TIP577.
Happy Monday! Here are some local news stories that Breaking Bronx is following this morning:
Police are looking for a man who groped a woman in the Kingsbridge Road B/D train subway station.
Local Bronx activist Brian Hynes, of Bedford Park, was among a group of demonstrators arrested and convicted of disorderly conduct for protesting Guantanamo Bay detentions during a House of Representatives session in Washington, D.C. According to the blog Legal Times,  Hynes was one of five people convicted for shouting slogans during hearing at the capitol; he told the website he was happy the incident could bring their cause to a wider audience.
Cops have identified the one of the suspects accused of shooting  11-year-old Ryan Aquari.  According the Daily News, police arrested 17-year-old Kijana Jenkins as one of the assailants. Aquari was shot Thursday in his apartment building at 2735 Creston Ave.
Two off-duty corrections officers were arrested in the Bronx this weekend, one for getting into a brawl on E. 204th Street in Norwood, and the other for allegedly trying to pick up a prostitute in Hunts Point.
Meanwhile, a Bronx assistant district attorney was arrested for drunken-driving early yesterday.
Bronx Borough President Ruben Diaz, Jr., continues to make his case for the Fair Wages for New Yorkers Act, this time with a YouTube video urging the City Council Speaker Christine Quinn to talk a vote on the bill. For some background on the legislation, see some of our coverage here. Check out Diaz's video below.

By Alex Kratz
We're back with our first installment of the Bronx Breakdown in 2012, which will include: an argument for keeping churches in city housing projects, readers debating the true meaning of separation of church and state, the worst landlord in the Bronx, a blues playing Bronx defense attorney and what you should do this weekend. Let's get it started.
The Other Pastor Arrested Yesterday
The biggest story in the Bronx this week was the arrest yesterday of City Councilman Fernando Cabrera who was handcuffed by police and charged with trespassing for kneeling in front of the entrance 100 Church St. in downtown Manhattan, the building that houses the city's law department, and conducting a brief "prayer protest."
He was not alone. In fact, Cabrera was one of seven arrested yesterday and was only there to support the organizers of the protest. The primary organizer was Pastor Dimas Salaberrios who heads Infinity New York Church at the Bronx River Houses. Cabrera didn't go there expecting to get arrested; he had made plans to meet with other church leaders soon after the protest.
Salaberrios, on the other hand, had a pretty good idea police would forcibly remove them from blocking the building's entrance and take them into custody. And unlike Cabrera, it was not the first time Salaberrios had been arrested. Read more
Police say they are looking for two suspects (shown on the above video) in connection with the shooting of an 11-year-old boy inside a Creston Avenue apartment building.
According to NY1 and the Bronx Borough President's office, 11-year-old Ryan Aquari was playing video games when the door bell rang at his apartment at 2735 Creston Avenue. As he approached the door, three shots were fired though it, one of which struck him in the stomach. Ryan was taken to Jacobi Hospital where police say he is in stable condition.
It is the second time in the past three months a child has been shot in the 52nd Precinct. In November, 4-year-old Cincer Balthazar was shot during a botched robbery attempt about a mile away at Grand Avenue and Evelyn Place.
Bronx Borough President released a statement denouncing the violence earlier today: Read more
By Jeanmarie Evelly
Bronx State Sen. Rev. Ruben Diaz, Sr., has some objections to Gov. Andrew Cuomo's plans for New York–particularly his idea to legalize casino-style gambling–which the governor laid out yesterday in his State of the State address.
Diaz admits he's one of the only not lauding yesterday's speech (the Rev., very descriptively, called himself "the lone voice crying in the wilderness"), in which Cuomo described his plans to boost New York's economy by investing in infrastructure, and, yes, amending the state constitution to allow for the operation of casinos.
"Governor Cuomo has already legalized gay marriage," Diaz laments. "Now he wants to legalize casino gambling. What's next – legalizing prostitution and marijuana and drugs – all in good "faith" to make money to raise tax revenues for the State?"
By Jeanmarie Evelly
The Bronx Youth Journalism Initiative, a free high school journalism after-school program run by the Norwood News, is now accepting applications for the Spring 2012 semester.
Founded in 2008, the Bronx Youth Journalism Initiative is open to any high school student who lives or goes to school in the Bronx. Spring classes will start at the end of February and are held every Wednesday afternoon from 4 to 6 p.m. at Hostos Community College, on the Grand Concourse.
The course runs for 12 weeks, and teaches the ins and outs of reporting, writing, and photojournalism. Students work on their own articles (often story ideas they pitch themselves), which we then publish in Bronx Youth Heard, a special supplement we distribute in the Norwood News–meaning they will get a real news clip with a byline. Their work will be seen by thousands of readers and have an impact on the Bronx community.
We are looking for students of all academic abilities, but they should be highly motivated, love to write, be naturally inquisitive, and care about what's going on in their communities. Click here to find out more about the program or to download an application form. If you have any questions, please call Jeanmarie or Alex at  (718) 324-4998.
The application deadline is February 15.
You can also "like" the Bronx Youth Journalism Initiative on Facebook! See what our current and former students are up to. Click here to become a fan.
By Alex Kratz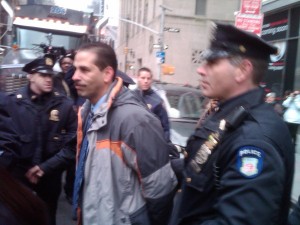 Bronx Councilman Fernando Cabrera was arrested this morning along with six other pastors while protesting a city policy that they say is now excluded religious groups from worshiping inside city-run buildings.
At about 8 a.m. this morning, Cabrera, a pastor himself who represents the 14th Council District (which includes Kingsbridge, University Heights, Mt. Hope and Morris Heights), went downtown with around 20 other people to rally in front of the New York City Law Department at 100 Church St. The "Prayer Protest" was organized by Pastor Dimas Salaberrios of Infinity New York, which was recently evicted from the NYCHA-managed Bronx River Houses.
James Duffy, a spokesman for the NYPD, said that at around 8:30 a.m., Cabrera and six other pastors sat in front of the entrance to the building, blocking the entrance. After repeated warnings to move, Duffy said police arrested the seven protesters for "trespassing" and took them to the local precinct. Cabrera was released later this morning, according to his staff. (Duffy said trespassing is a minor "violation.")
A spokesperson for the NYPD confirmed that several people were arrested in front of the law department's office for obstructing traffic, although they said charges are still pending. The spokesperson wouldn't say whether Cabrera was among those arrested.
Kate O'Brien-Ahlers, the communications director for the law department, said she was aware of the protests outside of their offices, but not the arrests. She said it didn't seem like the protesters were getting out of control.
Following a court decision that upheld a city policy banning religious groups from worshiping inside public school buildings, Cabrera said the city is now evicting churches from other city-owned property, including Infinity from the Bronx River Houses and the Bronx Bible Church from the Justic Sonia Sotomayor Houses in Soundview.
O'Brien-Ahlers said the law department worked on the case to prevent from worship in public schools, did not direct NYCHA to evict the churches from NYCHA-owned buildings. She did say the NYCHA was in the process of re-evaluating its permitting process for all groups that use their public spaces. (She said the churches don't have leases with NYCHA. They apply for permits to use the public spaces in the buildings.
NYCHA did not immediately respond to inquiries.
By Jeanmarie Evelly
A group of current and former Bronx High School of Science students and faculty are planning to stage a protest tomorrow afternoon, across the street from the prestigious public school, in opposition to administrative policies that they say are harming the school's reputation and causing a number of well-respected teachers there to resign, or retire prematurely.
Complaints about the school's administration, and largely its principal, Valerie Reidy, have been simmering for a while now, but organizers say they felt prompted to take action after a New York Times story in September reported an "exodus" of teachers fleeing the elite school because of conflicts with administrative staff.
"Me and other alumni, and also current students, saw wonderful teachers who were very intelligent, very effective, leaving because they've had enough of the harmful, hostile working environment," said Jonathan Aris, a graduate from the class of 2010 who is one of several people organizing tomorrow's event. The protesters have dubbed themselves "Take Back Bronx Science," and created a Facebook page of the same name, which  currently has 106 "likes." Two other Facebook groups, "Occupy Bronx Science," and "Concerned Alumni of Bronx Science" also have a few hundred members each.
Read more
By Jeanmarie Evelly
The post-Christmas blizzard that slammed New York last year with over two feet of snow, and brought slew of criticism on the Bloomberg administration for how it handled the storm, cost the city over $1.8 million in damage claims settled to residents so far, according to tallies by the Comptroller's office.
In the Bronx, 46 claims were filed by residents who said they were injured or their property damaged during the storm, totaling $113,693.62, less than what was paid in the other four boroughs. The largest Bronx settlement was $17,500 paid to a man who fell on an icy, unsalted sidewalk in front of PS 160 in Baychester. Other payments went for cars that were struck and damaged by unwieldy city snowplows and sanitation trucks during the storm cleanup.
Brooklyn has had by far the most damage claims–$856,737.29, almost half of what the city's paid out.
By Alex Kratz

[Video highlights and rockin' soundtrack courtesy of Fordham University.]
Fordham University pulled off a stunning college basketball upset of Harvard, the 21st ranked team in the country last night in the Bronx — the first time since 1978 the Rams have toppled a top-25 opponent. They had lost 54 straight games to ranked teams.
After suffering a humiliating 81-47 thrashing at the hands of cross-Bronx rivals Manhattan College and then getting routed by Siena, the Rams have turned their season around. They showed fight in losing by just six to St. John's, an NCAA tournament team last year, in Madison Square Garden, then came back and beat Texas St. handily at home. Last Thursday at Rose Hill Gym in the Bronx, they beat Georgia Tech, one of the top programs in the Atlantic Coast Conference if not the country (although they're down a little this year).
And now, a win over nationally-ranked Harvard, which has turned into an Ivy League hoops powerhouse over the past few seasons under former Michigan head coach Tommy Amacker.
The turnaround is remarkable considering the Rams won a grand total of nine games over the past two years. Read more
The first baby of 2012 in all of New York City was born in the Bronx this New Year's Eve, just as the clock struck midnight. Rania Ali was born at Montefiore Medical Center's North Division, weighing in at 7 lbs. 3.8 oz. and measuring 18 1/2 inches. Her parents, Alia and Imdad, live in Throgs Neck with 3 1/2-year-old big brother Ryan.
Unions that represent two sets of Bronx workers announced on Friday that they'd reached a tentative contract
agreement with their respective managements, avoiding a potential strike in both cases.
Over 2,000 registered nurses at Montefiore Medical Center were threatening to strike by Jan. 10 if a deal wasn't negotiated with the hospital. But on Friday, the New York State Nurses Association, representing the group, announced they'd agreed on tentative four-year contract that provides salary increases for existing workers and positions for another 125 nurses.
Another major union, 32BJ, which represents tens of thousands of office cleaners across the city, came to a deal with the Realty Advisory Board, one that maintains family healthcare coverage benefits for workers.
Both groups still need to vote on the proposed contracts this month, but the threat of a strike has been withdrawn.
Editor's Note: The latest edition of the Norwood News is out now, and its our annual Year in Review issue–-a recap of the biggest stories that took place in 2011, in the Bronx and beyond. Over the next week or so, we'll be rolling these top stories out here on Breaking Bronx. Enjoy, and a happy and healthy New Year to all of our readers!
The following are some of the top housing-related stories that appeared this year in the Norwood News.
Milbank Buildings Sold, Repaired
After years of living in rundown, dilapidated apartments, tenants at the infamous Milbank buildings got relief this year, after a new owner bought the foreclosed portfolio of properties and repaired thousands of housing code violations.
The Milbank tenants, with the help of housing advocates and organizers from the Northwest Bronx Community and Clergy Coalition, had been campaigning to have buildings fixed, and their plight drew the attention of a number of City Council members, HPD and even Mayor Bloomberg. After months of negotiations, the city brokered a deal to sell the debt-riddled buildings in May to Steve Finkelstein, a Scarsdale-based landlord, for $28 million.
This summer, several months after Finkelstein took over, Milbank tenants gave him a good review.
"The new owner and his workmen are fantastic," said Gloria Thomas, who has lived at 2505 Aqueduct Ave. for nearly 30 years. "I'm very, very pleased with everything going on with Finkelstein. They're working on all the apartments diligently."
City Cuts Homeless Assistance Program
A Manhattan judge ruled this September that New York City could legally cut a popular but controversial affordable housing program, despite efforts by homeless advocates to keep it afloat.
By David Greene
In the predawn hours of New Year's Eve, one teen was shot dead and two others were wounded when a Webster Avenue house party turned violent.
Officers from the 48th Precinct were called to the four-story building, at 2366 Webster Avenue,  just after 2 a.m. on Saturday to discover the wounded victims had been shot inside the building's lobby.
The most seriously injured was a 19-year old male, shot three times to the torso and one time to the head. He was pronounced dead at the scene. Another 28-year old man was shot in the back and listed in stable condition at Jacobi Hospital. The third victim, an 18-year old male, was shot in the leg and transported to St. Barnabas Hospital, and was also reported as stable.
The victim was later identified as Shaneek "Boom" Young, 19, a life-long resident of the Pelham Parkway Houses who was described as a leader and keeper of the peace at the complex.
Hours after the killing, Young's grief-stricken friends gathered outside his home and set up a make-shift memorial.
"He was always cracking jokes, I never heard anything bad about him," said one neighbor, who said her own son was a friend of Young's.
"That's why I tell my son, I don't like house parties," she said.  "It's too much for a parent too bare. Kids are supposed to be burying us, but we're burying our kids now."
Police continue to investigate the killing, but no arrests have been made. Police have not yet released a description of the shooter.
By Jeanmarie Evelly
Happy 2012! Everyone here at the Norwood News wishes you and yours a healthy and happy new year.
Here are some of the local stories Breaking Bronx is following this morning:
The first baby born in New York City in 2012 hails from the Bronx. Little Rania Ali was born at Montefiore Medical Center just as the clock struck midnight, weighing in at seven pounds. Her parents, Alia and Imdad Ali, live in the Boogie Down, along with 3 1/2-year-old big brother Ryan. Congrats!
In college basketball news: the Fordham University Rams will take on the Harvard Crimson tonight at Fordham's Bronx campus.
Supporters of the healthcare network owned by former State Sen. Pedro Espada journeyed to Mt. Kisco, NY, yesterday to rally near Gov. Andrew Cuomo's home, protesting what they say is the politically motivated decision to ban the Soundview Healthcare clinics from the state's Medicaid program. The State Department of Health and the Office of the Medicaid Inspector General booted Soundview from Medicaid over the summer, citing the network's failure to comply with state laws. Espada is facing federal corruption charges that he embezzled hundreds of thousands of dollars from Soundview, accusations that Cuomo first charged in a civil suit back in 2010, while he was Attorney General.
By Alex Kratz
Editor's Note: The latest edition of the Norwood News is out now, and its our annual Year in Review issue–-a recap of the biggest stories that took place in 2011, in the Bronx and beyond. Over the next week or so, we'll be rolling these top stories out here on Breaking Bronx. Enjoy, and a happy and healthy New Year to all of our readers!
The story of a community piano project in Williamsbridge Oval Park took so many twists and turns this past summer it felt like a roller coaster.
In June, the nonprofit group Sing for Hope placed a decorated "pop-up" piano for anyone to use in Oval Park as part of a project to inject music into the life of parks throughout the city. Later that month, the Norwood News and dozens of other news outlets reported the piano stolen after it disappeared.
Some were quick to call the stolen piano evidence of a neighborhood and a borough trending toward the dark side.
"This type of activity continues to give the Bronx a bad name and will make it difficult to bring any type of activity to parts of the Bronx that is not called Riverdale," said a commenter on the Bronx News Network blog.
Later, as the resurgent Friends of Williamsbridge Oval Park volunteer group was searching for ways to replace the piano, the News discovered that the piano had not been stolen. In fact, Parks Department workers had mistaken the piano for trash and hauled it out of the park. (The agency soon apologized for its error.)
Over the next several months, Montefiore Medical Center is hosting a series of informational sessions about bariatric weight-loss surgery. Seminars are offered in both English and Spanish. See the flier below for more information.
By Jeanmarie Evelly
Editor's Note: The latest edition of the Norwood News is out now, and its our annual Year in Review issue–-a recap of the biggest stories that took place in 2011, in the Bronx and beyond. Over the next week or so, we'll be rolling these top stories out here on Breaking Bronx. Enjoy, and a happy and healthy New Year to all of our readers!
The following are some highlighted stories from our Be Healthy! column, that runs in each edition of the Norwood News.
Through Walks and Weigh-ins, Senator Promotes Healthy Living
Bronx State Sen. Gustavo Rivera spent much of this year — his first in office — looking for ways to make the Bronx healthier. Citing a slew of statistics that rank the borough last in terms of health indicators, Rivera launched the Bronx CAN (Changing Attitudes Now) Health Initiative this June.
Partnering with Bronx Borough President Ruben Diaz, Jr., local hospitals, a number of faith and community-based organizations and local schools, Bronx Health CAN held health-themed events across the borough throughout the spring, summer and fall, encouraging Bronxites to set small health goals for themselves, like cooking more meals at home or working out a few times a week. Rivera hosted weekly walks, health screenings and free exercises classes. He worked with bodega owners in an effort to get them to sell more fresh fruits and vegetables in their stores.
By Alex Kratz
Editor's Note: The latest edition of the Norwood News is out now, and its our annual Year in Review issue–-a recap of the biggest stories that took place in 2011, in the Bronx and beyond. Over the next week or so, we'll be rolling these top stories out here on Breaking Bronx. Enjoy, and a happy and healthy New Year to all of our readers!
This past March, Foodtown, one of Norwood's premier supermarkets, reopened to rave reviews 15 months after being destroyed in a fire. It marked a welcome sign of resurgence for a neighborhood shopping district crippled by two devastating fires at the end of 2009.
While the first fire took out 10 small businesses on the corner of Bainbridge Avenue, it was the second major fire, on East 204th Street, that left the neighborhood without a major supermarket and all the foot traffic it generated.
In the aftermath, the Katz brothers, who own the Foodtown chain and whose father opened up the family's first produce stand in Norwood 55 years ago, vowed to rebuild. And they did, expanding the store by 50 percent and introducing new features, such as a sushi bar, an olive and cheese counter, more seafood and a more spacious design.
Customers and employees were glad to be back. "It was tough watching something you put 12 years into go up in smoke," said store manager Rick Shinnerer, "but out of the ashes a new store has emerged."
The Correctional Association of New York, a nonprofit that advocates for improved conditions in state correctional facilities, is looking for formerly or currently incarcerated people who have been treated for HIV or Hepatitis C while in prison or jail to share their stories. The group wants to hear your/your loved ones experiences in order to assess how well the state's correctional facilities are caring for inmates with these illnesses. See the flier below for more info and who to contact.
By Alex Kratz
Editor's Note: The latest edition of the Norwood News is out now, and its our annual Year in Review issue–a recap of the biggest stories that took place in 2011, in the Bronx and beyond. Over the next week or so, we'll be rolling these top stories out here on Breaking Bronx. Enjoy, and a happy and healthy New Year to all of our readers!
The Bronx Household of Faith's 17-year legal battle with the Department of Education came to a close in 2011 with the University Heights church and dozens of other religious groups facing eviction from school buildings throughout the five boroughs. The story thrust the small evangelical congregation into the national spotlight and struck up a debate that will move onto the legislative stage in 2012.
Thanks to support from local elected officials, including City Councilman Fernando Cabrera and State Assemblyman Neslon Castro, Bronx Household and its 48-member congregation may be able to continue holding worship services inside the PS/MS 15 auditorium on Andrews Avenue, as it has for the past decade. Castro introduced legislation that would change the state's education law to allow churches to worship in public school buildings.
By Jeanmarie Evelly
A former PS 51 teacher plans to file a lawsuit against the Department of Education, claiming that working in the toxic Bedford Park building that used to house the school was the cause of a birth defect in her unborn baby, the Daily News reports today.
This summer, The DOE told parents and staff at PS 51, also known as the Bronx New School, that the Jerome Avenue building tested positive for high levels of trichloroethylene (TCE), a chemical the Environmental Protection Agency says can cause health problems in humans. Nancy Tomassi, who filed the legal papers this week, worked at the school for five years. She was forced to terminate her pregnancy in October after her baby was found to have an unsurvivable brain defect.
By Jeanmarie Evelly
Editor's Note: The latest edition of the Norwood News is out now, and its our annual Year in Review issue–-a recap of the biggest stories that took place in 2011, in the Bronx and beyond. Over the next week or so, we'll be rolling these top stories out here on Breaking Bronx. Enjoy, and a happy and healthy New Year to all of our readers!
Two years after the City Council voted down plans to turn the hulking and empty Kingsbridge Armory into a shopping mall, local groups and elected officials spent much of 2011 pondering what should be done now with the 575,000-square-foot space.
In June, Bronx Borough President Ruben Diaz, Jr., who has made the redevelopment of the Armory a top priority of his administration, released a long-awaited report on possible future uses for the building, created by a special Armory task force and a group of New York University faculty and graduate students. Despite detailing a number of suggested ideas and totaling 267 pages, the report was criticized by many for lacking substance, and because it offered no clear plan for how the redevelopment of the building would be paid for.
After leading the defeat of the Bloomberg-backed shopping mall plan in 2009, Diaz is under considerable pressure to make progress on the Armory. The building remains empty, while major development projects in other areas of the Bronx have taken off this year, including multi-million dollar shopping centers in Co-op City and at the former Stella D'Oro factory on West 237th Street.
Read more
By Jeanmarie Evelly
Mega-wealthy real estate mogul, reality TV star and onetime presidential hopeful Donald Trump will soon be doing business in the Bronx, as the city has chosen his company to run a 222-acre golf course at Ferry Point Park East.
The Trump Organization was granted a 20-year licensing agreement from the city for the operation of what the city is saying will be the "only tournament-quality course in New York City," complete with clubhouse, snack bar, comfort station, and driving range. Trump has pledged to pay at least $10 million towards the building of the clubhouse, which the city predicts will create 100 new construction jobs.
According to the Parks Department, the golf course should be open to the public by 2014. Ferry Point Park East, a large swath of parkland just south of St. Raymond's Cemetery near Throgs Neck, is also being developed to include a "community park with playgrounds and ballfields, and a waterfront park with rambling trails and scenic overlooks."
By Alex Kratz
Editor's Note: The latest edition of the Norwood News is out now, and its our annual Year in Review issue–a recap of the biggest stories that took place in 2011, in the Bronx and beyond. Over the next week or so, we'll be rolling these top stories out here on Breaking Bronx. Enjoy, and a happy and healthy New Year to all of our readers!
At a community meeting near Fordham Hill in November, Inspector Joseph Dowling told the crowd that a recent uptick in random
neighborhood violence, which had claimed the life of a 59-year-old father and badly-injured a 4-year-old boy, did not tell the whole story of violent crime in the 52nd Precinct.
It may not tell the whole story, but it was certainly the biggest crime story of 2011.
Last March, Dowling took over command of the Five-Two from John D'Adamo, a young deputy inspector who was re-assigned after making tabloid headlines when his wife was caught lying to Westchester County police.
Up until this fall, Dowling, who previously commanded a precinct in Washington Heights, had enjoyed a relatively quiet beginning to his tenure. Then, at the end of October, a series of seemingly random acts of violence, most of them on or around Grand Avenue and Fordham Road, put the community on edge and a neighborhood in the spotlight.
The three most frightening and disturbing incidents happened within days of each other.
By Jeanmarie Evelly
[Updated 4 p.m.]
In an editorial printed on Christmas day, the New York Times endorsed the so-called living wage bill that's been lingering in the City Council for nearly two years, calling the legislation "long overdue." The New York Post, in turn, printed its own editorial the same day, blasting the bill's supporters for "seeking to drive jobs out of the city."
The newsprint battle is the latest in a drawn-out dispute over the controversial Fair Wages for New Yorkers Act, introduced by two Bronx council members and born out of a heated debate over a shopping mall planned for the Kingsbridge Armory, which would require developers that get significant taxpayer subsidies to pay workers higher wages. (The New York Daily News editorialized against the bill back in May.)
"This bill makes sense," the piece in the New York Times reads. "A wage of $10 an hour would help lift thousands of New Yorkers above the poverty line."
It also dismissed the main criticism of the bill–that it would squash economic development–by pointing to other cities, like Los Angeles and Philadelphia, that have similar laws and continue to thrive, and highlighted Mayor Bloomberg's previous support for a wage mandate bill in 2002 as contradictory to his current, adamant opposition to the idea of a wage requirement.
The Post took aim at Public Advocate Bill De Blasio, considered a frontrunner in a crowded field of contenders expected to run for Mayor in 2013, who announced his support for the bill last week. The editorial called him a "jobless advocate," who "doesn't give a hoot about the economy or jobs."
It also blasted Bronx Borough President Ruben Diaz, Jr., one of the bill's main supporters and the driving force behind a push for living wages at the Kingsbridge Armory two years ago, for his role in the defeat of the shopping mall plan.
"Puff went the mall. And all the jobs," it said.
Diaz sent out his own statement following the Times editorial.
"This major endorsement shows that we have momentum on our side, and that more and more New Yorkers agree that the 'Fair Wages for New Yorkers' Act is good public policy," he said.
He also pointed to a recent Quinnipiac Poll which found New Yorkers support the bill by a margin of 74-19 percent.
The legislation currently has the vote of 29 City Council members, but needs 34 to override the almost-certain veto it would get from Mayor Bloomberg. Council Speaker Christine Quinn will decide whether or not to bring the bill up for a vote, and she's yet to publicly support or oppose it. De Blasio's endorsement, however, could put extra pressure her–Quinn is also considered a top potential mayoral candidate–to take a stance.
Norwood News photographer Adi Talwar took these shots from the tree lighting celebration on Mosholu Parkway hosted by Community Board 7 and attended by dozens of local kids, families elected officials and St. Claus. Below is a shot of the St. Brendan's School choir, which performed at the Dec. 15 event. Here's a link to a slideshow with more photos from the tree lighting.
A Bronx Christmas Story (Kind Of)
We're going to start this holiday edition of Bronx Breakdown with a heart-warming, feel-good story about Scott Lebron, a sophomore at Discovery High School on the Walton Campus in Kingsbridge Heights who anxiously delivered a thoughtful letter to a well-known public figure during a Christmas event earlier this month.
No, he didn't submit a Christmas wish list in a letter to Santa Claus. In fact, the letter doesn't mention the holidays at all and it was written more than a year ago following a visit from Bronx Borough President Ruben Diaz, Jr.
Along with numerous other elected officials, nonprofit leaders, news reporters and "green" development advocates, Diaz made a point to stop by and see what was going on in the bustling, photosynthesizing classroom of special ed science teacher Steve Ritz. At Discovery, Ritz was generating big-time buzz through an urban farming project designed to teach kids life science through hands-on horticulture.
The students were learning how to grow their own plants and vegetables on vertical gardens in the classroom. The project and the gardens exploded into what has become the Bronx Green Machine, a nonprofit program that teaches high school students like Scott not only how to grow nutritious food in a classroom (or anywhere for that matter), but how to "green" the roofs of buildings as well as other environmentally-friendly construction skills. The program has garnered local and even national attention.
In any case, in the fall of 2010, it brought Diaz to Discovery, which, as Ritz often points out, sits in the shadow of the long-vacant Kingsbridge Armory. (Ritz believes he could feed hungry Bronxites and put them back to work by turning the Armory into some of kind of massive urban farming center. Mayor Bloomberg, are you listening?).  He spoke to Ritz's students and urged them to keep up the good work. Scott, then just a ninth grader, was brought to tears by Diaz's words and it inspired him to write the borough president a letter. Read more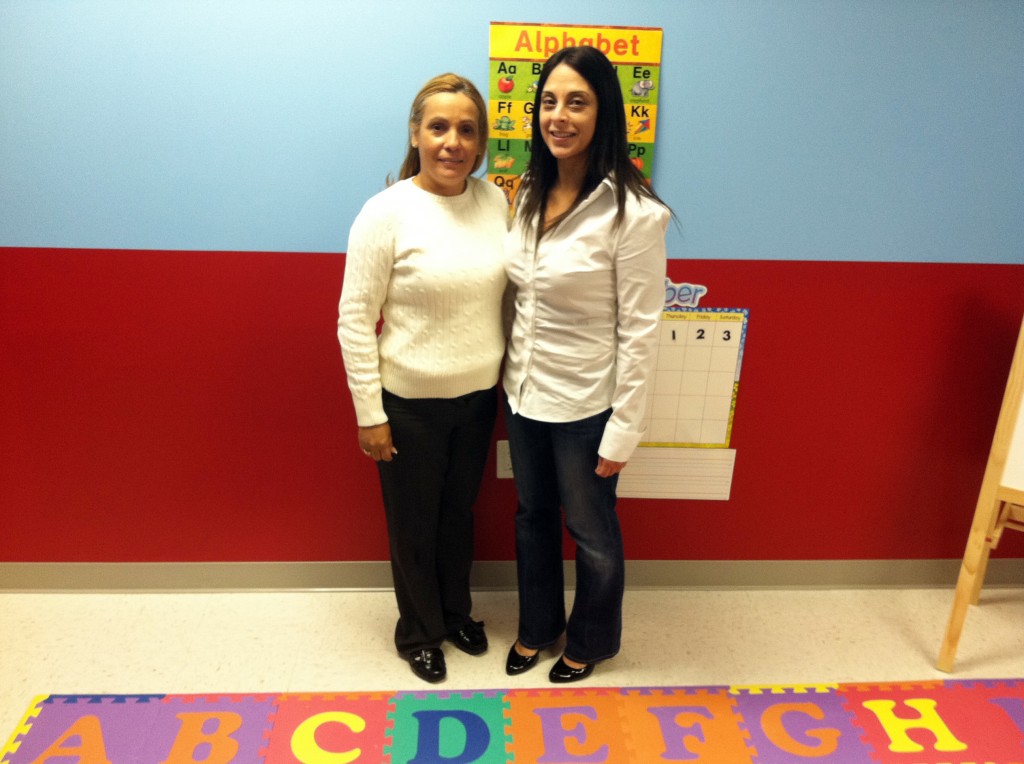 By Emily Piccone
A new nursery school in Norwood will be open by the New Year, and the space is already set up and ready for the children to stream in.
Occupying the first floor of a new apartment building on Decatur Avenue just north of East Gun Hill Road, Tender Tots Nursery School is available to children from 6-weeks to 5-years-old. The children are divided into four age groups and in class sizes of 10, with two teachers each. School officials say the ratio for the infant classroom is slightly smaller at 4:1.
The colorful new carpets displaying the alphabet, painter's easels, mini-kitchens, puppet theaters and arts and crafts stations all stand ready for the children's use starting in January.
The school's Educational Director Michelle D'Avanzo says she is using a creative curriculum, which leaves a lot of the lesson planning up to the teachers, but wants the focus of Tender Tots to be around play, and there's ample space to grant it. One large empty classroom with bay windows is being left empty for exercise and games, D'Avanzo says. Plus, they have placed soft playground flooring on the outside courtyard for safety during playtime.
The school is open for both full day and part day, and rates start at $200 a week for full day (7:30 a.m. to 6 p.m.), for children ages 3 to 6.
Included in the price is both breakfast and lunch, which will be catered in daily, including pancakes, bagels and waffles for breakfast, and pasta, chicken, fish sticks and pizza for lunch.

Ed. Note: For more information or to register, visit tendertotsny.com or call (718) 324-1052.
The holiday season has Bronxites, elected officials and local organizations looking for ways to give back.
If you missed it in last week's print edition of the Norwood News,an eclectic group of locals, including a Bronx-based biker gang and a Bainbridge Avenue tattoo shop, have teamed up with the Lutheran Church of the Epiphany in Norwood to launch a toy drive.
Meanwhile, children in the Ambulatory Care Center at St. Barnabas Hospital, pictured above, got a treat this week when they received holiday gifts from Santa and Frosty the Snowman.
Local elected officials are also getting in on the giving action: Senator Gustavo Rivera  and his Bronx CAN Health Initiative partners hosted a healthy holiday party and toy-giveaway, with Montefiore Medical Center and the Bronx Chamber of Commerce, last Sunday at the Mary Mitchell Family and Youth Center in Crotona (pictured at left).
Council Member Oliver Koppell launched his toy drive this holiday season by distributing over 100 toys on December 8 to children at the Little Angels Head Start Program on Hull Avenue (pictured at right). The toys were among 300 donated to Koppell by the Bronx Chamber of Commerce and Bronx Toys, a toy manufacturer, to give to children in his district, including those at the Mosholu-Montefiore, Marble Hill and Kingsbridge Heights Community Centers.
For those of you looking for ways to give back locally, we've compiled a list of Bronx locations and organizations that are accepting toys and other donations this holiday season, which you'll find after the jump.
Know of one we've missed? Let us know in the comments section or by sending a message to norwoodnews@norwoodnews.org.
Pedro Espada, Jr., is facing another legal battle this morning. According to a press release sent last night by his Soundview Healthcare Network, a judge today will once again weigh whether or not to allow the former state senator's health clinics to continue participating in the state's Medicaid program.
According to the statement, Espada and workers from his Soundview Health Care Network planned to rally outside the Bronx County Courthouse early this morning, before a hearing scheduled for 9:45 a.m. that would decide the clinics' future.
Soundview was banned from the state's Medicaid program this summer, after the Department of Health and the State's Office of the Medicaid Inspector General deemed that the clinics had failed to comply with Medicaid oversight laws. Soundview, which includes five health centers across the Bronx, serves primarily Medicaid patients and would likely close if it were cut off from the program.
Soundview was granted a stay by a judge back in August, allowing the clinics to temporarily continue accepting Medicaid reimbursement funds; at a hearing last month, another judge asked the state and Soundview to try and negotiate a deal that would keep the health centers open.
Espada, who serves as Soundview CEO,  and his son, Pedro Gautier Espada, were barred from participating in the Medicaid program last year. Both men are facing trial on federal charges that they embezzled more than $500,000 from nonprofit clinics, spending the money on luxury car payments and exorbitant sushi restaurant tabs.
According to a statement from the organization, more than 20,000 patients use Soundview's health clinics each year.
"Soundview, its employees and patients maintain insufferable harm would result in the termination of Soundview from the Medicaid program," the press release read.
Dear Norwood News Readers,
'Tis getting a little late in the holiday gift buying season, which is why we pounded the trails of the local shopping districts in the Norwood News' coverage area — from Fordham to  Kingsbridge to Gun Hill Road, from Bainbridge to Jerome Avenue and East 204th Street to Southern Boulevard — to find the best deals, merchandise and innovative ideas for presents in 2011. We do this every year for two reasons: (1) We know you could use the help, and (2) We believe in supporting our local merchants right here in the Bronx. So take this newspaper (it may even help you get a better deal at some places), hit the local shopping circuit, contribute to your neighborhood economy and reap the benefits of a job well done. You're welcome.
Sincerely,
The Norwood News Elves

Send Your Sweetie to Boot Camp
We all need a little help shedding those holiday pounds, so this holiday season get your sweet-toothed sweetheart the gift of personalized training with the Belin Challenge Fitness Boot Camp and see results in a matter of days. Boot camp starts Jan. 9 and is limited to just 10 trainees.
To sign up, or for more information, call (646) 801-3153.
A Girl's Best Friend
Diamonds are a girl's best friend and they might make her want to be your best friend this holiday season if you do her the honor of stopping in Freilich Jewelers, which has a beautiful and wide-ranging selection of diamond earrings. Or, gift her with the Swarovski Crystal sterling earrings and 24K gold encrusted Christmas rose, a package deal that can be yours (or hers) for $99. Plus, act now and get a $15 gift card when you spend more than $100.
Freilich Jewelers is located at 312 E. 204th St. and is open Tuesday to Friday, 10 a.m. to 6:30 p.m. and Saturday,10 a.m. to 6 p.m. Call (718) 798-1063.

Give the Gift of Meat
The Hillside Meat Market is a one stop shop for all of your Christmas roasting needs. Hillside has a large selection of pork cuts, including pork shoulders and pork thighs that, if pre-ordered, Hillside will de-bone and season for you. An 8- to 10-pound shoulder (which feeds about a dozen people) will cost between $15 and $20. Hillside can also help with your specialty meats orders, such as a rack of lamb or duck.
Hillside Meat Market is located at 3117 Bainbridge Ave. and is open Monday to Saturday, 8 a.m. to 6:30 p.m. and Sunday, 8:30 a.m. to 4 p.m. Read more
Gov. Cuomo and state lawmakers announced yesterday that they'd reached a deal on legislation that will expand taxi services in the outer boroughs and bring more handicapped cabs to the city.
The bill, which has been in negotiations since last June, will allow livery cabs–largely the only car service available here in the outer boroughs and upper Manhattan–to legally pick up street hails (yes, it was illegal before). The new law will also permit the Taxi and Limousine Commission to issue 18,000 new livery cab licenses 2,000 new medallions for traditional yellow taxis, reserved for cars that are wheelchair accessible.
Local elected officials are calling the deal a win for the Bronx, where livery cabs and car services are the norm.
"I am pleased that after months of negotiations over the details of this legislation, an agreement has been reached that will improve the quality of life of my constituents in the Northwest Bronx and will provide livery cab drivers, so many of whom live in the 33rd Senate District, with the much-needed ability to pick up legal street hails," State Sen. Gustavo Rivera said in a statement.
"This plan is a victory for commuters," said Bronx Borough President Ruben Diaz, Jr.
The sale of the new licenses and taxi medallions will bring in an estimated $1 million in revenue for the city, according to the plan.
By Alex Kratz
Acting on a 911 call early this morning, just minutes after midnight, police say officers from the 52nd Precinct found a 51-year-old Hispanic man inside a North Fordham-area apartment building with a gunshot wound to his torso. Emergency workers pronounced him dead when they arrived at the scene inside of 2700 Marion Ave., which is between East 195th and East 196th streets.
Police are awaiting family notification before releasing the name of the victim. No arrests have been made and police say the investigation is ongoing.
By Alex Kratz
Next week, the Norwood News unveils it's annual Year in Review issue, which will include our picks for the top news stories of 2011. We will be basing our selections on three factors: relevance to our readership in the northwest Bronx, impact on the community and interest generated. We plan on lumping some of our stories into larger "Year in [Insert Subject: Crime, Politics, Parks, etc.]" features, which will allow us to touch on multiple stories for each subject.
But we also want to hear from you, our readers. What, in your mind, were the biggest, most interesting, most impactful stories of this year? It could be something we've written about extensively or a story we may have neglected entirely — it's up to you.  Include as much or as little detail as you want in the comments section below and we'll run a selection of Reader's Picks stories in next week's print edition. Anything we can't fit into the paper, we'll run online here on Breaking Bronx.
If you don't feel comfortable leaving a comment here, you can write us at norwoodnews@norwoodnews.org, leave a comment on our Facebook page or send us a direct message on Twitter (@norwoodnews). Feel free to include your name or ask to remain anonymous.
–Alex Kratz, Editor-in-Chief
By Ronald Chavez
The City Council's Education Committee voted unanimously yesterday to pass two bills that advocates and supporters say will increase transparency from the Department of Education concerning chemicals found in school buildings. The legislation comes at a time when the DOE has faced biting criticism from parents at PS 51, the Bronx News School,  over its handling of the discovery of harmful toxins in its school earlier this year.
One bill requires the DOE to  disclose the presence of the toxin Polychlorinated biphenyls (PCBs) in schools to parents within seven days of their discovery. Another would have the DOE provide annual progress reports on its removal of PCB-laden lighting fixtures and caulking in schools.
PCBs are said to exist in hundreds of schools across the city. The DOE has said it will remove PCBs by replacing the dated lighting fixtures and removing caulking over a 10-year period. New York Lawyers for the Public Interest is suing so that the DOE removes the toxic fixtures in two years.
PCBs have been linked to cancer and damage to the reproductive system of women, according to the Environmental Protection Agency. NYPLI says exposure to PCBs during, or even years before, pregnancy can affect newborns or a child's health. The nonprofit agency says PCBs put both students and school officials' reproductive health at risk.
That's not where the school toxins trouble ends for the DOE. Read more
This summer and fall, Bronx Borough President Ruben Diaz, Jr.'s office asked residents to fill out an online "wellness" survey, asking questions to gauge how Bronxites feel about living in the Boogie Down, what areas they're happy with and what things they think need fixing.
Last week, Diaz' office released the results of the survey, which 1,901 people filled out.
The majority of respondents said they think Bronx schools are the area that needs the most improvement, with 57 percent listing education as their number one priority. Other areas ranking as less-than-stellar were crime/public safety and economic development/jobs.
However, just over half of participants said they think the Bronx is a "good" or "excellent" place to live; 46 percent of those surveyed ranked the borough as "fair" or "poor." Most of the people who completed the survey, meanwhile, indicated that they've lived here for a while, with more than three-quarters saying they've been in the Bronx for over a decade.
A group of students at the Academy of Mount Saint Ursula in Bedford Park were recognized recently for their hard work and academic achievements during a recognition ceremony at the all-girls Catholic high school.
Students who maintained a cumulative grade point average of 89.5 or higher, as well as six students who ranked first and second in their respective classes, have been nominated to the National Honor Society, to which they'll be officially inducted in May. Overall, nearly half of the school's student body earned an average of 84.5 or higher this past academic quarter.
Congrats, ladies, and keep up the good work.
Kids and parents took in the lights and festivities during the Fordham Road Business Improvement District's "Sparkle the Heart of Fordham" celebration earlier this month at Bryan Park. For more photos by Adi Talwar from "Sparkle the Heart of Fordham" event, click here.
By Alex Kratz

[PS 48 in Hunts Point won a $50,000 prize for its music program thanks to this video.]
In the latest edition of the Norwood News, we examined the legislative record of Bronx State Senator Jeff Klein's Independent Democratic Caucus, which includes Klein and three other right-leaning Democrats. What we didn't explore is Klein's dealings as a private lawyer, which landed him in today's NY Post and not in a good way. The Post's Chuck Bennett reports that Klein appeared to have been playing both sides of the city lawsuit game.
Klein's law firm, Klein, Calderoni and Santucci, has signed three contracts worth $2.25 million with the Comptroller's Office to perform initial reviews of lawsuits brought against the city. They advise the city on whether to fight the suit or settle.
At the same time, Klein was being paid by a major personal-injury firm headed by William Gallina, which has filed 114 lawsuits against various city agencies since 2007. (One suit involving a woman injured on a city sidewalk resulted in $1,240,000 judgement for one of its clients.)
In his defense, Klein said he never worked on city cases for Gallina and never discussed cases from Gallina's firm with Fred Santucci, Jr., his partner who handles the city contract. He said he stopped working for Gallina earlier this year. Read more
By Emily Piccone
With help from an eclectic group of local supporters that includes painters, students, a bike gang and Gothic tattoo artists, the Lutheran Church of the Epiphany in Norwood is bringing the holiday spirit to families in need despite its own financial burdens.
Together, this motley crew is spending the next couple of weeks gathering toys for local kids whose families may not be able to afford gifts this holiday season.
The Ching-a-Ling Nomads, a Bronx-based motorcycle club with a storied rep (that includes spitting on their fallen members' tombstones out of respect), came on board following a conversation between one of its members and Pastor Bob Rainis, the vicar at Epiphany Lutheran.
"He was telling me about how the motorcycle club was trying to get into doing good things in the community," said Rainis. "It's a remarkable thing these men and woman are doing in the club to rally a large number of people."
At a private party this coming weekend, The Ching-a-Lings, a grizzled group of veteran Bronx bikers who were recently featured in the New York Times and have a headquarters in Tremont, will solicit gifts from guests and then transport them up to the church on East 206th Street in Norwood. Read more
By Jeanmarie Evelly
On a recent weekday morning, dozens of people sat on folding chairs in the recreation room of the Andrew Jackson Senior Center in Melrose, listening to Minerva Velazquez-Munoz, a registered nurse, give tips on getting a reluctant patient to take their medication. You can cut the pills in half, she said; you can mix some of them with orange juice.
Next was a lesson in properly changing the dressings on a wound, and how to lift a patient from a bed without straining your back. Afterwards, those in attendance chatted over free coffee and bagels.
This wasn't a medical conference, however, and none of the attendees were healthcare professionals. They were regular people with regular jobs, who, for any number of reasons and circumstances, have taken on the role of primary caregiver for an ill or disabled loved one. They've been charged with cooking meals, drawing baths, doling out medication and dealing with health insurance claims.
"Many people don't even think of themselves as caregivers," said Judy Santamaria, director of the caregiver support program at VNSNY CHOICE, a health plan affiliate of the nonprofit Visiting Nurse Service of New York. "They say, 'Oh, that's my mother,' or 'That's my husband, I'm just taking care of him.'"
Lots of community events happening tonight!
The 52 Precinct's monthly community council meeting will be held tonight at the New York Botanical Garden, 2900 Southern Blvd., from 7 to 9 p.m. Get there early, at 5:30 p.m., and you can check out the garden's famous holiday train show for free. For more details call council president Brenda Caldwell-Paris at 917-650-0620.
Community Board 7 will host its annual holiday tree lighting tonight at 6 p.m., at Bainbridge Avenue and Mosholu Parkway.
And last but not least, the Community Education Council for School District 10 meets tonight at 6:30 p.m. at PS 8, 3010 Briggs Ave. Call them at (718) 741-5836 for more information.
Starting today, you'll be able to take your laptop/smartphone/tablet over to Devoe Park and do some web surfing in the great outdoors. The park just got free Wi-Fi, thanks to AT&T,  under a five-year digital initiative Mayor Bloomberg launched last spring.
Since June, 20 parks across the city have gotten the digital hookup, including Joyce Kilmer and Bronx River Park.
"Parks are not only great places to throw a ball, read a book, or catch some rays or waves, they are also ideal for surfing the net," Parks Department Commissioner Adrian Benepe said in a statement.
By Jeanmarie Evelly
Last year, State Sen. Jeff Klein, representing the Bronx and Westchester, announced that he and three other Democrats would be breaking off from the party to form their own group. It caused a schism in the senate chambers, for sure, but with less malfeasance and dramatics than the notorious 2009 coup.
The move was met with criticism from some Democrats who deemed it political pandering, a way for Klein and his breakaway colleagues to win favor with the Republicans, who had just re-gained a slim 32-30 majority in the Senate.
"What's the difference between what they're doing and what the amigos did?" said Bronx Sen. Ruben Diaz, Sr., referring to the 2009 Senate coup, when former Bronx State Sen. Pedro Espada, Jr. (Diaz's pal) and Queens Democrat Hiram Monserrate defected to the Republican party in exchange for leadership roles. "There's nothing different. They are a copycat."
But as the one-year anniversary of Klein's Independent Democratic Conference approaches in January, the senator defends his caucus with pride, calling it a productive division from the Democrats' dysfunctional leadership, and from the partisan gridlock that characterized the tumultuous two years the party was in power after spending more than 40 years in the minority.
"I fought harder than anybody to take the majority [in 2009], but unfortunately, it was a complete letdown," Klein said in a recent interview. "All the things that we wanted to do, like ethics reform, we never seemed to be able to get the votes for."
By Jeanmarie Evelly
The Bronx Community Pride Center, the borough's only organization that caters specifically to the needs of the LGBT community, cut the ribbon at its new location last week — inside a building named after State Sen. Ruben Diaz, Sr., a fierce gay rights opponent.
The Pride Center, which was based in Mott Haven on East 149th Street for the last 17 years, has its new home at 975 Kelly Street in Hunts Point. The building, Rev. Ruben Diaz Gardens, was developed with funding from the outspoken state senator and named in his honor.
"Our new space is much more usable and is wheelchair accessible," Executive Director Dirk McCall said in a statement. "The new space is wonderful and we welcome everyone in the community to come by and visit us."
Diaz, who worked adamantly for years to block the passage of a marriage equality bill in the State Senate, sent out his own press release saying he was "honored" the group was moving into his building.
Meanwhile, his son, Bronx Borough President Ruben Diaz, Jr.—who disagrees with his father's stance on marriage equality—was at the new center's opening last week, and helped cut the ribbon.
The Bronx Community Pride Center is hosting an open house at its new location this Friday, Dec. 16, from 6 to 8 p.m. for residents interested in learning more about its programs and resources. For more information, call (718) 292-4368.