Lots of community events happening tonight!
The 52 Precinct's monthly community council meeting will be held tonight at the New York Botanical Garden, 2900 Southern Blvd., from 7 to 9 p.m. Get there early, at 5:30 p.m., and you can check out the garden's famous holiday train show for free. For more details call council president Brenda Caldwell-Paris at 917-650-0620.
Community Board 7 will host its annual holiday tree lighting tonight at 6 p.m., at Bainbridge Avenue and Mosholu Parkway.
And last but not least, the Community Education Council for School District 10 meets tonight at 6:30 p.m. at PS 8, 3010 Briggs Ave. Call them at (718) 741-5836 for more information.
Starting today, you'll be able to take your laptop/smartphone/tablet over to Devoe Park and do some web surfing in the great outdoors. The park just got free Wi-Fi, thanks to AT&T,  under a five-year digital initiative Mayor Bloomberg launched last spring.
Since June, 20 parks across the city have gotten the digital hookup, including Joyce Kilmer and Bronx River Park.
"Parks are not only great places to throw a ball, read a book, or catch some rays or waves, they are also ideal for surfing the net," Parks Department Commissioner Adrian Benepe said in a statement.
By Jeanmarie Evelly
Last year, State Sen. Jeff Klein, representing the Bronx and Westchester, announced that he and three other Democrats would be breaking off from the party to form their own group. It caused a schism in the senate chambers, for sure, but with less malfeasance and dramatics than the notorious 2009 coup.
The move was met with criticism from some Democrats who deemed it political pandering, a way for Klein and his breakaway colleagues to win favor with the Republicans, who had just re-gained a slim 32-30 majority in the Senate.
"What's the difference between what they're doing and what the amigos did?" said Bronx Sen. Ruben Diaz, Sr., referring to the 2009 Senate coup, when former Bronx State Sen. Pedro Espada, Jr. (Diaz's pal) and Queens Democrat Hiram Monserrate defected to the Republican party in exchange for leadership roles. "There's nothing different. They are a copycat."
But as the one-year anniversary of Klein's Independent Democratic Conference approaches in January, the senator defends his caucus with pride, calling it a productive division from the Democrats' dysfunctional leadership, and from the partisan gridlock that characterized the tumultuous two years the party was in power after spending more than 40 years in the minority.
"I fought harder than anybody to take the majority [in 2009], but unfortunately, it was a complete letdown," Klein said in a recent interview. "All the things that we wanted to do, like ethics reform, we never seemed to be able to get the votes for."
By Jeanmarie Evelly
The Bronx Community Pride Center, the borough's only organization that caters specifically to the needs of the LGBT community, cut the ribbon at its new location last week — inside a building named after State Sen. Ruben Diaz, Sr., a fierce gay rights opponent.
The Pride Center, which was based in Mott Haven on East 149th Street for the last 17 years, has its new home at 975 Kelly Street in Hunts Point. The building, Rev. Ruben Diaz Gardens, was developed with funding from the outspoken state senator and named in his honor.
"Our new space is much more usable and is wheelchair accessible," Executive Director Dirk McCall said in a statement. "The new space is wonderful and we welcome everyone in the community to come by and visit us."
Diaz, who worked adamantly for years to block the passage of a marriage equality bill in the State Senate, sent out his own press release saying he was "honored" the group was moving into his building.
Meanwhile, his son, Bronx Borough President Ruben Diaz, Jr.—who disagrees with his father's stance on marriage equality—was at the new center's opening last week, and helped cut the ribbon.
The Bronx Community Pride Center is hosting an open house at its new location this Friday, Dec. 16, from 6 to 8 p.m. for residents interested in learning more about its programs and resources. For more information, call (718) 292-4368.
By Alex Kratz
A mobile legal help center with a fully functioning law office and courtroom will be parked in front of the Bronx's Mosholu Montefiore Community Center, 3450 Dekalb Ave., today from 11 a.m. to 3 p.m.
This 40-foot, 26,000-pound vehicle offers separate conference areas, high-speed computers and audio visual communication equipment. It can provide direct legal services, including advice, legal counseling, direct representation and emergency court proceedings via videoconferencing with judges.
They'll be offering counseling on immigration, family law, housing, public benefits, healthcare and home care, advance planning, consumer protection and elder abuse.
The mobile center is a partnership between New York Legal Assistance Group and the New York State Office of Court Administration. Their goal is to bring fee legal services to uderserved areas.
By Ronald Chavez

[Video: JFK bangs home during it's loss to Bronx rival Wings Academy last week.]
It was the kind of game neither team appeared to want. In a battle for Bronx high school basketball dominance, John F. Kennedy lost to Wings Academy 56-50, but both coaches admitted to being disappointed with their team's play.
In an early-season showdown of the two best public school teams in the Bronx — JFK came in ranked 10th, according to the NY Post, while Wings was 7th — both teams found areas in need of improvement.
The Knights from JFK essentially lost the game early when they failed to score until almost six minutes into the first half. Wings used their size and athleticism to pound out points in the paint against the smaller Knights.
Wings out-rebounded the Knights 37-15, and drew many more fouls, scoring 26 of their 56 from the free throw line. Just nine of the Knights' points came from free throws. Read more
By Jasmeet Sidhu
Cat colonies in the Bronx from Jasmeet Sidhu on Vimeo.
The lack of a full-service animal shelter in the Bronx has prompted some residents to create "cat colonies" in their neighborhoods where they feed and care for feral cats in their own backyards.
Currently, only Manhattan, Brooklyn and Staten Island have a full-service shelter contracted out to the not-profit Animal Care and Control that accept animals, offer animal adoption, and provide necessary veterinary care and animal sterilization. Read more
By Alex Kratz
Editor's note: The Bronx Breakdown, a re-imagined and re-invigorated version of what we once called "Friday News & Notes," consists of (1) a subjective breakdown of the week's biggest and most intriguing news stories, (2) tidbits and newsbits we've come across and thought you should know about (3) a youtube clip and (4) recommendations for things to do in the Bronx this weekend. So settle in, grab a cup of coffee or a Bronx Brewery Pale Ale and enjoy the Breakdown.
Councilman Takes a Stand for Fellow Pastors
As you can probably tell by the photo to your right, Bronx City Councilman Fernando Cabrera is taking the city's efforts to prevent churches (and other religious organizations) from worshiping inside school buildings very seriously and very personally.
In an interview today, he called New York's exclusionary policy "ridiculous" and vowed to do everything in his power to overturn it legislatively.
Just to give you a little refresher: On Monday, the United States Supreme Court, with its inaction on an appeal brought by Bronx Household of Faith, a small evangelical congregation that has met at PS/MS 15 in University Heights for the past decade, essentially upheld the city's position that allowing worship services on school property amounted to a violation of the Constitution's separation of church and state doctrine. (For more background, click here.)
It leaves at least 60 city churches, and, according to Cabrera, at least some Jewish and Muslim groups, homeless, come Feb. 12. (The city originally said churches would have to cease worshiping, Jan. 1.)
Cabrera made a few interesting points during our interview today. Read more
By Emily Piccone
Starting as a lone wolf skateboarder from the Norwood area of the Bronx, Kiefer Dixon, 22,  has won fame and a few nice paychecks from his speed and stamina on a longboard (a long skateboard). He sat down with the Norwood News to talk boards, hand-standing his way through Times Square, his recent win in Puerto Rico and how the borough has influenced his style.
This is the second in a series focusing on exemplary Bronx youth. If you know of a young person in the borough you think deserves recognition or you are that young person, send us an e-mail at norwoodnews@norwoodnews.org.
How did you start out on the longboard?
The first board that actually made me like speed skating was given to me by these Jamaican dudes. They said they had a longboard laying around and always saw me skateboarding. It was faster than the one I had at the time, and I was always by myself, so the speed was definitely what entertained me. The Bronx isn't the safest place, but I've always kept moving.
Do you have a reputation forming in the borough?
My reputation around here is that you'll never see me walking. If I'm on the train, people are like, 'what are you doing here, don't you skate?' Everyone has some story of me doing a trick or riding on my hands through a busy intersection. Even my brother's bus driver says he's proud of me because he never sees me on the corners with my pants down.  My trick that I'm know for the most is my handstand on the board. I've done handstands through traffic, down hills, through 42nd Street. The longest I've held it is four blocks going down Broadway. Read more
By Alex Kratz
The number of Bronx schools slated for closure more than doubled today as the DOE released an updated list that now includes two Bronx technical high schools: Grace Dodge and Samuel Gompers.
Those two schools, along with Aspire Preparatory Middle School, joined Jane Addams High School for Academic Careers and Gateway School For Environmental Research and Technology on the list of schools the DOE wants to close because it says the schools aren't doing enough to serve their students.
Schools Chancellor Dennis Walcott said the DOE spent the past two months analyzing schools and gathering feedback and decided these five Bronx schools and 14 others citywide should be phased out and started over from scratch as brand new schools (or broken up into smaller schools).
"These are never easy decisions, but when a school has failed to serve its students well year after year — even after receiving additional supports — we have a responsibility to provide students with better options. We are already hard at work creating the great new schools that these communities deserve," Walcott said in a statement.
Marvin Shelton, the president of the Community Education for District 10, which includes Grace Dodge, said the DOE didn't give the technical school a real chance to improve after putting it on a watch list last year and replacing its principal this fall. Now, just three months into the school year, Shelton says the DOE pulled the plug on Grace Dodge too early to see any improvement.
In addition to replacing its principal, Shelton said the DOE restricted Grace Dodge's incoming freshman class this year so it could concentrate on serving the serving the students it already had. But barring what could only be considered as a "miraculous turnaround" in so little time, Shelton said the school didn't have much of a chance to stave off closure.
Shelton said there will be a meeting at Grace Dodge, 2474 Crotona Avenue, next Thursday to discuss the ramifications of a phase-out, which would take another three years to complete. The decision isn't final. There will be a local hearing, sometime in January, where opponents of the closure plan can make their case and then the Panel for Education Policy will vote Feb. 9 on whether to approve the closures. Last year the panel closely followed the DOE's recommendations.
Borough President Ruben Diaz, Jr. released a statement about closings, saying he wanted to ensure that the students remaining at those schools slated for closure would be taken care of. He also took a shot at the DOE for its role in allowing the schools to fail. "The factors that have led to these proposed closings did not occur overnight," he said. "The DOE has not provided these schools and others with the appropriate resources to succeed, and that must change."
The public outcry continues over the U.S. Postal Service's plan to shut down 17 Bronx post office locations this year, with a rally planned for this evening at 6 p.m. outside the Bronx General Post Office, at 558 Grand Concourse.
The protest is being held before a schedule public hearing to debate the closure of one of the proposed sites, the Stadium post office on Gerard Avenue, which serves the busy and commercial-heavy neighborhood around Yankee Stadium.
Earlier this week, the USPS announced its plan to eliminate first-class, or next-day mail services. This, along with the proposed branch closures, is an attempt to help the struggling agency cut its operating costs by a whopping $20 million over the next three years.
Citywide, there are 33 post office locations that could potentially close under the plan, 17 of which are in the Bronx. The Oak Point, Crotona and Van Nest locations have already been shut down this year. You can find a full list of sites that are on the chopping block here.
The borough's two Division I college basketball programs, Fordham University and Manhattan College, face off tonight for the 104th time in a game billed as the "Battle of the Bronx." We'll be there, sending out live Tweets (follow @norwoodnews) to help you keep track of the action.
Both teams are coming off recent wins, but have had uneven starts to this season. Aside from Bronx bragging rights, a win here would build momentum going into the meat of each team's schedule.
Here's a preview from Manhattan's website and the view from the Fordham side. Manhattan's going for a total "Whiteout" to increase the intimidation factor at Draddy Gym, the Jasper's home court in Riverdale.
You can listen to the game on 90.7 WFUV or Manhattan's live web feed.

[Video: Gov. Cuomo explains his new tax plan.]
Yesterday, Gov. Andrew Cuomo announced that legislative leaders in the senate and assembly had reached an agreement that would lower taxes for middle-class New Yorkers, while increasing taxes for the wealthiest. Cuomo says the changes would net about $1.9 billion in additional revenue.
The City Council quickly passed a resolution supporting the measure and a few Bronx politicians released statements praising the legislation, which is being finalized during a special session in Albany today.
Freshman Bronx State Senator Gustavo Rivera, who was vocal about extending a temporary tax hike for New Yorkers making more than $200,000 (in place since 2009 and set to expire at the end of the year), lauded the agreement, which will essentially replace the revenue lost when the temporary tax hike expires. Read more
By Emily Piccone
It's past due that Arthur Avenue's foccacia, City Island's oysters, the Bronx  Brewery's Pale Ale and some of the other Bronx culinary mainstays received an event celebrating their deserved hype. Thank you, Bronx Tourism Council, for bringing us Bronx Restaurant Week last month.
However, there were several local restaurants in the northwest Bronx that did not participate for whatever reason. So, in the spirit of good food and good neighbors, we decided to highlight a few of those that did not participate. This is the first in a new series of Bronx restaurant profiles (not necessarily reviews because we're not sure if we're qualified for that) we'll be rolling out periodically. Got a restaurant — restaurant week participant or not — you'd like us to cover? E-mail us at norwoodnews@norwoodnews.org.
Buen Provecho!
Ebe Ye Yie (2364 Jerome Avenue)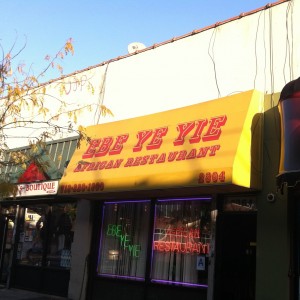 The neon "AFRICAN RESTAURANT" sign in the window is a beacon of Ghanaian cuisine on Jerome Avenue, not the first place most people turn to for dining. But, sitting two blocks from the 183rd Street 4-train stop, Ebe Ye Yie, meaning "it will be alright" is a no-frills, plastic-table-cloth-spot that packs in the good, exotic flavor.
Behind the glassed-in counter, the charming chef Fatima greeted me, and upon noticing my confusion at what to order, asked, "You want what all the white people get?"
Um, sure.
She served a heaping plate of four different styles of rice, dried fish and beef and a mound of gari, a flour made from dried cassava and palm oil. The winning elements though, were the two pasty sauces  she brought out; a dollop of each on a styrofoam plate. She left giving me a slight warning of their heat, and after just a bite I was already gunning for the can of Vimto I had thankfully bought. The sauces are made in house from the Jamaican and the black pepper, and are the icing on a starch on starch mound. Read more
The jury deciding the fate of City Councilman Larry Seabrook is split on whether or not to convict the Bronx rep, who faces federal corruption charges of fraud, money laundering and soliciting bribes.
Deliberations began last week, and the jury announced Friday that they were deadlocked over one of the charges against Seabrook–that he'd given a lucrative Yankee Stadium contract to a boilermaker in exchange for $50,000. After a second day of deliberating yesterday, the group announced they could not agree on any of the 12 counts charged against the councilman.
The group continues to review evidence today in the hopes of reaching a verdict.
Meanwhile, the judge overseeing the case in Federal District Court in Manhattan warned Seabrook's lawyers to "be careful" of what they say to the press, according to the Times, after prosecutors complained about comments made by defense attorney Anthony L. Ricco that they say could influence the jury.  Ricco told reporters yesterday that the jury "hasn't accepted the government's theory of the case" and that "people shouldn't be asked to compromise their views for efficiency or expediency."
In addition to allegedly bribing the boilermaker, Seabrook stands accused of taking kickbacks from nonprofits staffed by his family and friends, which he funneled city money towards, and for notoriously forging a receipt for a $177 bagel. The councilman is still representing his Co-op City-Edenwald-Wakefield-Eastchester Bronx district–he collected $110,163 for the gig last year–but he'll automatically get the boot if he's convicted. City Hall News has compiled a list of candidates campaigning to fill his seat.
By Alex Kratz
A 21-year-old Bedford Park man is clinging to life today at St. Barnabas Hospital after being shot several times in Kingsbridge Heights. Police found the man, who a police source identified as Richard Leonardo, in front of 2780 University Avenue at about 6 p.m. bleeding from gunshot wounds to his torso and right arm. Police say the victim is listed in critical condition at St. Barnabas, no arrests have been made and the investigation is ongoing. The shooting occurred in the 50th Precinct.
By Jeanmarie Evelly
Remember those fancy new voting machines the state rolled out last September? Instead of heading into a booth and pulling a lever, voters on Election Day last year filled out paper ballots by hand and feed them into an optical scanning machine (pictured above).
The change was made to ensure an accurate vote count–states were required by federal law to update their voting machines, a response to the 2000 presidential election fiasco. But a report released this week found that flaws with the new method resulted in 50,000 to 60,000 votes across the state going uncounted because they were cast incorrectly, namely because voters "overvoted," or accidentally shaded in the bubble for more than one candidate for a given seat.
The analysis, by the nonprofit Brennan Center for Justice, reveals that Black and Hispanic voters were at least twice as likely to lose their votes. The Bronx had the highest overvote rate of all the boroughs in the contest for governor: Nearly 1 of every 100 gubernatorial vote cast here was voided as inaccurate by the machines. At one South Bronx polling site, PS 65 on East 141st Street, over 20 percent votes in the governor's race went uncounted.
Following a Supreme Court decision that would keep churches from worshiping inside school buildings, Bronx Councilman Fernando Cabrera, a deeply religious politician who doubles as pastor of a church on Morris Avenue, will attempt to legislate guaranteed access for churches at New York City public schools.
Earlier today, the Supreme Court declined to review a court ruling, in a long-running case brought by University Heights-based Bronx Household of Faith, that upholds a Department of Education policy prohibiting churches from using city schools to conduct worship services.
"Although today's news may be cause for some disappointment, the question now moves to the individual states," Cabrera said in an optimistic statement today. "I have full confidence that our State Legislature and Governor will amend our education law to end the Department of Education's exclusionary policy and allow our churches the same access afforded to other community organizations. This case was never about special treatment, it was about fairness and I fully intend to continue this fight until we see action."
On Thursday, Cabrera, who represents the area that contains Bronx Household of Faith, will hold a press conference at noon and introduce legislation in the City Council that would amend the law that excludes churches from using school buildings for services.
Edwin Santiago, a member of Bronx Household of Faith, said church members are disappointed in the Supreme Court's decision. He called the city's policy "discrimination" and hoped Cabrera's legislation could remedy the situation, which will leave Bronx Household and at least 60 other city churches without a house to worship in come Jan. 1.
"We're just going to pray and take it as a message from God," Santiago said. "[But] we don't really know what that message is yet."
By Ronald Chavez
With the football season winding down (see below), it's time to make way for the Bronx basketball season and also recognize some borough soccer stars in this week's edition of The Bronx Sports Roundup!
To get you hyped for the hoops season, here's a nice mix of the Bronx's own Kemba Walker doing work for the University Connecticut, which he carried to the national title this year. (Somewhat disappointingly, but not too disappointingly because it sounds good, the mix uses a Jay-Z song about Brooklyn to accompany the Bronxite's highlights). Walker, drafted ninth overall by the Charlotte Bobcats this summer, will have to catch up quickly after a long lockout by NBA owners kept players from practicing with their teams until now. The NBA and its players recently entered into a labor deal that will have the season starting on Christmas day.

Wings Academy and John F. Kennedy High School, whose PSAL basketball programs are ranked 7th and 8th, respectively, by the New York Post, will face off this Thursday in Mott Haven for borough bragging rights. Both teams are undefeated on the young season, at 2-0, so one team will come out with its first loss of the season. Read more
By By Alex Kratz
The Bronx Household of Faith, a small congregation in University Heights, and dozens of other churches throughout New York City will become homeless on Jan. 1 after the Supreme Court decided today not to review an appeals court ruling in June that upheld the city's policy of excluding churches from using public schools for worship services.
The Supreme Court denied the petition without comment except to note that Justice Sonia Sotomayor, a native Bronxite, "took no part in the consideration or decision of this petition." A public information officer at the Supreme Court wouldn't elaborate on why Sotomayor didn't participate.
Lawyers for the Alliance Defense Fund (ADF), which has represented Bronx Household of Faith in its legal battles with the city's Department of Education for 17 years, couldn't be reached for comment.
The ADF has argued that the city is unfairly singling out churches for exclusion and, consequently, violating their Constitutional rights. The city says holding worship services in schools amounts transforming the building's into churches and the appeals court ruling back in June upheld that position.
"The Department [of Education] is quite properly concerned about having any school in this diverse city identified with one particular religious belief or practice," said Jane Gordon, who argued the city's case, about the June ruling. "The decision is a victory for the city's schoolchildren and their families."
But the appeals court decision was divided 2-1 and earlier courts had ruled in favor of Bronx Household, allowing them to conduct services at PS 15 on Andrews Avenue in University Heights for the past decade. ADF lawyers felt strongly that the Supreme Court would take on the case.
We wrote about Bronx Household of Faith's plight in-depth back in June, but it's been back in the media spotlight lately as the Supreme Court drew closer to a decision on whether to take on the case.
Bronx Household is not the only local church affected by the decision. Love Gospel Assembly has been meeting at MS 399 since its building on Webster Avenue was destroyed in a fire last year. There are at least 60 churches using public schools to conduct worship services.
By Alex Kratz
Editor's note: The Bronx Breakdown is a re-imagined and re-invigorated version of what we once called "Friday News & Notes," which was lacking in both an interesting title and consistency. We'll be experimenting a little in this space, but for the most part, the weekly Breakdown, which will appear Friday afternoons, will consist of (1) a subjective breakdown of the week's biggest and most intriguing news stories, (2) tidbits and newsbits we've come across and thought you should know about (3) a youtube clip, probably from Bronx Assemblyman and amateur Scorsese, Jose Rivera and (4) recommendations for things to do in the Bronx this weekend. So settle in, grab a cup of coffee or a Bronx Brewery Pale Ale and enjoy the Breakdown.
A Fond Farewell to Sal the Pizza Man
Writing about the retirement of legendary local pizza man Sal Calces, now former owner of Sal's Pizza on Bainbridge Avenue, for this week's edition of the Norwood News was bitter sweet. Bitter, because it means Sal, a Norwood-area fixture for more than three decades, won't be around anymore. His warmth and charisma will be greatly missed by me and countless others. But sweet because it's fun to write about someone that people genuinely love.
It also meant spending a good hour just talking to Sal in the restaurant he put his whole life into for 31 years. There were a couple of interesting details that came out of our conversation and other interviews I conducted that didn't make it into the print piece and I wanted to share them here.
Sal will miss the restaurant and his customers more than they will miss him. He truly loved his customers; he called them his "people" and his "family." But even more than that, Sal won't know what to do with himself without the responsibilities that came with running Sal's Pizza and Restaurant. When I went to interview him, he was hauling supplies up from the basement storage room. At 62, he was still intimately involved in every aspect of the restaurant's operation, flitting back and forth from kitchen to front counter to checking in with customers as they ate. Read more
By Emily Piccone
The Bronx has born another actor, this time hailing from Co-op City. Brian Gilbert, 15, has a passion for acting that started at the age of 9. That passion is sprouting into a career as Gilbert made his silver screen debut in "The Son of No One," starring Al Pacino, also a Bronx native. Gilbert sat down with us to discuss how he got started, his favorite Bronx spot, and playing a young Jim Jones in the rapper's debut play. 
This is the first in a series focusing on exemplary Bronx youth. If you know of a young person in the borough you think deserves recognition or you are that young person, send us an e-mail at norwoodnews@norwoodnews.org.

The character that you play in "A Son of No One," Vinnie Carter, seems like a troubled boy with a lot of problems, was it a difficult role to get into?
This is what I had been waiting for. I was so hungry and intent on playing him that I just turned myself into a different person. When the director said "cut," I was still in it, but me and Vinnie are nothing alike. I like to help my friends out, and that's how we're alike, but I don't get sexually abused and I don't live in the projects. I'm not in the mindset of looking over my shoulder and the paranoia that's he's in.
When did you know you wanted to be an actor?
I used to watch the "behind the scenes" [features] on DVDs, I remember wanting to be a part of the whole process; I loved it. I started acting when I was 6 and I was in "Madea" when I was 9 at the Classical Theater of Harlem. I enjoy doing film and television more than plays. In film, it's more realistic.
What actors do you look up to?
Robert Downey Jr., Joe Pesci, Adam Sandler, Al Pacino. As soon as Will Smith comes out with another film I'll be a fan of him again. Read more
By Alex Kratz
It's a typical Monday night inside Sal's Pizza and Restaurant, Norwood's oldest and most popular Italian joint. Hurried locals drop in for a quick slice. Friends pick up take-out. A family stops for a sit-down meal. And there's Sal Calces, the gregarious, omnipresent owner of his namesake eatery since 1980.
Always affectionate, Sal's laying it on thick tonight. He wants to give you a big smile and a hug and maybe a kiss on the cheek. After 31 years of tomato sauce, sweat and tears, he's leaving, he tells you. But it's going to be okay, he reassures. That's just how life works. He shrugs and says with a thick southern Italian accent hardly dented after 43 years in the Bronx: "Everything come to an end."
By the time you read this, Sal will be gone; retired at age 62, spending time in the east Bronx with his ailing wife, two kids and four grandchildren. But his life's work — the restaurant, his pizza, his spirit — will still be on Bainbridge Avenue, between East 205th and 206th streets. Aside from adding a delivery option, the new owner, Musa Nesheiwat, a Jordanian man who grew up eating Sal's pizza, says he won't change a thing.
Still, Sal's without Sal will take some getting used to.
A woman lured Sal to the Bronx in 1968. The oldest of seven siblings, Alfonso "Sal" Calces was working on his family's small farm in Sarno, Italy, a mid-sized town of about 65,000 people close to Naples. His wife, Lina, had moved to the Bronx earlier that year to live with her sister and her sister's husband, an American citizen. On Christmas Eve, Sal arrived in the United States. The plan wasn't necessarily to stay forever, but that's how it worked out. Read more
By Alex Kratz

Starting tonight, Norwood resident and frequent Norwood News contributor Adi Talwar will be showing a selection of his photos for an exhibition at Illuminated Metropolis Gallery in Chelsea, 547 W. 27th St., Suite 529 (between 10th and 11th avenues). There will be an opening reception tonight from 6 to 8 p.m. Talwar says he will be showing 15 photos, most of them neighborhood shots from the northwest Bronx (like the one above from this year's Jerome-Gun Hill BID Street Festival) that you may have seen in the Norwood News print edition or online. A smaller portion will be more abstract compositions (see below) that Talwar developed at his apartment near the Williamsbridge Oval. So if you're free tonight, head to Chelsea and support a local artist. And if you're not free tonight, you can head down to the gallery any time between now and the end of December when the exhibition ends.

By Emily Piccone
Bronx District Attorney Robert Johnson announced last week that Andre Muller has been indicted on charges of assault and illegal possession of a weapon in connection to a deadly altercation that occurred this June in Bedford Park that resulted in the death of the defendant's son, Isayah Muller, a high school football star.
Muller was indicted on two felony counts of assault in the 2nd degree, punishable by a maximum sentence of up to seven years in prison if convicted, and one misdemeanor count of criminal possession of a weapon.
The incident occurred after Muller and his son were returning from a dinner at City Island in celebration of the son's graduation from Lehman College that day. Muller discovered that a bottle of expensive cologne was missing from his car, and drove back to the parking garage on East 198th and Jerome Avenue to confront the attendants that were on duty. The confrontation quickly escalated into a brawl between the attendants and Muller. Read more
By By David Greene
A teen who was shot last week on Tryon Avenue near Williamsbridge Oval Park was arrested for armed robbery of an East Gun Hill Road nail salon that same day, according to a police source.
Police were called to 3400 Tryon Ave. on Saturday, Nov. 19 around 6 p.m., where a 16-year-old male claimed he had been shot on the street, and had bullet wounds to his arm and leg. He was transported to St. Barnabas Hospital for treatment.
A ranking NYPD source, however, says the boy's story was bogus from the start.
"The victim lied from the very beginning," said the source, who spoke on the condition of anonymity. The boy told officers he was shot on the street by an unknown assailant, and even provided them with a fake name. Read more
By Jeanmarie Evelly
Born out of an argument fought two years ago over a proposed shopping mall at the Kingsbridge Armory, a fierce battle over legislation setting wage requirements at some publicly subsidized developments has come to a head this month.
In an exhaustive hearing last week, the council spent nearly five hours debating the details of the Fair Wages for New Yorkers Act, proposed last year by two Bronx Council members at the behest of Bronx Borough President Ruben Diaz, Jr. Both opponents and supporters of the bill testified their cases to Council Speaker Christine Quinn — who largely controls the fate of the legislation — though the two sides, ultimately, found little grounds for an agreement.
"Some of the concerns expressed by some of the so-called opponents were greatly exaggerated," said Councilman Oliver Koppell, who sponsored the bill with colleague Annabel Palma. "We have to review what we have, and perhaps make some small adjustments, but the overall bill is sound." Read more
By Ronald Chavez

[Photos by Francesca Andre for Norwood News]
So close and yet so far away.
For the second year in a row, the DeWitt Clinton varsity football team's season ended with a resounding loss to Brooklyn's Lincoln High School.
Last year, the Governors lost to the Railsplitters in the second round of the playoffs. This year Clinton came into their semifinal playoff matchup — the school's first trip to the semis in more than two decades — riding a five-game winning streak. But the result, a resounding 30-14 loss, was similarly disappointing.
The loss was marked by an early injury to star player Ashton McKenzie in the first quarter after a player fell on his left ankle. McKenzie is the team's kicker, linebacker and fullback. He tried to return to the game at the start of the second half, but couldn't play through the injury.
"Losing him that early really put us in a whole. It made it tough for us to come back. We tried though," Coach Howard Langley told the Daily News. He called the injury a high ankle sprain.
Lincoln played Quarterback Ryan Camilo tough, sacking him seven times, according to the New York Post.
Lincoln's Railsplitters will move on to face Erasmus at Yankee Stadium on Dec. 6.
By Ronald Chavez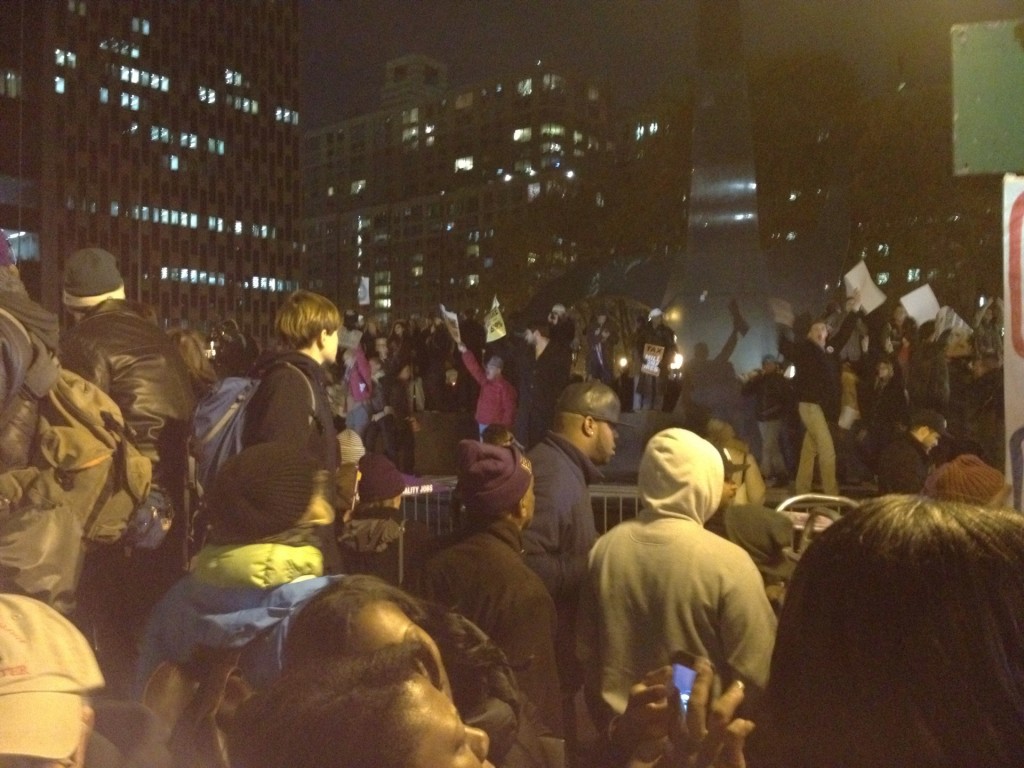 Ed. note:
On Nov. 17, we sent two reporters out to cover the Occupy the Subway protests in the Bronx. This is the story of the rally at Yankee Stadium. A version of this story appears in this week's print edition of the Norwood News, which is being distributed throughout the northwest Bronx over the next two days.
For Bronx Occupy Wall Street activists, perhaps no meet-up location was more apt than in the shadow of the new Yankee Stadium. The dozen or so protesters that had assembled beside the McDonalds on 161 Street and River Avenue said that despite city involvement in the project, the community has yet to see the benefits of the new billion-dollar ballpark.
This was the Bronx leg of a 16 location, citywide "Occupy the Subways" protest, which would culminate downtown at Foley Square in downtown Manhattan.
The activists were among thousands taking up the battle against economic inequality on Occupy Wall Street's National Day of Action, a day to celebrate the two-month anniversary of activists first taking up residence in Zuccotti Park. (Protesters were evicted two days before the mass protests.)
The stadium protest stood in a sharp contrast from the rest of the movement, and even from events earlier that morning. There were barely any cops and none in riot gear. And there were no bushy-haired youths clashing with charcoal suits.
Instead, there was longtime activist and Highbridge resident Agnes Johnson, a Hispanic mom and her young boy, members of the New York Civil Participation Project and Living Wage NYC Campaign workers (see front page story). Read more
By Emily Piccone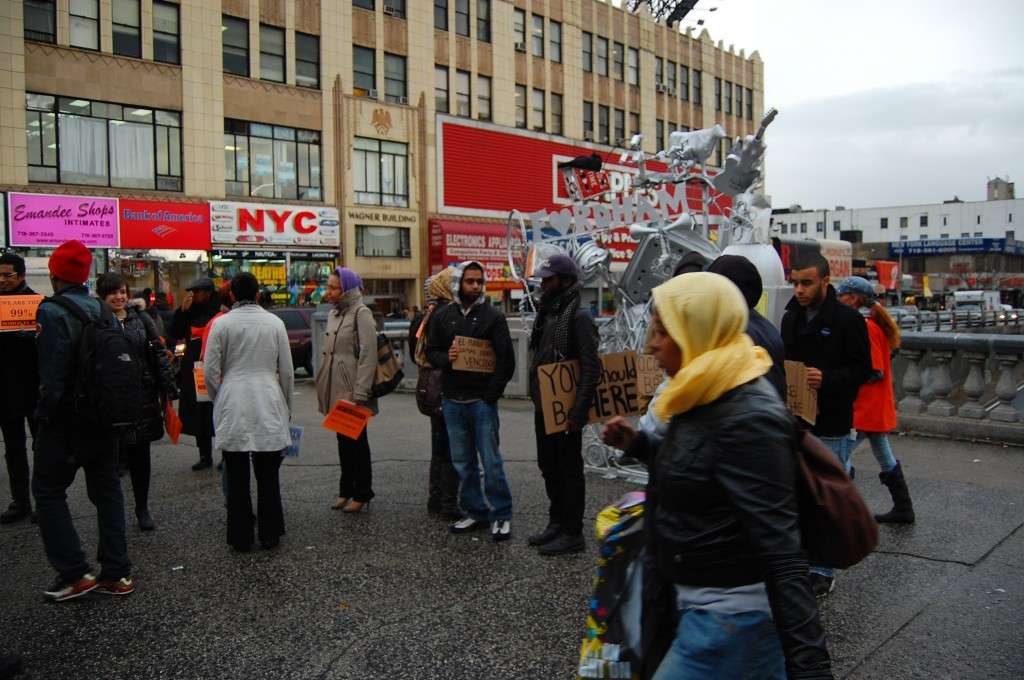 Ed. note: On Nov. 17, we sent two reporters out to cover the Occupy the Subway protests in the Bronx. This is the story of the rally at Fordham Road. A version of this story appears in this week's print edition of the Norwood News, which is being distributed throughout the northwest Bronx over the next two days.
At the intersection of Grand Concourse and Fordham Road two weeks ago, about two dozen people showing their support and affiliation with the Occupy Wall Street movement were joined by Bronx State Senator Gustavo Rivera.
"Six months ago, we were not having the conversations that we are having today about economic inequality," said Rivera before protesters heading downtown to join thousands of others at Foley Square, the final gathering for the Occupy movement's National Day of Action.
In a movement that began on the opposite end of the city, protesters are sprouting up in the Bronx, where residents represent a highly concentrated slice of the marginalized so-called, "99 percent."
"The 99 percent live in the Bronx," said Rivera. "They are the people that I represent."
The group was an even mix of men and women of different ages and ethnicities. Read more
Happy Wednesday, readers! The latest print issue of the Norwood News is hitting the streets today, and it's chock full of good stuff: an update on the living wage debate,  a look at the end of Clinton's football season, a farewell to Sal of Sal's Pizza fame (he's retiring this week) and more. Pick up a copy today, but until then, here are some other noteworthy news stories to keep you in-the-know.
The latest twist in Bronx Councilman Larry Seabrook's corruption trial: his former mistress, and the prosecution's star witness, says she has early onset dementia. This is after she testified that she couldn't remember if she gave the councilman a cut of the money she received running the three nonprofits he put her in charge of. Seabrook is accused of funneling public funds to groups where he employed his family and friends.
The end of the year is fast approaching, and with that comes what many dread: tax season. That's why the Bronx Small Businesses Development Center is having a tax workshop geared towards helping small businesses handle their taxes. It's tomorrow, Wednesday, Nov. 30, from 10 a.m. to 1 p.m. at CUNY on the Concourse, 2501 Grand Concourse on the third floor.
The workshop will cover topics like minimizing your taxes, tax credits for small businesses, and employer health care deductions.
For more information, call 718-960-8806. Those planning to attend can RSVP here.
By Emily Piccone
The Bronx Community College has unveiled a new student-driven mural on its campus, called "Transformation." It's located on the temporary construction fence adjacent to the college's Language Hall.
The collaborating group of current students and alumni sketched a design incorporating iconic Bronx landmarks such as the Bronx  Zoo and Yankee Stadium. From the sketches, they digitized the design using Photoshop. The mural, designed by six different artists over a period of eight months,  showcases the talents of the digital art department at BCC.
"The mural was a labor of love donated by the students of the Digital Arts Program at BCC as a way of celebrating their own transformation, and as a gift to future students who will follow in their footsteps," said Lisa Amowitz, deputy chair of the Department of Art and Music.
The mural, which is 64 feet long and 4 feet 6 inches tall, is a colorful decoy for the campus as it undergoes major infrastructure improvements.
There's no doubt the turkey is the inevitable star of the Thanksgiving spread. But if you want to boost the health quotient of your holiday meal, let your vegetable side dishes share some of that spotlight.
This year, cut out at least one traditional high-calorie standby—buttery rolls, or those marshmallow-coated yams—and opt for a few of these simpler sides instead.
Sweet Boiled Beets
Use a pound or two of fresh beets. Wash and trim off stalks—the green, leafy bits at the top—but put them aside for later. Cut the beets themselves into quarters and peel off the rough outer skin. You can wear latex gloves if you want to avoid staining your hands. Place beets in a medium to large saucepan, and pour in a cup or two of orange juice, enough to cover the beets by at least an inch. If you can find blood orange juice—the regular orange's crimson-colored sister—that's even better, but regular Tropicana juice will do, too. Boil the beets in the juice for 30 to 60 minutes, depending on their size, or cook until they're tender enough to be easily sliced with a fork. Drain from the juice and serve.
Bonus: Beet greens—the stalks you trim off the top—are edible, and delicious. Simply sauté them in oil, garlic, salt and pepper. Cook until tender. That's two dishes for the price of one.
Roasted Carrots with Cumin Seed
Take one or two pounds of full-sized carrots, peel them and slice into sticks. Spread the carrot sticks on a baking sheet and drizzle with two or three tablespoons of olive oil. Sprinkle with two teaspoons of cumin seed, and season with salt and pepper. Bake in the oven at 425 degrees until brown and tender; about 25 to 30 minutes.
Honey-Roasted Squash
Use as many acorn squash as you're looking to serve. Each squash will be halved, and one squash will make two servings. With a sharp knife, slice each squash in half, lengthwise, from stem to stem. Use a spoon to scoop out the seedy, stringy gunk in the center, so that each half looks like a little bowl. Place pieces in a baking pan with the centers facing up (in other words, skin side down). With a knife, score the squash, making shallow slices along the surface of each piece. Sprinkle with salt, then add a small pat of butter to the center each half.
Drizzle squash pieces with honey. Before baking, add a cup of water to the pan for some moisture, then cover with foil, leaving a few gaps here and there so steam can escape. Bake at 400 degrees for about an hour, or until squash is soft.
Spicy Green Beans with Garlic
Use one pound of fresh green beans, washed and with their edges trimmed.  Briefly cook the beans in a pot of boiling water, for no longer than three minutes—they'll turn bright green, and should be slightly tender, but still crisp. Remove from boiling water and plunge beans into a bowl of ice water to stop them from cooking. Meanwhile, in a frying pan, heat two teaspoons of olive oil. Add the green beans, and stir for a minute or two. Add two cloves of chopped garlic and half a teaspoon of red pepper flakes (more if you like things spicy!) and cook for another few minutes, until beans are tender. Season with salt and pepper before serving.
By Ronald Chavez
Thanksgiving and sports go together like mash potatoes and gravy. So, with turkey day on the horizon, we thought we'd offered a brief local sports roundup to get you caught up on all the latest action.
Clinton Football Thriving as Underdog
So far for the DeWitt Clinton High School football team the PSAL playoffs have been a Governor's ball. The seventh-seeded Governors upset fourth-seeded Fort Hamilton last week and will face undefeated and top-ranked Lincoln High School in the semifinals. The Railsplitters bounced Clinton from the playoffs last year by a score of 32-6. The game is set to start at noon on Saturday, Nov. 26 at Lincoln's home field in Brooklyn.
It's the farthest Clinton has ever made it in the playoffs and Coach Howard Langley says, in preparation, he's making his team sweat the details. Langley says he's been looking at tape from last year's game against Lincoln to, "try to find a crack in their system."
Clinton's offense received a boost this year after Quarterback Ryan Camilo transferred from Cardinal Hayes, according to the New York Post. Another major contributor of the Governors has been Jeremiah Obeng-Agyapong, who's brother, who graduated from Kennedy High, now plays for Penn St.
Langley also said Clinton's underdog status is used as an advantage. "When you're the underdog, you don't have anything to lose," he said. "Kids play without fear." Read more
By Jeanmarie Evelly
Happy Thanksgiving, readers!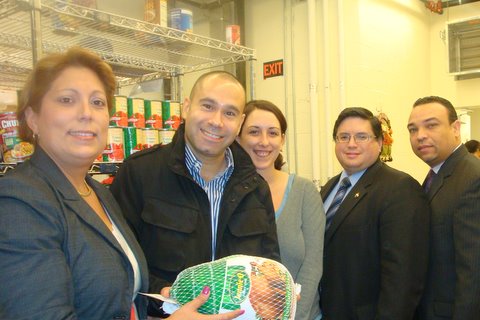 The community has been getting in the holiday spirit of late. Yesterday, the Fordham Road Business Improvement District, nonprofit healthcare provider Healthplus and Councilman Joel Rivera's office donated turkeys (see photo at left) to Part of the Solution (POTS), the Webster Avenue organization that runs a food pantry and other services for low-income residents (for more on POTS and the work they do, see here).
On Friday, Bronx Borough President Ruben Diaz Jr., gave out 100 free turkeys at the corner of East 180th Street and Southern Boulevard (see photo below) and has been holding similar giveaways this week.
See the list below for local groups and churches that are offering free Thanksgiving meals tomorrow for those in need. If you know of any other programs we should add, let us know at norwoodnews@norwoodnews.org.
Owen Dolen Recreational Center 2551 Westchester Ave. Thanksgiving meals from 12:00 pm to 5:00 pm. (718) 829-0156.
St. James Recreational Center, 2530 Jerome Ave. (at E. 192nd Street).Thanksgiving meals from 11:00 am to 3:00 pm.(718) 367-3657.
POTS at Our Lady of Refuge Church, Thanksgiving meals starting at 12 noon, 290 East 196th St. (718) 220-4892
By David Greene
A Norwood teen is recovering after being shot two times outside of an apartment he shared near Williamsbridge Oval Park on Tryon Avenue.
According to EMS records, the unidentified 16-year old male was shot in the arm and leg on the second floor of 3400 Tryon Ave., at just before 6 p.m., on Saturday, Nov. 19. The victim was transported to St. Barnabas Hospital and was expected to survive.
According to witnesses, a dispute began when two groups of men had a dispute inside the apartment that spilled out into the hallway, where the victim was shot. Residents reported hearing four gunshots and witnessing four individuals taken into police custody from the scene.
Residents say that despite being in a wheelchair, the still-unidentified 25-year-old tenant of the apartment has been in trouble since moving into the there back in January, allegedly throwing partys with as many as 100 guests in the 1-bedroom apartment.
One neighbor cried, "I hope he didn't die!" When told the teen would recover, she responded, "That's great. Maybe he just needs some therapy. These kids these days."
The neighbor, who declined to be identified, said of the young man, "He's in a wheelchair because of his criminal past."
A second neighbor called the young handicapped man, "trouble," adding, "They throw party's with 100 people in the apartment."
Resident's also have been complaining of the stink of marijuana smoke, music blasting until the break of dawn and visitors at all hours of the day and night.
The neighbor recalled a police raid shortly after the young man moved in. "The police took out bags and bags of pot," he said. "They had a plantation in there."
A third resident of the building confirmed police have visited the apartment three to four times in a single night.
Calls to the building's landlord at E.N.M. Associates was not immediately returned. This publication will reach out to both the NYPD and the Bronx District Attorney's office regarding the accusations made by residents.
Norwood News reporter Jeanmarie Evelly is Tweeting live from the City Council's contentious hearing on legislation that would require businesses to pay living wages ($10 an hour plus benefits) to workers if their development deal include significant government tax breaks and subsidies. We'll capture all the action here.
Backers of a controversial living wage bill that's scheduled for a debate in the City Council this afternoon held a spirited rally last night at Harlem's Riverside Church, where elected officials, union workers and  leaders from faith institutions across the city demanded action on the legislation, which has been lingering in the Council for over a year.
Supporters of the bill–which would require development projects that receive substantial taxpayer-funded subsidies to pay workers $10 an hour with benefits, or $11.50 without–packed the pews of the enormous church, the rally lasting over two hours. Speakers likened the living wage campaign to other movements raging across the country and elsewhere, reiterating a sentiment of disillusionment with those in charge and frustration over the widening wealth gap.
"This struggle is part of a worldwide struggle, from Egypt to Tunisia, from Wisconsin to Occupy Wall Street–the struggle for economic justice," said Stuart Appelbaum, president of the Retail, Wholesale and Department Store Union.
A slew of Bronx elected officials and faith leaders attended the event and were among the first speakers to head off the rally. The Fair Wages for New Yorkers Act was sponsored by two Bronx City Council members, and its introduction is rooted in a political battle over wages at the Kingsbridge Armory two years ago, which several alluded to last night.
"We rescued our community from what would have become a poverty wage center," said Desiree Pilgrim-Hunter, who heads the Kingsbridge Armory Redevelopment Alliance and led the fight to kill a mall project there–a project pushed by Mayor Bloomberg–because the developer, Related Companies, refused to agree to a living wage mandate in exchange for the taxpayer subsidies it was set to receive.
"Let's be very clear: it was Bloomberg who killed those jobs," Pilgrim-Hunter said. "We're facing off with Bloomberg again, but this time we have a citywide coalition."
Today's City Council hearing will focus on changes made to the legislation recently by its sponsors, who essentially watered down the proposal after opponents–the city's business community and Mayor Bloomberg, for starters–claimed mandated wages would stifle development and kills jobs.
The future of the bill is in the hands of City Council Speaker Christine Quinn, who can kill it by refusing to bring it up for a vote on the council floor. She's yet to take a stance on the issue.
We'll be covering today's hearing, which starts at 1 p.m., and will be tweeting updates from our twitter account @NorwoodNews, so stay tuned!
By Emily Piccone
In her 10th floor apartment in Keith Tower on Southern Boulevard, Marge Marcone wipes her hand across the long windowsill in her living room, and is still amazed by the lack of dust.
It has been more than a year since a local community organization installed all new windows in her apartment for free — a major improvement from her old, faulty windows.
"Those huge windows were monsters for me, they were very difficult to open, but air still got in," Marcone said. "My window sills would be filthy, even on the 10th floor."
Created to help low income residents of ailing buildings in the early 1980s, the Northwest Bronx Community Clergy Coalition's Weatherization Assistance Program was one of city's first "green" building programs. It received a burst in funding from the economic stimulus package in 2009, allowing it to install new energy-saving boilers, lights, appliances and windows for tenants like Marcone and countless others.
But with funding set to expire in December, the program could be forced to downsize on all sides. Read more
By Jeanmarie Evelly
Parties on both sides of the contentious living wage debate are gearing up for another fight tomorrow, as the City Council is scheduled to hold its second hearing on the bill–this time to consider recent revisions made to the legislation to appease critics and make it more business-friendly.
The Fair Wages for New Yorkers Act, sponsored by two Bronx City Council members and inspired by a political battle over wages at the Kingsbridge Armory two years ago, would require developers receiving substantial taxpayer-funded subsidies to pay workers $10 an hour with benefits, or $11.50 without.
The bill's backers made a number of changes to the legislation last month, essentially watering down the proposal after opponents–the city's business community and Mayor Bloomberg, for starters–claimed the mandated wages would stifle development and kills jobs.
In the newly amended version, only projects receiving tax breaks of $1 million or more (up from $100,000) would have to comply with the law; manufacturing companies, commercial tenants in affordable housing projects, and small businesses earning less than $5 million in revenue would now be exempt.
The changes may not be enough to convince the bill's opponents. According to today's Daily News, the city's major construction unions are fighting it. The legislation, however, has the backing of powerful labor and healthcare unions and a large swath of the city's faith community, and according to the Times, the Roman Catholic Archdiocese of New York–which has previously declined to weigh in on the bill–is now also on board.
Regardless, the future of the bill is in the hands of City Council Speaker Christine Quinn, who can kill it by refusing to bring it up for a vote on the council floor. She's yet to take a stance on the issue.
Supporters of the Living Wage Campaign are holding a big rally tonight at Harlem's Riverside Church; the City Council's hearing is tomorrow afternoon. We'll be covering both, so check back here on Breaking Bronx for updates.
By Ronald Chavez
Montefiore Medical Center's Surgical Assistant program recently came full circle. Not only did it celebrate the graduation of its 2011 class, it's also looking back at 40 years since the program began.
Physician's assistants help doctors and surgeons perform medical tasks. They came into vogue during the Vietnam War, when physician assistants were relied upon to care for soldiers under doctor's directions. Montefiore was the first hospital in the country to center the program around helping surgeons in 1971.
Ten members of the PA program graduated at the ceremony recently held at the Cherkasky Auditorium. Members of the 2012 class were also announced.
Clara Vanderbilt is one of the program's first students and won the PA of the century award from Montefiore in 2000.
"Four decades ago Montefiore established a tradition which became the inspiration for over 40 residencies in surgery and other medical specialties around the country," she said.
The program, which used to be a full four -ear residency, is now a grueling 15 month program.
By Ronald Chavez
Speaking at the Bronx's Walton Campus earlier this month, Mayor Michael Bloomberg pointed to truancy as an accurate indicator of future academic struggle.
"The more school a child misses during the early grades, the more unlikely for him or her to succeed in the higher grades," he said.
Bloomberg went on to announce the expansion of a limited city mentorship program that he credits with improving absenteeism at participating schools, including the High School for Teaching and the Professions, one of several small schools at Walton in Kingsbridge Heights.
Read more
By Emily Piccone
The six-day bicycle race, made popular in Madison Square Garden in the late 1800s but not held in the city for decades, could be coming to the long-vacant Kingsbridge Armory come spring time. If that works out, event organizers say they will push for the Armory to become the permanent home of a regional bicycling center.
In a presentation on the expansive 575,000-square-foot drill floor of the Armory two weeks ago, National Cycling Association CEO Jack Simes presented the two-part proposal and renderings of the velodrome, an angled, oval racing track, created by Ralph Schuermann, designer of four Olympic velodromes.
The NCA estimates the cost of a one-time event, which would include free bike clinics for youth, the installation of the track, bleacher seating for 2,500 spectators, concession stands and bathrooms, would run about $700,000. Simes said the costs would be covered by private sponsors.
Read more
By Alex Kratz
The DeWitt Clinton Governors, the last Bronx high school football team in the Public School Athletic League playoffs, beat defending champion Fort Hamilton today, 16-8, to reach the semi-finals. Next Saturday, Clinton faces top-seeded Lincoln, which eliminated Clinton in the second round of the playoffs last year. Winner plays for the championship. Clinton's riding a five-game winning streak during which they've given up an average of around eight points a game, exactly what the defense allowed this afternoon.
By Alex Kratz
The DeWitt Clinton Governors football team, riding a five-game winning streak including last week's dismantling of Port Richmond in the first round of playoffs, travels to southwest Brooklyn tomorrow to take on Fort Hamilton. With eight teams left in the tournament, the winner heads to the semi-finals.
Clinton, seeded 7th, are ranked 9th in the latest Daily News poll.
Yahoo Sports has a breakdown of all the quarterfinal match-ups and says Clinton's strong defense could turn tomorrow's game against defending champion Fort Hamilton into "a low-scoring slugfest."
By Ronald Chavez
Community Board 7's Land Use Committee is hosting a walking tour of several neighborhoods in Kingsbridge Heights and University Heights to assess possible rezoning options. The walk is set to begin 10 a.m. on Saturday, Nov. 19, in front of the Kingsbridge Armory (West Kingsbridge Road and Davidson Avenue).
It will last about two hours. The walk will explore Davidson Avenue, Devoe Park Terrace, and Grand Avenue.
The Board recently completed the rezoning another area of the district. In March, with direction from Community Board 7, the City Council approved the rezoning of a stretch of Webster Avenue and select neighborhoods in Norwood and Bedford Park. The idea was to encourage residential and retail development on Webster and preserve the character of certain blocks in Norwood and Bedford Park.
By Jeanmarie Evelly
At the time of his death, Bimal Chanda was moving out of his apartment on West 190th Street and Grand Avenue, where he'd lived for decades. Concerned about increasing crime in the area, friends say, Chanda, his wife, and their teenage daughter were about to move to a condo in Parkchester.
On the morning of Oct. 29, he walked to the store to buy more packing tape. On his way home, he was attacked and viciously beaten in the stairwell of his building. He died five days later.
Chanda's killing was one of several violent incidents that took place over the last few weeks in the northwest Bronx, with three attacks occurring in close proximity to one another in Fordham. Just a day before the fatal beating, another man was stabbed to death a mere block away, and last week, a four-year-old boy was in critical condition after he was shot on the street just a quarter of a mile south. (About a mile away, on East 198th Street and Bainbridge Avenue, 21-year-old Edwin Nunez was shot to death in the early morning hours of Nov. 5.) Read more
By Lindsay Armstrong
Police have arrested and charged a second suspect in the Nov. 1 stabbing death of Bronx resident Gabriel Sherwood.
James D. Garlick, whose girlfriend lived across the street from the University Heights building where he Sherwood was murdered, was arrested in Manhattan on Nov. 11. Police charged him with murder in the first degree and criminal possession of a weapon, according to a court report filed by the Bronx District Attorney's office.
Garlick, who often went by his middle name, Darnell, lived in the building next door to Sherwood's long-time partner, Prum Odle. Odle was shocked when he learned that Garlick was wanted in the case.
"The guy that killed my partner, I don't know what came into his mind that day. He was a very nice person," Odle said. "When I found out he was the one, I felt so sad."
Sherwood suffered multiple stab wounds to his torso during an altercation in the lobby of 2460 Grand Ave. Security cameras captured the entire struggle on tape. Read more
We're going to do a little experiment here on Breaking Bronx with some live coverage from the Occupy Wall Street demonstrations happening today as part of the "National Day of Action for the 99%" effort that will culminate in Foley Square in downtown Manhattan at 5 p.m. There will be a handful of events at Bronx subway stations. Norwood News reporters Ronald Chavez and Emily Piccone will be at Yankee Stadium and Fordham Road, respectively, filing reports via Twitter. I'll do my best to capture all the action here.