Thanks to the tireless lobbying of Community Board 7 member Bree Brown-Rosa, the Mosholu Library in Norwood, 285 E. 205th St., will be hosting a Baby Laptime  program on Tuesday morning, April 17,  from 11 to 11:45 a.m. Here's the blurb about it on the library's website:
Join us for Baby Laptime, a program for infants up to 18 months and their parents/caregivers. Babies enjoy nursery rhymes, simple stories, songs, fingerplays, and movements. Pre-registration is required and is limited to 15 families.
You must register beforehand, by phone, (718) 882-8239, or in person, 285 E. 205th St. (near Perry Ave.).
Ed. note: Every weekday, we highlight Bronx programs, announcements, services, opportunities, public meetings/hearings or community events. Find a full listing on our Neighborhood Notes page. Send your neighborhood notes to us at norwoodnews@norwoodnews.org.
By Alex Kratz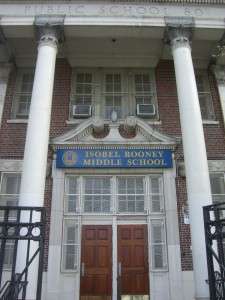 The Department of Education is holding a hearing tonight at JHS 80 (commonly called MS 80), so the school's community — parents, students, faculty, local residents, alumni, etc. — can weigh-in about the DOE's decision to designate MS 80 for the federal turnaround program, which would essentially close the school and re-open it with a dramatically different administration, faculty and programming.  Read more about what's going at MS 80 here and here.
The hearing is tonight, Monday, April 16, at 6 p.m. at MS 80, 149 E. Mosholu Parkway N., inside the school's auditorium. It is expected to last three hours. After tonight's hearing, the fate of the school will be determined at a Panel for Education Policy meeting next month in Brooklyn. The PEP rarely votes against a DOE-backed re-organization or closure plan.
The school's principal since 2004, Lovey Mazique-Rivera, was fired last month as part of the coming transformation. Last week, the Daily News reported that in the next few weeks, the DOE is planning to replace the interim principal, Lauren Reiss. In the article, celebrities who attended the school were listed, including Ralph Lauren, Calvin Klein and Penny Marshall. Marshall, actor/director and star of "Laverne and Shirely," said she still had her yearbook from MS 80. "It was a big part of my life," she told the Daily News from her home in California. "Public schools in New York were great back then."
Here are the Bronx stories we're following this Monday. Weather: Hot! Break out your fans and sunscreen as temperatures soar into the mid-80s with lots of sunshine. Quick programming note: we'll be posting less the next couple of days as we prepare to publish the next print edition of the Norwood News.

A nasty fire on Saturday afternoon at a multifamily home on Van Nest Avenue injured nine Bronx firefighters. Fortunately, none of the injuries were considered serious.
Construction on a new boutique hotel at the old Bronx Opera House on East 149th Street is nearly complete and the developer believes it will succeed despite its "gritty" surroundings.
The Daily News a says a mentally ill man never should have been allowed to stab a Bronx police officer on Easter Sunday. The cop, Wiliam Fair, received 15 stitches and is recovering, but doctors said he's lucky to be alive.
Bronx Borough President Ruben Diaz, Jr. will be eager to tout this Crain's story about the Bronx's burgeoning reputation as a haven for industrial businesses.
Female vocal group SWV, whose members hail from the Bronx and Brooklyn, are back with a new album.
"Baseball in the Bronx: Nine Innings of Bronx Baseball," a new exhibit at the Bronx Museum of the Arts, opened on Friday to coincide with the Yankees opening day festivities.
A Highbridge resident talks about her recent contentious experience with police in her area.
A look inside Montefiore Medical Center's chronic wound treatment center.
Ex-Bronx pol Pedro Espada's embezzlement trial resumed late last week with new evidence showing Espada used funds from his nonprofit healthcare network to pay for a lavish Puerto Rican vacation.
The Bronx saw more evictions than any other borough in 2011. The 10,140 evictions marked a 17 percent increase from the previous year.
After a longer than anticipated hiatus, The Bronx Breakdown is back this week with an Armory-centric post this lovely Friday afternoon. Enjoy.
The video above was taken during the rally for responsible development of the Kingsbridge Armory. It features a spoken word artist known as Ricardo doing a piece about why the Armory is important to the community and the community's resolve to have it serve as resource for residents.
The bids for the Amory are in. We know a little about which groups have submitted proposals and the front-runner, as we've mentioned here before, is a group of investors who want to turn the hulking 600,000-square-foot building into a state-of-the-art regional ice sports center, complete with a 5,000-seat arena and eight other ice rinks for hockey and figure skating (maybe some curling?).
The reason this group is the front-runner is because they appear to have the funding to build their project without public assistance. This is a good thing because government can use those funds for other worthwhile ventures. But, on the other hand, it's going to leave community activists like Ricardo and others from the Kingsbridge Armory Redevelopment Alliance (KARA) without much leverage.
Saturday morning, April 14, at 11 a.m., the Friends of Williamsbridge Oval Park and Mosholu Preservation Corporation will be facilitating a planting and doing other beautification of Oval Park. They're looking for volunteers to help out and everyone is welcome to participate. If you're interested, meet at the North Entrance of the park (the side closer to Gun Hill Road). Other events at the Oval are being scheduled for the next couple of weekends. We'll have more details next week.
For more info call the gardener, Janice: (646) 271- 4310.
Ed. note: Every weekday, we highlight Bronx programs, announcements, services, opportunities, public meetings/hearings or community events. Find a full listing on our Neighborhood Notes page. Send your neighborhood notes to us at norwoodnews@norwoodnews.org.
By Jeanmarie Evelly
Renowned jazz pianist and Bronxite Valerie Capers will be the first person honored this year with her own street sign on the Bronx Walk of Fame, Bronx Borough President Ruben Diaz, Jr. and the Bronx Tourism Council announced this week.
A number of notable people who hail from the Bronx are inducted into the Walk of Fame each year during Bronx Week, the annual borough celebration that takes place in May. Honorees participate in a celebratory parade along Mosholu Parkway that ends on the Grand Concourse, where street signs bearing their names are unveiled. Past inductees include actor Chazz Palminteri, best known for his role in the film "A Bronx Tale," KISS guitarist Ace Frehley, and others.
Capers attended the New York Institute for the Education of the Blind on Pelham Parkway in the Bronx, before going on to Julliard, where she was the first blind student to graduate from the prestigious music school. Her career as pianist, composer and singer had earned her a number of awards and commissions. She also taught for decades in the music department at Bronx Community College, where she is currently a professor emeritus.
"As a child growing up in the Bronx, I always knew I would remain close to my roots. Today, I still live in the Bronx and am honored to be selected as one of this year's Walk of Fame inductees. This is truly an honor and only strengthens my pride in being from the Bronx," Capers said in a statement.
Bronx Week will be held this year from May 10 to 20. For more information and a list of events, visit the Bronx Tourism Council's website here.
By Alex Kratz
Following Manhattan College's thrilling comeback victoryover cross-Bronx rival Fordham University yesterday in Van Cortlandt Park, Jaspers coach Jim Duffy summed up the 6-5 win in this way: "It was a crazy game," he said. "There were some wacky plays out there."
The wackiest play in this crazy game came in the bottom of the ninth inning with one out and Manhattan down 5-4. Jaspers sophomore Yoandry Galan grounded a single to left and then just kept running all the way home after Rams left fielder Stephen McSherry misplayed the ball, allowing it to trickle all the way back to the fence. That tied the game 5-5 and allowed Kyle Murphy to smack the game-winning single one out later after Nick Camastro had ripped a double to get into scoring position.
But that's the kind of thing that happens to a team now riding a 10-game winning streak. The Jaspers started the season 4-17, but have stormed back and are now just three games under .500. Fordham, meanwhile, dropped to 14-20 on the season.
It was the 108th meeting between the Bronx schools. Yesterday, the Jaspers took a very small step in evening out the all-time series, which is now 76-27-3 in favor of the Rams.
Here are the Bronx stories we're reading this Thursday. Weather: Looks gorgeous right now, not a cloud in the sky with an expected high in the low 60s, but there's a chance of showers in the afternoon. 
In a story published last week, the Daily News writes about the Jaguars running program at PS/MS 15, a stellar school on Andrews Avenue in University Heights. This summer, just as they did last summer,  the school's runners, coached by English teacher Shawanda Weems, will participate in the Children's Summer Games in Athens, Greece. In March, Weems was honored as a "Champion of Change" at a White House event and panel discussion hosted by First Lady Michelle Obama.
Police are looking for a scam artists who is preying on immigrants looking for cheap rent in the northwest Bronx. Sally Dunford, of West Bronx Housing, says this type of scam is becoming more and more prevalent.
Six Bronxites are being charged with running a prescription drug ring out of four Bronx daycare locations. Authorities said they confiscated 122,000 pills, including Ecstasy, Xanax, Viagra and Percocet. Ecstasy is illegal and its illegal to distribute the other drugs without a prescription.
A vacant storefront in near Crotona Park is becoming a showcase for emerging artists.
David Oliveras, 18, was struck and killed last night while riding his bicycle on Williamsbridge Road near Mace Avenue. The driver is not being charged.
Heart Gallery NYC, a nonprofit dedicated to finding permanent homes for foster children used the Bronx Museum of the Arts as a backdrop earlier this week. Heart Gallery uses the photos to recruit parents.
A Wall Street trader photographs and writes captions about his encounters with South Bronx residents, many of them drug addicts or prostitutes.
Find out about free and low-cost fitness opportunities for older active adults in your neighborhood and throughout the Bronx on Saturday, April 14, from 12-4 p.m. at the Mosholu Library, 285 East 205th Street (near Perry Avenue). Fully accessible to wheelchairs. The fair includes free admission, free raffles and free maps. For more information, call (718) 882-8239.
Some participating organizations and activities:
Outdoors Club – Walking, hiking
Bronx River Alliance – Walking, biking, rowing
Rocking the Boat – Community rowing program
NYC Urban Park Rangers – Linking New Yorkers to the natural world
NYC Dept. for the Aging – Demonstration of Stay Well exercises. And get a FREE copy of their book, Stay Well: Fitness for Seniors
NYC Dept. of Parks & Recreation – All sorts of activities
Ed. note: Every weekday, we highlight Bronx programs, announcements, services, opportunities, public meetings/hearings or community events. Find a full listing on our Neighborhood Notes page. Send your neighborhood notes to us at norwoodnews@norwoodnews.org.
Two weeks ago, Bronx Borough President Ruben Diaz, Jr. held a forum called "Bronx Fathers Taking Action." Below is video from the event, courtesy of the BP's press office.

The forum featured a discussion between a distinguished group of panelists that included Psychologist, Author and Talk Show Host Dr. Jeff Gardere; Eagle Academy President David Banks; FACE/NYC Department of Education Executive Director Jesse Mojica; Bronx Legal Services Attorney Nelson Mar; Social Work Director Roger Ball; and NYC HRA Office of Child Support/Enforcement Representative Jeneen Johnson. The discussion is being shown on Bronxnet cable channel and you can watch it online here.
By Jeanmarie Evelly
A local nonprofit that advocates for the rights of homeless residents is facing scrutiny after the New York Post  ran a story about the group last month, alleging one of its board members gave a "crash course on squatting," instructing people on how to break into vacant buildings–an accusation the organization says is completely false.
Picture the Homeless (PTH) is a citywide nonprofit headquartered on Morris Avenue in the Bronx, just south of Fordham Road. The group, run largely by homeless or formerly homeless individuals, works to organize the city's homeless population, advocating on policy and social justice issues that affect them.
On March 25, the New York Post ran an article titled "City-funded activist group teaches homeless how to invade apartments," saying PTH board member Andres Perez taught a group of people outside a Brooklyn housing complex "how to wrest 'control' of vacant apartments," the article reads. It went on to allege that Perez was encouraging his audience to break into vacant, city-owned properties so they could squat there.
If you're a Bronx teenager, here's an opportunity to prepare for landing that summer job. On Tuesday, April 17, at 3:30 p.m., the Bronx Library Center, 310 E. Kingsbridge Rd., will host a workshop called "Interviewing for Success," which will teach teens how to themselves in any job interview — from prep questions to time in the waiting area to closing the deal. For ages 12 to 18. For more information, call (718) 579-4245.
Ed. note: Every weekday, we highlight Bronx programs, announcements, services, opportunities, public meetings/hearings or community events. Find a full listing on our Neighborhood Notes page. Send your neighborhood notes to us at norwoodnews@norwoodnews.org.
Million Trees NYC will be having several tree giveaways over the coming month, including: April 14, from 10 a.m. to 12 p.m., at Hunts Point Riverside Park, Lafayette Ave. (between Edgewater Rd. & Bronx River), April 28 at Waterbury Lasalle Community Association, 3075 Baisley Ave., May 5 at Drew Gardens, 1071 East Tremont Ave., and May 5 at Friends of Van Cortlandt Park, Broadway and Mosholu Ave.
Trees are limited; reserve a tree online at www.nyrp.org/bronxtrees. For more information, visit milliontreesnyc.org. For further questions, contact Michael Mitchell at (212) 333-2552 or mmitchell@nyrp.org.
Ed. note: Every weekday, we highlight Bronx programs, announcements, services, opportunities, public meetings/hearings or community events. Find a full listing on our Neighborhood Notes page. Send your neighborhood notes to us at norwoodnews@norwoodnews.org.
By Jeanmarie Evelly
A company that received millions in tax-exempt bonds to finance the development of parking lots around Yankee Stadium did not deliver on the number of jobs it said it would create, an audit from the City Comptroller's office detailed recently.
Bronx Parking Development Company LLC received $225 million in private activity bonds to build 2,184 parking spaces near the new Yankee Stadium. The city's Economic Development Corp. (EDC) approved the financing for the project despite the fact that the organization's parent company had defaulted previously on tax-exempt economic development bonds, the report said.
"The EDC has enormous power to create and protect jobs, and yet it has handed out huge taxpayer subsidies with alarmingly spotty results," Comptroller John Liu said in a statement. The audit examined $497 million in tax breaks given to hundreds of companies by the city's Industrial Development Agency (IDA) and the EDC.
Bronx Parking is now on the verge of defaulting on its bond payments, Liu's report says, blaming the EDC for failing to notice "gaping holes" in the company's financial plans. The company also promised to create 55 jobs as part of the deal but has fallen short on that agreement and has lost six full-time jobs, the audit says.
By Alex Kratz
Here are the Bronx stories (some important, some just funny) that we're following this Tuesday. Weather: partly cloudy, high in the low-60s, showers possible this afternoon.
Take a look at this clip (above) from "Mama's Boys of the Bronx," the new reality show on TLC starring Bronx boys (we use this term loosely because these dudes are all 35-plus) who live at home. The show debuted last night. There is no truth to the rumor that Ronnie, the Bronx native and "Jersey Shore" cast member, has inked a deal to appear on the show 12 years from now.
An apartment fire in Bedford Park — at 165 E. 205th St. — took the life of an elderly woman who has been identified as Joanna Governali, according to dnainfo.com.
The Bronx arts scene is buzzing. (Bunch of artists Bronx artists quoted in the piece. One that was not quoted, but is featured in the lead photograph is Barbara Korman, a Bedford Parrk resident who will be featured in next week's Norwood News. Her artwork surrounds Linda Cunningham at the BronxArtsSpace.)
The Bronx Psychiatric Center is again facing significant layoffs, due to deep cuts in Gov. Cuomo's budget.
Bronx Councilman James Vacca, the head of the transportation committee, is pushing for new regulations that would allow people to re-use their muni-meter tickets elsewhere if there is time still remaining on them. The borough is scheduled to be completely muni-meterized by the end of the year. Also in this Daily News article: The city makes $600 million a year on parking tickets!
Police are looking for gun-wielding robber who is targeting Bronx beauty salons.
The Bronx's Woodlawn Cemetary is the final resting place for a dozen Titanic passengers, Ida and Isidor Strauss, the owner of Macy's, who gave up their lifeboat seats so others could survive. Friends of Woodlawn is holding a special Titanic-related tour on April 29.
Meet 102-year-old Bronx parking attendant Joe Binder, who has worked at Mario's Restaurant for the past 25 years.
Port Morris is home to a couple of new "upscale" restaurants, including a new Asian-fusion joint where the old Alexander's Cafe used to be.
Ed. note: Did we miss something? Send us a link in the comments section or by e-mailing norwoodnews@norwoodnews.org.
By Jeanmarie Evelly
State lawmakers in Albany announced last week that they'd reached a $132.6 billion budget deal with Gov. Andrew Cuomo, passing each of the 11 budget bills on Friday — a few days early, before the annual budget deadline of April 1.
The plan decreases overall state spending compared to last year, but increases funding for some agencies and projects that some local officials have hailed as a boost for New York City. Others, including a handful of Bronx politicians, say the budget doesn't go far enough to address the needs of many New Yorkers
Council Speaker Christine Quinn praised the plan because it will increase money for city schools, fund improvement projects planned by the MTA, launch a program to keep the city's juvenile offenders in local custody and increase aid to CUNY community colleges, according to a statement.
"City taxpayers are winners today in Albany," Mayor Bloomberg echoed in a press release.
Bronx State Sen. Jose Serrano, who serves on the Senate Committee for Cultural Affairs, Tourism, Parks and Recreation, said he was "thrilled" with the budget for funding the rehabilitation of state parks, and for an increase in funds to art organizations and museums compared to last year. "These proven economic engines will provide a worthwhile return on our state's investment," Serrano said.
Not everyone, however, was pleased with every aspect of the deal.
By Alex Kratz
With proposals for the Kingsbridge Armory on the verge of being vetted behind closed doors, more than 200 local activists made it clear that any developer chosen by the city will have to deal with and provide benefits to the community.
At a lively rally near the Armory's front entrance on Kingsbridge Road on Wednesday, March 21, the day before the deadline for developers' submissions, the Kingsbridge Armory Redevelopment Alliance (KARA), a group that includes the Northwest Bronx Community and Clergy Coalition, staged a candlelight vigil preceded by songs, chants, fiery speeches and spoken word.
"Whose Armory?" they chanted at various times during the rally, "Our Armory!"
"This Armory must build the wealth of our local residents and not big businesses," said Reverend English Que from Bronx Christian Fellowship Church in one of the most animated speeches at the rally.
By Alex Kratz
Because of the mild (non-existent?) winter this year, it may be tough to tell, but it is spring and that means baseball season is firmly upon us! We'll be following the borough's high school and college teams closely as well as checking in with the Bronx Bombers as they do battle in the extraordinarily tough American League East. We'll start with the Yankees, who open their season against the Rays tomorrow. (Click on the jump to see our high school preview.)
Let me first just throw out a disclaimer: your humble scribe is a huge baseball junkie, but not a Yankees fan, which, I believe, gives me an objective (if somewhat cynical and envious) viewpoint about the Bronx's professional baseball team. In other words, I will tell it like it is.
But first, let's hear from actual Yankee fans, starting with former Norwood News intern, ex-Bronx News Network Yankees columnist and current Riverdale Press reporter Graham Kates who just finished in second place for the New York Press Association's Rookie of the Year award, which makes him kind of like the Derek Jeter of Bronx reporters. We asked for his take on the upcoming season. Here's his response:
We're heading into a season in which the Yankees will be playing in the single greatest division in baseball history. There are four playoff-quality teams in the American League East — and the Orioles — stuck playing each other 18 times. It's a gantlet of power the likes of which we haven't seen since the Warriors fought their way from Van Courtlandt Park to Coney Island (ultimately, if the Yankees are the Warriors, the Orioles are the Orphans, the Blue Jays are the Lizzies, the Rays are the Furies and the Red Sox, of course, are crooked transit cops).

Fortunately for the Yankees, their biggest problem going into the season is, "We have seven good starting pitchers and only five spots in the starting rotation."

All Yankee relievers are in a season-long competition to be first in line to replace Mariano Rivera

A major Alex Rodriguez rebound.

 Soon-to-be MVP Robinson Cano.

The maturation of former Mariner Michael Pineda, 23, under the tutelage of fellow humongous hard-thrower C.C. Sabathia. (Editor's note: Pineda is starting off the season on the disabled list after coming into camp out of shape and showing an alarming decrease in velocity, while Jesus Montero, the slugger the Yankees traded to the Mariners for Pineda, is being mentioned as a Rookie of the Year candidate. I'm just saying…)

A season of provocation by new Red Sox manager Bobby Valentine.
New York Cares seeks 5,000 volunteers to improve 12 green spaces in the Bronx on April 21 from 9:30 a.m. to 3 p.m. Teams can register until April 6 and individuals can register until April 20. For more information, contact Eileen Sullivan at (212) 843-8016 or esullivan@rubenstein.com, or visit www.newyorkcares.org.
Ed. note: Every weekday, we highlight Bronx programs, announcements, services, opportunities, public meetings/hearings or community events. Find a full listing on our Neighborhood Notes page. Send your neighborhood notes to us at norwoodnews@norwoodnews.org.
By Destiny DeJesus
The Bronx One-on-One Mentoring, known as BOOM, a program for at-risk children operated by the American Latin Association of New York in University Heights, was forced to shut its doors recently due to budget cuts.
After a federal grant expired last year and was not renewed, Israel Rodriguez, the association's president and director of the BOOM program, said he spent the summer and fall scrambling for funding, but was ultimately forced to close operations in March.
"We did such good work," Rodriguez said. "No politicians in the area recognized it and I don't understand why."
Rodriguez, originally from Venezuela, started BOOM in 2006, inspired, he said, by his own experiences from his own childhood, when he felt like he had no one to look to for guidance and direction.
The program paired at-risk children — many of them foster children, children of immigrants, or children who have an incarcerated parent — with adult mentors, who worked with them for a minimum of one year. They discussed everything from academics to personal issues and tried to guide their charges to a better path.
Longwood Arts Project will have its opening reception of "Home is Where the Bronx Is" tonight, Wednesday, April 4 from 5 p.m. to 9. in the Longwood Art Gallery at Hostos Community College, located at 450 Grand Concourse (at 149th Street). The opening will coincide with the April Bronx Culture Trolley, which rolls out on the first Wednesday of every month.  "Home is Where the Bronx Is"  will display the work by the 2010-2011 "Bronx Recognizes Its Own" (BRIO) award-winning artists. The exhibition will be on view from April 5 to June 6. Tonight, the Bronx Culture Trolley will depart from Hostos at 5:30, 6:30 and 7:30 p.m. Passengers can view many cultural attractions and have the option of enjoying dinner and entertainment. Admission for both the gallery and trolley are free and all are welcome. For more information, call (718) 518-6728 or visit bronxarts.org.
Ed. note: Every weekday, we highlight Bronx programs, announcements, services, opportunities, public meetings/hearings or community events. Find a full listing on our Neighborhood Notes page. Send your neighborhood notes to us at norwoodnews@norwoodnews.org.
Welcome back to Breaking Bronx. Here are some local news stories we're reading this Wednesday afternoon:
It's baseball season! But for some Bronx teams, there are challenges to face before hitting the field. Players at the Bronx High School of Science, and other high school who were hoping to use the sparkling new baseball diamonds at Harris Field, are unexpectedly stuck waiting another season because the grass on the fields is not ready. The Riverdale Press first wrote about the delay in March; the Times' School Book blog covered it today, with a video (see below). Students have been without the Harris ball fields since construction started in 2008, part of a makeover financed by the Croton Water Filtration Plant fund. The project was further delayed when ground contamination was discovered at the site in 2009.
In other Bronx baseball news, the new field at Macombs Dam Park–promised by the New York Yankees in exchange for public parkland the team paved over to build its new stadium–officially opened Monday, hosting its first game when All Hallows High School took on Cardinal Hayes. And though players said the fields were "perfect," resentment lingers over how long it took the Yankees to build the parks, leaving local teams without a field for six years.
"We want to be positive about the future. But we do remember that the Yankees were inconvenienced not for one minute and the community was for years," former Community Board 4 member Joyce Hogi told the Daily News.
Hundred of Bronx residents turned out at the Bronx Museum of the Arts on Monday for a public discussion about the state's plans to overhaul how it handles juvenile offenders from the city. Gov. Cuomo's Close to Home Initiative will transfer young offenders held in non-secure state facilities to the city's custody starting this fall.
The assistant principal at PS 106, in Parkchester, turned himself in to police on Tuesday after he was accused of fondling two female students at the school.
More damaging testimony coming out of the trial of former Bronx State Sen. Pedro Espada. He had his nonprofit health clinics, Soundview, paying exorbitant monthly fees for janitorial services, spending thousands of dollars on cleaning services that should have cost around $100 a month, a witness said on the stand. The cleaning company getting paid? One operated by Espada's own son, Pedro Gautier Espada, who is also facing charges with his father.
Police are looking for a robber targeting Bronx beauty salons.
By Destiny DeJesus
The Bronx is just 24 miles from a major nuclear power plant and Assemblywoman Naomi Rivera wants to know why there isn't a plan in place to protect the 1.4 million people living in the city's northernmost borough.
At a press conference in Norwood yesterday, Rivera publicly released her letter requesting state hearings on the emergency evacuation plans of local, state, and federal governments in case of a nuclear meltdown at the Indian Point Energy Center.
Surrounded by kids from the Mosholu Montefiore Community Center as well as regional environmental watchdogs, Rivera said she is unhappy with the 10-mile radius emergency plan that Point Energy Center has in place and argued that it leaves millions of New Yorkers in danger.
"The Bronx is the closest borough in New York City to Indian Point," Rivera said. "Yet our city has no evacuation plan in place."
By Jeanmarie Evelly

Editor's Note: Every Wednesday, Breaking Bronx features a health-related story, event or tidbit as part of an online expansion of our Be Healthy! column.
Bronx Photo Exhibit Spotlights Public Housing Health Hazards
When the ventilation fan in Maribel Baez's bathroom stopped working, a black patch of mold began to grow on her ceiling. She called the New York City Housing Authority, which runs the Melrose Houses in the South Bronx, where she's lived for four years, and tried to get the problem fixed. NYCHA told her it would be two years before they could send a repairperson out. The mold kept growing.
Then Baez began experiencing breathing problems: tightness in her chest and persistent coughing. Her doctor diagnosed her with chronic obstructive pulmonary disease (COPD), a serious condition that's been linked to, and is aggravated by, long-term exposure to lung irritants like mold.
"It's unfair that NYCHA is putting tenants in danger," Baez said.
The plight of tenants like Baez is the subject of a photo exhibit on display this week at the Bronx Documentary Center, featuring dozens of images by photojournalist Ana Brigida that show NYCHA residents in apartments plagued by leaks, mold, mildew and crumbling ceilings.
Organized by the advocacy groups South Bronx Churches, Manhattan Together and Metro IAF, the exhibit, "How the Other Half (Still) Lives," seeks to highlight the health hazards posed by poor conditions in the city's public housing complexes — conditions that organizers say are the result of neglect by NYCHA and the Bloomberg administration.
"Conditions are beyond what words can describe, so we're having a photo exhibit, so you can see for yourself," said Father Francis Skelly, of Immaculate Conception Church in Melrose, who works with South Bronx Churches (SBC) to help organize tenants.
By Alex Kratz and Destiny DeJesus
Editor's note: A version of this story appears in this week's print edition of the Norwood News. The MS 80 rally scheduled for this afternoon didn't quite go off as planned, leaving many people puzzled. Organizers said the school's administration told them to leave before the rally was even scheduled to start. In any case, this is the story in it's larger context. We'll continue our MS 80 coverage up until the DOE hearing at the school on April 16th.

Since the Department of Education announced plans to close Middle School 80 at the beginning of March, a group of concerned parents and local activists have been attempting to advocate for keeping the spirit of the school, as well as its most valuable programs, intact.
The Friends of MS 80 has made the rounds of community meetings and staged a short-lived rally in front of the school on Tuesday afternoon in the run-up to a DOE hearing at the school scheduled for Monday, April 16 at 6 p.m. inside the school auditorium. They want to change the name to MS 80/Isabel Rooney, which is its unofficial name already (JHS 80 is its official title), as well as some of its key programs, including its bilingual program and a program designed to prepare students for taking entrance exams for specialized high schools, such as Bronx High School of Science.
The DOE has designated MS 80, a 650-seat school on Mosholu Parkway that opened in 1924, for the federal "turnaround" program. The designation would allow the school to again receive extra state funding that was being withheld because the city and the United Federation of Teachers, have not been able to come to an agreement over teacher evaluations.
The Panel for Education Policy still needs to approve the re-organization, but the panel rarely rejects a DOE-recommended plan. The hearing on April 16 is an opportunity for the school community to have their input heard before the next PEP meeting. Read more
The New York Public Library has partnered with professional Bronx cartoonist Ivan Velez to offer a series of cartooning and manga classes for interested teens who want to learn the ins-and-outs of the comics industry from real comic book artists and writers.
The class begins on Saturday, April 7, from 11:30 a.m. until 2:30 p.m., and will meet seven more Saturday's, culminating in a gallery event on June 9, and will be hosted at the Bronx Library Center, 310 East Kingsbridge Road (at Briggs Ave.).
Applications for the event can be found at www.planetbronx.com/ccxapplication. The deadline for application submission is Thursday, April 5. For more information, call (347) 427-7553.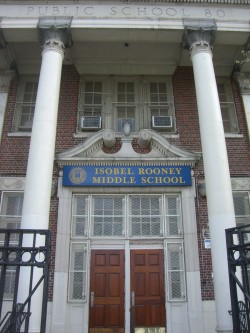 A group of parents and local activists will be holding a walk this afternoon to save the spirit of MS 80, the school on Mosholu Parkway that has already lost its principal after it was designated for the Department of Education's turnaround program. Under the turnaround program, the school would undergo a complete facelift, which would include hiring a completely new staff (although up to 50 percent of the current staff could be rehired) and taking on a new name.
The group organizing the walk, Friends of MS 80, want more information about what's happening with one of the area's only middle schools and are pushing for the school to be renamed MS 80/Isabel Rooney. Although everyone calls the school "MS 80″ and its honorarily named after Isabel Rooney, a longtime school board member who advocated strongly for the school, its technically named "JHS 80, The Mosholu Parkway School." The change to MS 80 would allow the community and alumni to better identify with the school.
The walk begins at 3:30 p.m. outside of MS 80, 149 Mosholu Parkway North, and will continue to the Mosholu Montefiore Community Center, Dekalb Avenue and Gun Hill Road.
Recently, seven schools were taken off the list of schools slated for closure, but MS 80 remains on the chopping block. But those schools were rated higher by the DOE and more vocal in their opposition to the plans for closure. Friends of MS 80 have been advocating at community meetings and speaking with the DOE, who want them to be involved with community advisory committee.
For more background on the MS 80 story, click here.
Ed. note: A joint public hearing for this proposal is scheduled for April 16 at 6 p.m. at J.H.S. 80, 149 East Mosholu Parkway. Oral comments can be left at (212) 374-5149, and written comments can be sent to D10proposals@schools.nyc.gov.
By Marcos Sierra
Obviously a slow day on the blog today as we begin production on this week's print edition of the Norwood News. In the meantime, here's a rundown of the latest Bronx stories making the news.
Espaillat Announces Bid for Bronx/Manhattan Seat
At a fundraiser on Sunday, State Senator Adriano Espaillat made his showdown with Congressman Charles Rangel semi-official, telling a crowd at Democratic fundraiser in upper Manhattan that he was running against Rangel, whose district now includes a hunk of the Bronx.
Pol Uses Gala To Fund Re-Election Campaign
Friends and supporters of Democratic Bronx Assemblyman Eric Stevenson are putting together a fundraiser to help the politician's reelection campaign, while recognizing the contributions of outstanding individuals from the Caribbean Nation — past and present.

High Rise Fall Not Suicide
An arrest has been made in what initially was an apparent suicide, that has now been officially classified as a homicide, according to the city medical examiner. Police believe 20-year-old Sienna Edwards fell while trying to escape a group of women who mistook her for someone else.
Bronx Teachers Arrested With Coke and Dagger
Diana Mancusco, 29, and Karen Aguilar, 26, both teachers at Entrada Academy in Longwood, were awarded matching bracelets after cops spotted them pulling over and switching places on East Fordham Road in Belmont on Friday night. After determining both were intoxicated, a search of the vehicle by officers produced a small amount of cocaine and a dagger.
Teen Survives Elevator Mis-hap
17-year-old Kenneth Lacen survived a horrifying elevator ride after visiting a friend in his Highbridge neighborhood. An inspection by the Department of Buildings at 951 Woodycrest Avenue determined two of the elevators support ropes had snapped. DOB records show there are currently three open violations at the building, including failure to maintain building in code for worn car shoes, improper lighting and insecure electrical wires on the top of the elevator.
Appeals Judge Under Investigation
An explosive report by the state Commission on Judicial Conduct found that presiding justice of the appellate division's First Department, Judge Luis Gonzalez, has turned the court system into a patronage trough for family and friends. While declining to penalize Gonzalez, the Commissions report called for reforms and noted that "accountability becomes more personal and direct as the (hiring) process gets closer to" the judges.

Teacher Gets Desk Duty
First-year instructor Marcy Rubenstein, out of Intermediate School 339, has been put on desk duty after allegedly duct taping 12 year-old Irel Jones to his chair. According to Jones, Rubenstein just grinned and left him taped to the chair for twenty minutes while other kids pushed him to the front of the class.
A group that offers free legal services to low-income Bronx residents will be getting a new and improved home at the busy HUB commercial corridor, at Brook Avenue and E. 149th Street, a number of local elected officials announced last week.
Legal Services NYC-Bronx will move into a commercial condominium that's being built as part of City-sanctioned development project on a stretch of undeveloped property at the HUB. When completed, the group's new offices will feature a green space and be fully handicap accessible, according to a press release sent out by Bronx Borough President Ruben Diaz, Jr., who is one of several Bronx representatives working in support of the project.
"We at Legal Services NYC-Bronx are overwhelmed by the show of support we have received from Bronx elected officials in our quest for a new home. For years, we have been searching for an office that is large enough for our seventy person staff, for all of our clients to receive services in confidential and dignified surroundings," said Jennifer Levy, the group's director.
Legal Services NYC-Bronx serves 10,000 Bronx residents a year, offering legal help to domestic violence victims, disabled and disadvantaged children and assisting in medical access, elder abuse and eviction and foreclosure cases. The group was one of several organizations working last year on behalf of the Bronx Milbank tenants, who were seeking to get conditions in their dilapidated and foreclosed buildings repaired.
Arrangements for the funeral of late Bronx teacher Justin Bravo, who died in a motorcycle crash on Mosholu Parkway Wednesday morning, were posted in our comments section earlier today. Here's a link to the obituary page, on the website of Johnstons' Funeral Home, where visitation will be happening.
We've re-posted the arrangements below:
Visitation
Johnstons' Funeral Home
305 N. Wellwood Ave
Lindenhurst, NY 11757
631-226-2220
When: Saturday, March 31, 2012 2:00am to 4:00am
Location: (At Funeral Home)
When: Saturday, March 31, 2012 7:00pm to 9:00pm
Location: (At Funeral Home)
When: Sunday, April 1, 2012 2:00pm to 4:00pm
Location: (At Funeral Home)
When: Sunday, April 1, 2012 7:00pm to 9:00pm
Location: (At Funeral Home)

Mass
When: Monday, April 2, 2012 9:00am
Location: Our Lady Of Perpetual Help RC Church
210 S Wellwood Ave
Lindenhurst , NY 11757
By Jeanmarie Evelly
Justin Bravo, who was killed while riding his motorcycle on Mosholu Parkway in Norwood yesterday morning, was a seventh and eighth-grade social studies teacher at MS 244 in Kingsbridge, the Norwood News has learned.
An employee at the school, the New School for Leadership in Journalism on W. 231st Street near Sedgwick Avenue, confirmed that Bravo, 28, was a teacher there, as did one of his seventh-grade students. That seventh grader had Bravo as a teacher for homeroom and social studies.
"He was very determined to help us," she said. "Whenever you had a problem you could just go straight to Mr. Bravo and he'd be right there to help you."
Bravo was supposed to join the class on a field trip yesterday to see the movie "Hunger Games," the student said, but he never arrived. Students found out about the accident when they returned from their trip in the afternoon.
"It's very sad to know that we lost one of our favorite teachers," she said.
Bravo, who lived in North Babylon, Long Island, died Wednesday morning after after crashing on Mosholu Parkway in a tunnel that runs underneath Jerome Avenue. The crash site was just a short distance away from where a young pedestrian was struck and killed in a hit-and-run incident back in December.
What do you want to see happen along the largely under-utilized Bronx side of the Harlem River?
Here's your chance to voice your opinion.
Last week, the Harlem River Working Group and Bronx Council for Environmental Quality kicked off a series of three "community visioning meetings" at Hostos Community College, with two more coming up, starting tonight. The idea is to brainstorm new ideas and re-affirm old ideas for usage of the borough's west coast and come up with a visioning document that will help shape future development. Anyone interested is invited to attend.
The next visioning meeting are: tonight, March 29, at 6p.m. at the Bronx Community College faculty lounge, located at 2155 University Avenue and next Thursday, April 5, at 6 p.m. at the Lehman College Music Building faculty lounge, located at 250 Bedford Park Boulevard West. Free food, translation and activities for children will be provided. To RSVP or for more information, call Chauncy at (646) 719-0034 or email harlemriver@bceq.org.
By Jeanmarie Evelly
It's that time of year again–budget negotiation time, as lawmakers hammer out deals on how much the city and state governments should spend, and on what. City Council members have until the start of the next fiscal year, on July 1, to agree on a plan for the city's spending. Mayor Bloomberg released a $68.7 billion preliminary budget proposal in February, which he boasted would close a $2 billion budget gap without raising taxes.
But not everyone, of course, is happy with the Mayor's plan. Bronx City Council Member Annabel Palma, who represents Parkchester, Soundview, Castle Hill, and Classon Point, and heads the Council's General Welfare Committee, rallied this morning on the steps of City Hall against cuts proposed to a number of the city's social service programs.
Bloomberg's budget, Palma said in a press release, would slash the budgets for a number of agencies and programs that serve the neediest and most vulnerable New Yorkers; many cuts that were restored in last year's round of budget negotiations are again on the chopping block this year.
"Unfortunately, last year's budget included many one-year fixes and that's why we stand here today yet again to rally against those cuts that will directly and negatively impact the already-strained programs that many New Yorkers have to come rely on," Palma said.
The Mayor's proposal would reduce funding for the city's Administration for Children's Services, cutting slots for child care and after-school programs, and laying off about 100 Child Protective staff positions. Funding for case managers and supportive housing for residents living with HIV/AIDS could be cut by several million dollars, as would the budget of the Department of Homeless Services, which runs the city's shelter system.
By Jeanmarie Evelly
Two Bronx legislators are looking to pass a bill that would ban employers from requesting social media site passwords from job applicants, a practice they say is growing in popularity and a threat to the privacy of job-seekers.
"This legislation will address a terrible and growing abuse by certain employers," said Assemblyman Jeffery Dinowitz, who is sponsoring the version of the bill in the Assembly. "Employers should not be snooping on social media communications that are private, and they certainly should not be given passwords that are supposed to be kept secret. It's like an employer asking for a copy of your house keys so they can have a look around your home."
Reports have indicated a growing trend of employers who want to browse the Facebook and Twitter accounts of potential job applicants as part of their hiring process, demanding log-in information. Federal lawmakers, including New York Senator Charles Schumer, are also speaking out on the issue, asking the U.S. Equal Employment Opportunity Commission and the Department of Justice to launch a federal investigation into the practice.
"Even in this digital age, turning over your password to an employer is a bridge too far," said Senator Jeff Klein, who is introducing the state law in the New York Senate.
By Alex Kratz
Former Bronx Borough President Adolfo Carrion, who has spent the past three years working for the Obama administration, is taking a job in the private sector with CSA Group, which bills itself as the "largest architectural, engineering, environmental services, consulting, and construction and program management company in the United States."
Carrion, who left the borough president's office in 2009 to become the federal government's urban affairs czar and then moved on to take over as the regional director of U.S. Department of Housing and Urban Development (HUD), will be CSA's senior advisor for corporate development, according to a press release sent out this morning.
"We at CSA Group are very excited and honored that Adolfo has agreed to join our firm", stated JJ Suarez, Chairman and CEO, CSA Group. "Adolfo's proven track record in empowering urban communities throughout the United States, coupled with his economic development experience, will be of vital importance as we continue to position CSA Group as a first-in-class, full service project delivery firm in the Infrastructure and Building markets."
CSA specializes in large municipal projects in the United States and Latin America. The company received billions of dollars in funding from the American Recovery and Reinvestment Act (ARRA, otherwise known as the economic stimulus package) to do several projects in Puerto Rico.
Every weekday, we highlight Bronx programs, announcements, services, opportunities, public meetings/hearings or community events. Find a full listing on our Neighborhood Notes page..
The Land Use/Zoning Committee will meet tonight, Thursday, March 29 at 6:30 p.m. at the Community Board Office, located at 229-A East 204th Street.
 For more information, call (718) 933-5650 or visit www.bronxcb7.info
By David Greene
A young motorcyclist was killed this morning after crashing on Mosholu Parkway in a tunnel that runs underneath Jerome Avenue. The crash site was just a short distance away from where a young pedestrian was struck and killed in a hit-and-run incident back in December.
Officers from the 52nd precinct arrived on the scene on Mosholu Parkway, just after 8 a.m., and discovered the mortally-wounded motorcyclist who was identified as Justin Bravo, a 28-year-old resident of North Babylon, NY. Police say he was transported to Montefiore Medical Center where died on arrival.
Few details are available the this time, but police say Bravo, described as a white male, was traveling north-bound when he struck the concrete overpass (that runs under Jerome Avenue) and was thrown into the street. A police source not authorized to speak to the press said the victim was apparently thrown under the wheels of an oncoming SUV.
Happy Wednesday, and welcome back to Breaking Bronx. It'll be cloudy and in the mid-60s today. Here are the news stories we're following this morning:
Good news for museum-goers on a budget: in honor of its 40th anniversary, the Bronx Museum of the Arts is eliminating its $5 suggested admission fee starting tomorrow.
Is the South Bronx gentrifying? A New York Times piece this week says yes, pointing to an influx of white, middle-class professionals who are making their homes around the Grand Concourse area near Yankee Stadium. UNHP's Gregory Jobo Lost, in a guest post on the new blog Bronx Matters, says the Times might be getting ahead of itself.
A 2-year-old boy in Parkchester was hit by a car while chasing after an ice cream truck Monday, the Daily News reports. He remains in critical condition.
Former Bronx State Sen. Pedro Espada and his son, Pedro Gautier Espada, are currently on trial for embezzling funds from their nonprofit health care clinics. Their accountant took the stand Monday and testified that the Espadas routinely listed personal expenses as businesses expenses for the company.  In one instance, Espada supposedly tried to expense the costs of his grandchild's birthday party as "community children's outreach," according to the Post.
A New York City school administrator resigned this week after it was discovered he'd arranged a job for his wife in a Bronx Department of Education office. Angel Namnum allegedly arranged to have his wife hired as a community coordinator for the DOE, despite evidence that she was not qualified for the job.
Gov. Andrew Cuomo picked Bronx Assemblyman Peter Rivera to be his new Department of Labor commissioner, in spite of his "baggage," as the Village Voice calls it. A few years back, a nonprofit the Assemblyman largely helped fund was the probe of a federal investigation, and its director, a law partner of Rivera's, was slapped with corruption charges last year. Former Daily News columnist Bob Kappstatter, now blogging for Bronx Matters, predicts that Luis Sepulveda–an attorney who challenged Rivera in 2010 and lost–is likely to fill his empty seat.
By Jeanmarie Evelly and Alex Kratz
On Monday night, parents of current and former PS 51 students met with state officials to ask questions and discuss their concerns about potential health effects caused by contamination at the school's former site on Jerome Avenue. The building, which was home to the Bronx New School for nearly two decades, tested positive last year for high levels  of trichloroethylene (TCE), a toxin linked to cancer.
Representatives from the State Departments of Health and Environmental Conservation met with Community Board 7 members and PS 51 parents, who have been organizing with the Northwest Bronx Community and Clergy Coalition under the name PS 51 Parents United.
"It's very scary when its your child, and it's not something we really know much about," said Helene Hartman-Kutnowsky, who sits on CB 7's sanitation and environmental committee, and whose daughter, now 18, attended PS 51 for six years.
Lenny Siegel, of the California-based Center for Public Environmental Oversight (CPEO), was on hand to discuss some of the possible health effects linked to TCE exposure. After explaining how and why they believe the contamination was present ever since the school moved into the former lighting manufacturing plant 20 years ago, Siegel sought to allay parents' fears that their children are at a high risk for illness.
Bronx Community Board 7's Education Committee will meet tonight, Wednesday, March 28 at 6:30 p.m. at the board office, located at 229-A East 204th Street. A major topic of conversation will be the proposed closure and revamping of MS 80, which has already claimed the job of former Principal Lovey Mazique-Rivera who was replaced last week. A group of concerned parents and local residents have come together to advocate for, among other things, keeping the school's name, Middle School 80, through the planned transition, which will include a complete overhaul of the school's staff.
For more information, call (718) 933-5650 or visit www.bronxcb7.info.
Ed. note: Every weekday, we highlight Bronx programs, announcements, services, opportunities, public meetings/hearings or community events. Find a full listing on our Neighborhood Notes page. Send your neighborhood notes to us at norwoodnews@norwoodnews.org.
The fourth Bronx Real Estate Summit is a twice-a-year presentation that will be held on Wednesday, March 28, at the Bronx Museum of the Arts located at 1040 Grand Concourse. The event begins at 8:15 a.m. with a networking breakfast and at 9 a.m. a panel discussion will take place regarding strategies for opportunities in Bronx development.  The Bronx Real Estate Summit will also highlight the South Bronx Overall Economic Development Corporation (SoBRO), a not-for-profit organization based in the South Bronx.  The suggested contribution is $25. All ticket proceeds from the event will be donated to SoBRO. To register, go to www.bronxsummit.org.
Ed. note: Every weekday, we highlight Bronx programs, announcements, services, opportunities, public meetings/hearings or community events. Find a full listing on our Neighborhood Notes page. Send your neighborhood notes to us at norwoodnews@norwoodnews.org.
This Friday, the Bronx Documentary Center is hosting a week-long photo exhibit that chronicles poor living conditions in Bronx public housing complexes, photos that advocates say show a desperate need for the city to address the health threats posed by the city's affordable housing stock.
The work of photojournalist Ana Brigida Moreira, How The Other Half (Still) Lives," depicts tenants living amidst leaks, mold and crumbling ceilings. The opening reception is this Friday, March 30 at 5:30 p.m. Check the flier below for more information.
By Alex Kratz
March and all the madness that accompanies it are coming to a close. We'll wrap up all the insanity from a Bronx perspective, starting with a team of ladies representing the Bronx once again cutting down the nets as national champions.
Despite a nearly complete roster overhaul and the loss of their starting point guard on the eve of the season's biggest tournament, the Monroe College Lady Mustangs repeated as National Junior College Athletic Association Division II national champions with a 78-73 victory over Lake Michigan in Peoria, Ill.
Alvah Parham, the only Lady Mustang returning from last year's championship team, hit two clutch free throws to put Monroe in the lead for good after Lake Michigan had stormed back from an 18-point second half deficit to take a 71-70 lead with 2:24 left in the game.
Parham finished with 22 points and six rebounds and Jasmine Mcroy contributed 21 points and six rebounds. But it was Kashay Barnes who stole the show and tournament MVP honors after dropping 26 points and eight assists on Lake Michigan.
The Bronx County Historical Society (BCHS) will have a walking tour on Saturday, March 31 at 11 a.m. Angel Hernandez, the BCHS Educator, will be hosting the two hour long walk from the southeast corner of Hunts Point and Westchester avenues (one block away from the Lexington Avenue #2 train). The fee for BCHS members is $10 and $15 for non-members. To be a part of the "Soundview: The Gateway to the East Bronx" Historic Walking Tour, make reservations by contacting The Society at (718) 881-8900.
Ed. note: Every weekday, we highlight Bronx programs, announcements, services, opportunities, public meetings/hearings or community events. Find a full listing on our Neighborhood Notes page. Send your neighborhood notes to us at norwoodnews@norwoodnews.org.
By Alex Kratz
PS 51 Parents United, a group of concerned parents of children who attend or used to attend PS 51 (The Bronx New School), will be looking for support and answers from state officials at a Bronx Community Board 7 meeting tonight in Bedford Park. Last year, inspectors discovered high levels of trichloroethylene (TCE), a toxin linked to cancer, at the Bedford Park building (3200 Jerome Ave.) Bronx New School called home for two decades.
Several Community Board 7 members, including Chairman Paul Foster, Vice Chair Adaline Santiago-Walker and Helene Hartman-Kutnowsky, have children who attended Bronx New School, making the issue extremely personal. Many parents of PS 51 alumni have been upset with the lack of response from the DOE about their concerns. Schools Chancellor Dennis Walcott met with the current PS 51 administration and parents association, but not parents of alumni. Most parents of alumni found out about the toxins through media reports.
Tonight, parents will be directing their questions and concerns at three state officials: Dana Kaplan, Environmental Engineer for the Division of Environmental Remediation (NYSDEC); Dawn Hettrick, Public Health Engineer for the Bureau of Environmental Exposure Investigation (NYSDOH); Elizabeth Lewis-Michl Community Exposure Research for the Bureau of Environmental and Occupational Epidemiology (NYSDOH).
The state will be providing some background and updates, as well as some answers about what kind of health effects TCE exposure can cause.
According to a press release, at the meeting tonight, Bronx Parents United:
"Will call for the establishment of a Community Advisory Group to oversee the remediation process and further health studies. They want NYS DOH to establish clear recommendations to NYC DOH for the notification of all parents of students who attended school at 3200 Jerome Ave and their physicians and the creation of a medical registry and medical monitoring program for all students who attended school at that site. Parents say that their must be unified regulations for comprehensive environmental review of DOE leased and owned school facilities and the City must pass new legislation mandating the timely notification of parents any time the DOE conducts environmental testing in their school."
Parents looking to get involved or receive more information can contact Helene Hartman-Kutnowsky, kutnow3@yahoo.com.
By Jeanmarie Evelly
After months of debate, state lawmakers and Gov. Andrew Cuomo approved a redistricting deal last week that will re-set State Senate and Assembly lines for the next decade, and establish an independent commission to take over the process after the next Census in 2020 — a plan that many local leaders are unhappy with.
The new lines, many Bronx leaders and community groups argue, split like-communities across legislative districts, diluting their voice in the political arena and violating the federal Voting Rights Act, which is designed to protect the voting power of minority communities.
"This plan violates federal law that protects minority communities from being split between several districts with the intention of diminishing the ability of minority communities to elect a representative of their choosing," said Bronx State Sen. Gustavo Rivera in an e-mail. "Despite large population growth in the Latino community in the Bronx, no additional Latino majority senate districts were created."
Community Board 7 invites the public to its "Neighborhood Cleanup" event, Saturday, March 24 from noon to 4 p.m. along Mosholu Parkway. Volunteers will meet at the intersection of East Mosholu Parkway South and Webster Avenue at 11:30 a.m. For more information, call Fernando Tirado at (718) 933-5650.
Ed. note: Every weekday, we highlight Bronx programs, announcements, services, opportunities, public meetings/hearings or community events. Find a full listing on our Neighborhood Notes page. Send your neighborhood notes to us at norwoodnews@norwoodnews.org.
Only a little more than three weeks left before taxes are due. Here are some Bronx places you can find free tax prep services for those you qualify.
–Take advantage of the free tax services offered at the BronxWorks Morris Innovative Senior Center (ISC) at 80 East 181st Street by the Food Bank of New York or Ariva at the CheckSpring Bank building at 69 East 167th Street. The qualifying income cap is $18,000 for individuals and $50,000 for families. To learn more about tax prep services at the Morris ISC, call (718) 933-5300. For more information on Ariva's services, please call (718) 292-2983. BronxWorks Morris Innovative Senior Center tax prep hours: Monday and Tuesday, 10 a.m. to 7 p.m.; Friday, 10 a.m. to 5 p.m.; Saturday, 9 a.m. to 5 p.m. Ariva headquarters tax prep hours: Monday and Thursday, 5 p.m. to 7:30 p.m.; Tuesday and Wednesday, 1 p.m. to 7:30 p.m.; Saturday, 10 a.m. to 4 p.m. What to bring: Photo identification, Social Security card, W-2 forms from all jobs, documentation for child care credits, and any other tax documents. If married couples are filing jointly, both must be present.
–LIFT-The Bronx, a non-profit organization serving the Bronx for the past 12 years, offers numerous services for those in need, including job searches, housing, childcare and healthcare services, and legal services. The new office at 2381 Belmont Ave., will host several tax prep events to assist low-income individuals and families. For more information or to sign up, call (718) 733-3897 or email Bronx@liftcommunities.org.
–The University Neighborhood Housing Program, is sponsoring free Federal and State Income Tax Assistance to low-income residents of the Bronx provided by IRS certified tax preparers at Refuge House, 2715 Bainbridge Ave. (near East 196th Street), by appointment only. Services are provided on Wednesdays from 3 to 8 p.m. on March 28, April 4, and 11; and Saturdays from 10 a.m. to 4 p.m. on March 24, 31, and April 14. For more information or to RSVP, call (718) 933-2539.
Happy Friday everyone. Here are the Bronx stories we're following today.

Above is the anti-piracy Public Service Announcement video produced by Bronxite and Lehman High School student Samantha Olivares.
Things aren't looking good for ex-Bronx pol Pedro Espada. At his trial yesterday, several witnesses testified that Espada paid them for personal services (like a videographer for his grandson's birthday party) through his nonprofit healthcare network and then tried to make the services look like they were business expenses.
Take a look at Via Verde, the huge shiny new income-regulated co-op complex near The Hub.
A group of South Bronx activists calling themselves South Bronx Unite has started a boycott of FreshDirect, the online grocer moving into the Bronx after receiving $130 million in city and state subsidies.
40-year-old Michael Clare, a married leader of the Harvest Worship Center in Wakefield has been accused for a second time of having inappropriate contact with under-age girls who are part of his ministry. He is being held on $700,000 cash bail, and faces 32 years in state prison if convicted of the two rape charges.
The family of Ramarley Graham, along with approximately 200 supporters gathered Thursday for a peaceful vigil and march in honor of the fallen teen. The demonstrators then marched to the 47th Police Precinct in the Williamsbridge section of the Bronx, to demand that the officers involved with the shooting face criminal charges.
"What's Your Vice" is an adult-only art exhibit that explores society's obsession with beauty, drugs and sex. Started last summer, the artist group known as Collective X wants to "depict vices and spinning off stereotypes of the Bronx without reinforcing them."
A Bronx woman was shot and wounded by police on Friday after allegedly throwing knives at officers responding to a 911 call. One officer fired at least twice, striking the woman who was taken to Jacobi Medical Center with wounds that were not considered life-threatening.
The second annual Bronx Film Festival, which will take place during Bronx Week in May, will be accepting submission through next week. Any Bronx filmmaker or anyone who has a film shot in or about the Bronx is encouraged to submit their films.
In his first year as a teenager, Bronx native Justus Williams has already become the youngest African-American chess player to be awarded the title of Chess Master in the country, and he is the first to tell you about the hours of studying and dedication that he is continuing to put towards his game. Williams sat down with the Norwood News at IS 318, the Brooklyn middle school he attends, which boasts a nationally ranked chess team, to talk about his past tournament in Brazil, his favorite chess piece, and his secrets to match preparation.
You were just in Brazil for the World Youth Chess Championship, welcome back! How did it go down there?
It was very good out there, very hot. I got 26th out of probably 200 people. I was there for two weeks and I played one game a day and the games usually last somewhere between three and four hours with a 90-minute time limit per move. I played against a top rated player from Russia who was 14 and it was a draw (a tie). When I went to Brazil, all my opponents were from different countries. I prepared for each one so I wouldn't be blindsided by their moves and so I wouldn't get into opening trouble. When I go to continental tournaments I bring my own chess set because I feel more comfortable with it. The pieces are wooden and are not too big, not too small; I just like the way it feels.
How did you prepare for a game?
I look at my opponents' past games, see what they're good at and see what openings they had trouble with. I would build a database for them, and try to get the best position, so I felt that I had a good edge.
How did you begin playing chess?
It started at P.S. 70 (in the Bronx) with the Bronx Bomber chess team. I didn't really know how to play, but my mom was just pushing me to do it. I moved to IS 318 (in Brooklyn) in 2009, because it would be a good chess team, and I felt that I should be challenged. I'm glad now that there are more people into chess than just me. Now, playing [with my classmates] is a challenge. I will probably win, but it's challenging. I used to not study a lot, but now I've gotten more serious about chess and I'm trying to study an hour a day, like reading books and looking at top games. I used to just play in tournaments and think that it was helping me but it really wasn't.